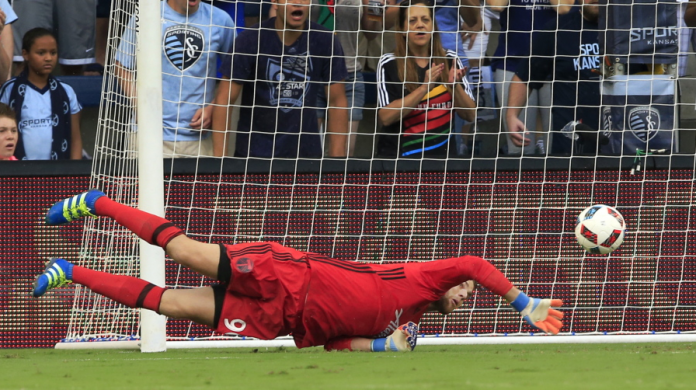 Apparently the Portland Thorns used up all the home goals in the Providence Park double header on Saturday. While the Timbers looked great at times, they failed to capitalize on any chances and fell to Sporting Kansas City 1-0 in a hard fought match.
Very often when a team under performs, the referee is a popular target. We've all fallen victim to the ole "Blame the Ref" response. However, very rarely do statistics back up fans' suspicions. While Head Coach Caleb Porter even took the high road and congratulated KC on a match well played, it was tough to ignore this glaring stat from Mike "Stat Man" Donovan.
For the third time in 3 years the Timbers have had 21+ fouls called against them in a match. Drew Fischer was the ref in all of those #RCTID

— Mike Donovan (@TheMikeDonovan) April 16, 2017
It's a pretty glaring stat, but again, the Timbers had their chances, and overall looked a bit listless in this one. It felt as if they would make four to five great moves or passes, but then the next one would cough it right up to KC. Timbers Defenders seemed to suffer from this the most, although, the offense had their close moments as well.
Nagbeeeeee …. Oh!

Matchcenter: https://t.co/AbnetWwfd9 #RCTID #PORvSKC pic.twitter.com/rPa0IGACCs

— Portland Timbers (@TimbersFC) April 16, 2017
I don't want to take anything away from KC – they play stingy defense, and take the few chances they opened up on the counter-attack. It's also why they are second in the Western Conference, one point behind the Timbers, and have yet to be defeated this season.
The build-up to this @Ddwyer14 goal was BEAUTIFUL! ???? https://t.co/sz6PhV3TUo

— Sporting Kansas City (@SportingKC) April 16, 2017
Dom Dwyer's header came off a nice sequence of passes from the visitors, and some poor defending from the home side. It was the perfect goal for the Timbers to concede in a game where nothing went right. These games happen though.
This won't be the first time they face a whistle-happy referee, or a stingy defense. They have to capitalize on the chances they create no matter how few those are as things will be getting no easier as the Vancouver Whitecaps are coming to Providence Park on April 22nd.
To be as cliched as possible, you can ignore records anytime the Cascadia teams face each other. The Whitecaps are coming off a 2-1 victory over that team in Seattle, and are always looking to play the Timbers tough. It should be a great matchup.