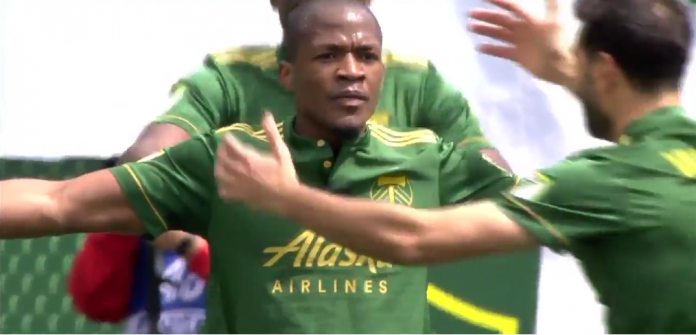 There's nothing quite like the first Cascadia Cup matchup of the season. This year we had to wait eight games, but it was well worth it for the Timbers and their faithful. Not only did we see some great plays, and some key returns, but it's never a bad thing when you can walk away with a win and three points.
Looking to avoid another goalless performance like last week, the Timbers started off strong, putting the pressure on Vancouver early. It didn't take long to pay-off, as Darlington Nagbe put home a great goal off a tremendous effort. The 18th minute strike was Nagbe's second in three games.
Darlington. Nagbe. ????

Matchcenter: https://t.co/a2algJDRHU #RCTID #PORvVAN pic.twitter.com/V1IFZ5yfKm

— Portland Timbers (@TimbersFC) April 22, 2017
However, the Timbers weren't done. After some more pressure, the Whitecaps turned the momentum toward the end of the first half, but the Timbers, and backup Keeper Jeff Attinella, held strong. After weathering the storm, the Timbers snagged another goal at the 40th minute.
El Maestro made an incredible cross to Darren Mattocks who was breaking for the near post. Mattocks chipped the Diego Valeri pass in, and the Timbers were cruising into halftime in a much different position than the before.
.@DarrenMattocks cashes in on that near-post run.

Matchcenter: https://t.co/a2algJDRHU #RCTID #PORvVAN pic.twitter.com/ds6yfQrayt

— Portland Timbers (@TimbersFC) April 22, 2017
Mattocks' goal was a bit of an affirmation for Head Coach Caleb Porter, who started the Forward as Timbers all-time leading scorer, Fanendo Adi, was serving a one-game suspension. The former Whitecap, and Akron Zip under Porter, came through in a big spot. The changes in the starting eleven didn't end there, though.
Vytas started on the pitch after being on the bench for the last few matches, and was joined by the much anticipated return of Liam Ridgewell. The Timbers Captain was returning to the pitch for the first time since the season opener. We also saw Jeff Attinella's first start in goal this season, as Jake Gleeson is out with an injured hip.
Attinella played great, even stopping a Penalty Kick from Whitecaps Forward Fredy Montero (1:17 mark), however, Montero was allowed to capitalize on the rebound, putting home Vancouver's only score of the match. Attinella exceeded the expectations of a backup thrust into a starting role, and that's more than you can ask.
.@darlingtonnagbe golazo@DarrenMattocks goal
???? ‼️ pic.twitter.com/1FeS0y378U

— Portland Timbers (@TimbersFC) April 22, 2017
A scary moment came in the 80th minute when Valeri was stretchered off with an apparent hip injury. Porter did not speculate as to the severity of the injury, but Valeri did feel a bit better post match. All in all though it was a nice win, especially after a disappointing loss the week prior against Sporting KC.
Anytime you can come away with three points, especially when you are missing your starting Keeper and Forward, and in a Cascadia Cup match, is a great thing. It was also nice to see the returns of Vytas and Ridgewell, and hopefully we will be seeing that combination a lot more.
Next week the Timbers travel to Dallas to face the team currently sitting behind them at second in the Western Conference. FC Dallas has looked good to start the season, acquiring 14 points in only six games. They also remain perfect at home (3-0-0), which will be a challenge, even for a fully healthy and suspension-free Timbers squad.