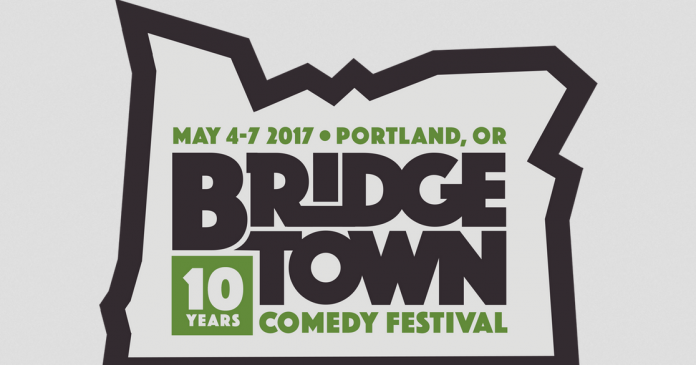 In the less than two weeks, some of the nation's hottest comedians will invade Portland for the 10th Annual Bridgetown Comedy Festival. The festival includes dozens of standup sets, live podcast recordings, improv comedy and panel discussions about the state of comedy. Punchline Magazine named Bridgetown the best comedy festival in the country in 2010.
The festival takes place from May 4th to May 7th, but there's special pre-fest show with by Grammy-winning comedian Patton Oswalt at Arlene Schnitzer on May 2nd.
The Bridgetown Comedy Festival was started in 2008 by comedians Andy Wood, Matt Braunger and director Kimberly Brady. From the beginning, the three cofounders displayed a knack for reeling in big name talent with Oswalt, Tig Notaro and Natasha Leggero all performing in that first year. Since then, the festival has only grown and continues to shape Portland comedy.
This year features quite possibly the best lineup thus far in the festival's illustrious history. Some of the comedians performing include:
Patton Oswalt
Eliza Skinner
Ian Karmel
Kyle Kinane
Shane Torres
Troy Walker
And many more!
For a comprehensive schedule of the multiple venues, please click HERE.
Festival passes are on sale now at: bridgetowncomedy.com.  A standard pass costs $99.00 and includes any shows except the pre-festival special, the Comedy Jam at the Chrystal Ballroom, and any shows taking place at Revolution Hall on May 5th or 6th.
If you're a true comedy nerd, you can upgrade to the Golden Ticket VIP Pass for $249.00, which grants the wearer front-of-the-line access to all Bridgetown shows except for the pre-festival special. Individual show tickets can be purchased as well.
Mike Acker over at Oregonlive also did a great write up on the new comedians joining the Bridgetown ranks. Admittance to the festival is very competitive, so for a lot of these comedians, local or otherwise, this next weekend could their best shot to get noticed and move to a bigger market like Los Angeles or New York.
If you're looking for a chuckle this weekend, or if you just enjoy pointing out a famous comedian years from now to your friends and bragging that you saw them years ago before they were big, Bridgetown Comedy Festival is the festival for you.