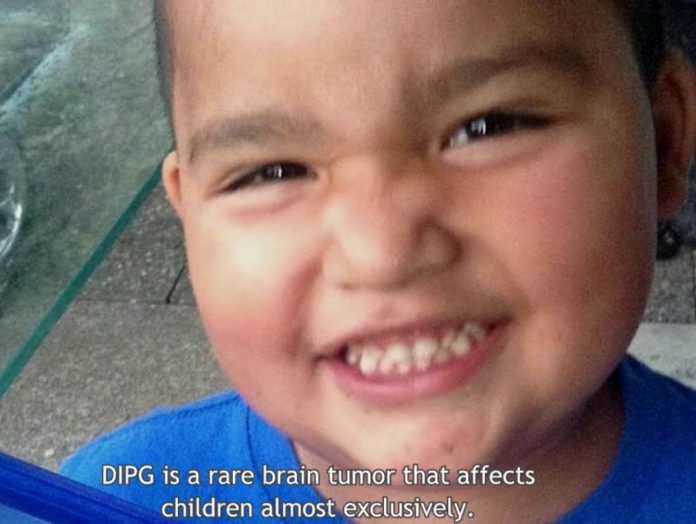 Oregon Active, an Oregon 501(c)(3) non-profit, has mobilized in support of an Oregon boy with a DIPG tumor growing in his brain stem. On January 25th, 2017, Neymar was rushed to OHSU/Doernbecher's Children's Hospital in Portland for blood tests, a CT Scan, and a MRI, after they noticed his left eye was looking a little lazy and his head was tilting slightly to the left. After hours of testing, the news from the neurology team was devastating.
No Cure – Survival Rate is Less Than 1%
There is no cure for a DIPG tumor growing in the brain stem and the survival rate is less than 1%. Unfortunately, no one knows what causes a child to develop a DIPG tumor. It most often occurs between the ages of 5 to 10 years old. Recent DIPG tumor research studies suggest that the cause may be a particular cell found in high concentrations during early brain development.
Make a Difference Now
There really is no time for Neymar. This is very sad, but if you want to get involved and help, you need to act now or forever hold your peace. With less than a 1% chance of survival, the diagnosis is not promising.
Please Watch:
Here's How You Can Help
Oregon Active is calling upon all Oregonians to help this terminally ill boy realize his dream of seeing his favorite soccer team, Real Madrid, play against Sevilla FC on May 14th, 2017. Thank you in advance for your support.
Donate Funds: Donate to Make Neymar's Dream a Reality
Gift Your Frequent Flyer Miles
Tickets to the Real Madrid vs Sevilla soccer match on May 14th 2017
Secure housing in Madrid, Spain
Host a fundraiser in Neymar's name with Oregon Active
Assist with player meet & greet
Spread the word with your friends, co-workers, local businesses, etc.
Join the Oregon Active Team
Dreams Can Come True
We truly believe that if we team up as a community, we can turn Neymar's dream into a reality. For more information on how to donate or get involved please email: [email protected]
Follow Oregon Active on Facebook: https://www.facebook.com/ORACTIVE
Check out their website: www.OregonActive.com