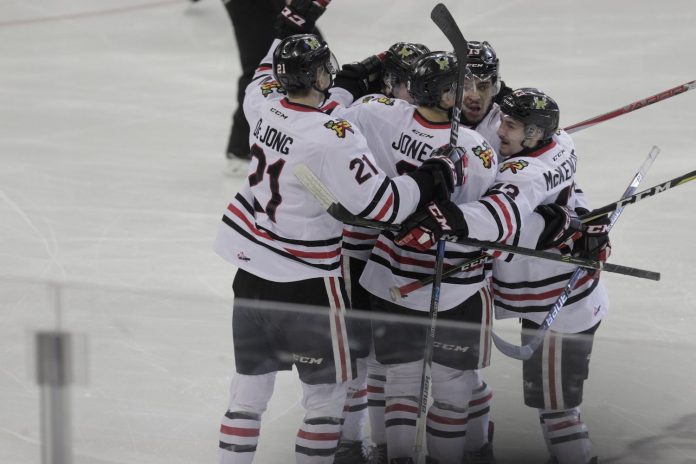 This one started differently than the previous three games in this series, but that was a good thing for the Winterhawks. They showed great poise, and proved this series isn't over by a longshot. While they didn't send a message with a big scoreline, they let the Cougars know they aren't going away.
Prince George came out trying to put this one away early, and it was working for awhile. Their first goal came off a shot through traffic, which hit a body and was left just behind Winterhawks goalie Cole Kehler as a gift for Cougars forward Aaron Boyd. Then a scant three minutes later, things got worse.
As Kehler slid to his left to anticipate a shot the scramble in front put the puck back in the slot, where Jesse Gabrielle put home the second goal for the Cougars. Great. Here we go again, two bad goals in a fairly quick succession. However, these were not the same Winterhawks we'd seen the last two games.
Winterhawks forward Evan Weinger played a little give-and-go with Ryan Hughes, and got Portland on the board late in the first. They weren't done yet. After a dismal performance the last two games, the Winterhawks superb Power Play was back at it when Skyler McKenzie tied the game with 1:27 left in the first. We had a game again.
.@evanweinger finishes a nifty give & go. @pdxwinterhawks are on the board. #PGvsPOR #WHLPlayoffs pic.twitter.com/OiwcBmOCvE

— #WHLPlayoffs (@TheWHL) March 31, 2017
After killing off an early penalty, the Winterhawks kept the pressure up, and once again the Power Play came through. This time it was Captain Keegan Iverson notching one off a great pass from Caleb Jones. First lead of the night for Portland.
.@iverke takes a feed from @Jones4Caleb & the @pdxwinterhawks have their first lead of the night. #PGvsPOR #WHLPlayoffs pic.twitter.com/zmvijqcl8E

— #WHLPlayoffs (@TheWHL) March 31, 2017
This period would not go the Winterhawks way though. Prince George's two most recent, European additions, Nikita Popugaev and Radovan Bondra, each scored late in the period (15:46 and 17:24). Once again, late period goals looked to be sinking the Winterhawks.
We all forgot about Winterhawks forward Matt Revel though. At 8:54 into the third Revel put home the tying goal, which really got the crowd into it. Ok, we're looking good, maybe take this thing to overtime, but Revel would have none of it.
.@matt_rev8 with the redirect & the @pdxwinterhawks take a 5-4 lead with 4:20 to go in regulation. #PGvsPOR #WHLPlayoffs pic.twitter.com/fRq3UX9aay

— #WHLPlayoffs (@TheWHL) March 31, 2017
With 4:20 left in the game Revel ripped a shot from the point, and it found it's way into the net. Winterhawks lead once again, 5-4, and that's what it would end at. Twice they went down, twice they came back to take a lead. This was a team possessed, this was a team with a mission.
The last few minutes got fairly chippy out there. I'm not sure what was said, but both teams wanted at it each other in a big way. The ref through out the last three seconds when the whistle blew, presumably to avoid a line brawl to end the game. Seven penalties were handed out at the 20:00 mark of the final period.
There's two things to take away from this one. First, this is the Winterhawks team that needs to show up in Prince George this weekend, and they will be coming home with a 3-2 series lead. It wasn't pretty, but it got the job done. The second is I wish I could be in Prince George this weekend, because Game 5 is going to be a great one.