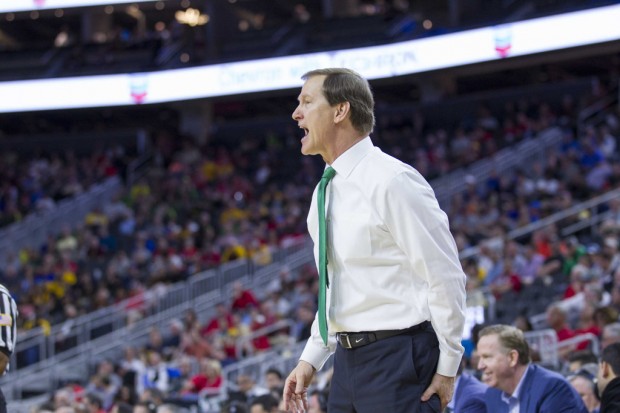 Thursday, March 9th – Days after clinching a share of the regular season Pac-12 title for the second consecutive year, a first in program history, the Ducks were back to business against the Arizona State Sun Devils during the second round of the Pac-12 tournament in Las Vegas, winning in easy fashion, 80-57.
Dillon Brooks, who was recently named the Pac-12 Player of the Year, poured in 22 points to power Oregon onto the conference semifinals. ASU senior Torian Graham led all scorers with 32 points and seven 3-pointers, but the rest of his team shot a combined 5 for 30 from the floor. Ducks sophomore Tyler Dorsey chipped in with 21 points.
As one of the top-four seeds, Oregon (27-4) had a bye during the opening round. They were able to sit in the stands and watch as ASU (15-17) overcame Stanford 98-88 yesterday behind an onslaught of 3-pointers. That well dried up though when faced with the Ducks' aggressive defense.
In the two team's lone meeting earlier in the season, the Sun Devils almost pulled off the massive upset in Eugene. The Ducks scraped out a one point victory, but it took Dillon Brooks going supernova and scoring the team's finals 12 points.
Their second round showdown seemed to be headed down towards the wire as well. After a tightly contested first half that ended with the Ducks leading 34-31, Oregon blew the game open. By the ten minute mark in the second half, the Ducks had pushed the lead to 54-38. They never looked back on their way to a 46 point second half.
It was refreshing to see the Ducks refuse to play down to the level of their opponent. While Oregon is riding a seven game winning streak, they have had to narrowly escape losses to teams significantly worse than them. The inability to impose their will on teams with significant disparities is a red flag that a team is at risk to get bounced in the first weekend of the Big Dance.
Next up is the conference semifinals where Oregon will play the winner of Utah – Cal. The Ducks were undefeated against both teams in the regular season.