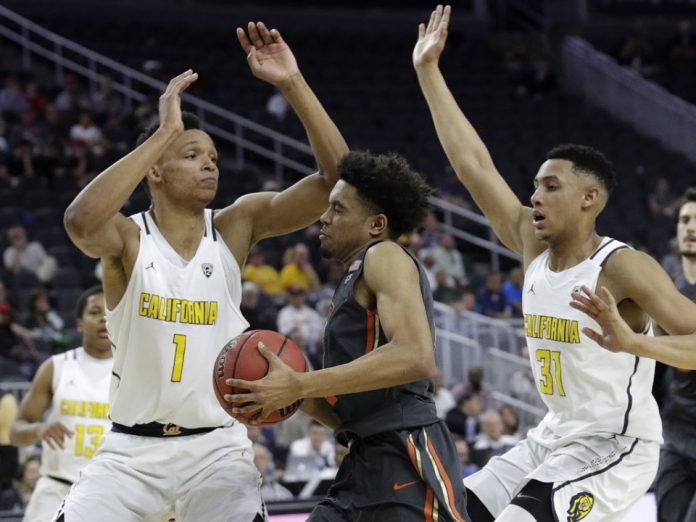 Wednesday, March 8th – The Oregon State men's basketball team lost to the University of California (20-11) in the opening round of the Pac-12 tournament held in Las Vegas. It was close throughout until Cal pulled away in the final minute on the back of several missed opportunities for the Beavers. The final score was 67-62.
The Beavers entered the conference tournament as the lowest seed thanks to a dismal season in which they went (5-27), including two losses to Cal by a combined 41 points. They didn't look like the #12 seed to start the game though. Oregon State came out firing on all cylinders, hitting three of its first four 3-pointers and jumping out to an early 10-4.
The Beavers' first half success (success being somewhat relative as they still trailed) can be mainly attributed to an offensive explosion from Oregon State guard Stephen Thompson Jr. and a complete no-show by Cal big man and projected top-10 draft pick Ivan Rabb.
In the second half though, Thompson cooled off and Rabb started to find his groove. Golden Bears guard Jabari Bird picked up the remaining slack and finished the game with 20 points, including the and-one layup that essentially sealed the win with less than a minutes to go.
The foul was committed by Oregon State's Kendal Manuel right after he airballed a 3-pointer that would have given the Beavers a 2 point lead and put them well on their way to their biggest win of the season. It was a tough sequence for the freshman from Billings, Montana.
Looking ahead, the Cal Bears advance to the second round where they will play Utah today at 2:30 pm. If Cal manages to win the tournament, they will secure a spot in the Big Dance. If they make it to the championship game and lose to one of the Pac-12's three juggernauts (Oregon, UCLA, Arizona), there's a good chance the selection committee would look favorably on them. Almost any other situation though and the Golden Bears are heading to the NITs.
Oregon State, on the other hand, is now done for the season. While this season was pretty tough to watch at times, they have reasons to be excited for next year. Thompson Jr. emerged in the second half of the season as a dynamic playmaker who can put the ball in the hole and should keep on improving next year as a junior. Coach's son Tres Tinkle will be back from his injury, and finally, Oregon State scored its best recruiting class in years.
One final positive note: the Pac-12 announced on Tuesday that seven Oregon State basketball players made first or second team or honorable mention for All-Pac-12 academic honors.