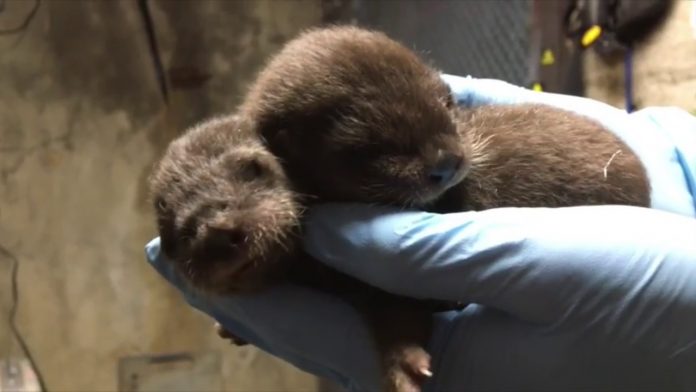 Well, it doesn't get much cuter than this! Tilly, a North American river ott is a new mom and has given birth to three pups on Feb. 26 at the Oregon Zoo. Sadly, one of the three did not make it, as the pup was born small and weak. According to the senior keeper for the zoo's North America area, Julie Christie, the other two twins (one male and one female) appear to be thriving.
"Young river otters are extremely dependent on their moms, and Tilly has been very nurturing," Christie said in a statement. "She did a great job raising her first two pups, Mo and Ziggy, both born in 2013. And she was a terrific adoptive mom to Little Pudding, the orphan pup who was rescued from a roadside in 2015. We expect she'll do well with her new babies as well."
Zookeepers haven't come up with a name yet for the twin pups, though it's said they will likely be named after local rivers or waterways. Mo was named for the Molalla River and Ziggy for the ZigZag. Little Pudding bears the name of a Pudding River tributary that joins the main stem in Marion County.
Both parents to the pups, Tilly (named after the Tillamook River) and B.C., were born in the wild and considered genetically important for the breeding otter population in North American Zoos. While they have had a rough start to life, they are doing great at the zoo.
Tilly was found orphaned near Johnson Creek in 2009 at only 4 months old, and had been wounded by an animal attack and was severely malnourished. Tilly was transferred to the Oregon Zoo after her health was stabilized.
The pup's father, B.C. which is short for Buttercup, was founded in 2009 orphaned near Star City, Arkansas. While B.C. was initially taken in by the Little Rock Zoo, he eventually was transferred to the Oregon Zoo as a companion for Tilly and have since been a favorite to see for visitors.
This will be the first time Tilly has raised more than one pup at a time," said curator Amy Cutting, who oversees the zoo's North America and marine life areas. "It's exciting that they'll be growing up together and have the opportunity to play and wrestle with each other. Tilly's always been an extremely attentive mother, so it will be interesting to see what happens when her pups go in two different directions."
Videos and photo from The Oregon Zoo