Oregon has long been overshadowed in the technology sector by our neighbors, first by Microsoft and Amazon to the North, and more recently by Silicon Valley to the South. Between those constantly booming tech industries, it's easy to gloss over or not notice that a high-tech revolution is occurring in Oregon's Washington County, the place increasingly referred to as "The Silicon Forest."
Forbes recently named Oregon as the fourth-fastest growing state for tech jobs with an annual increase of almost 4%. People are flocking to the Northwest in record numbers, and they're not taking the bohemian jobs that people generally associate with Oregon. They're pursuing careers in technology engineering and manufacturing, a sector that is beginning to dominate Oregon's economic landscape.
That Oregon Life is here to help parse through how Oregon's technology development got here and where it's going.
Where It's At
Oregon has long been known for the tech giant Intel and the manufacturing of hardware and software. But now other universally-recognized names are relocating employees and facilities to Oregon, turning the state into an outlet for Silicon Valley's biggest players. In 2006, Google opened a $1.2 billion facility in The Dalles that hosts 80 full-time employees. Last year, Amazon opened a massive distribution facility in Hillsboro that employs over one thousand people. This is in addition to the many large data centers Amazon operates at the Port of Morrow near Boardman. One of Facebook's largest data centers operates out of Prineville in Crook County. These data centers and facilities are often referred to as "Silicon Valley Outposts."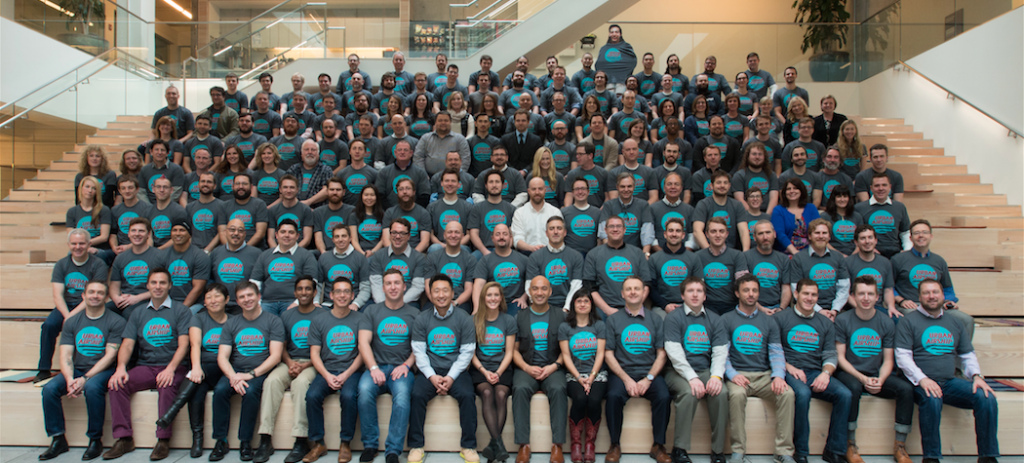 On top of that, several former startup darlings like Puppet Labs and Urban Airship are capitalizing on their potential and putting the national tech industry on notice. Portland's hipster reputation and cheaper rent attracts young coders who are ushering in a new era of tech production that is less reliant on manufacturing. Many coders are starting at Silicon Forest outposts and then moving on to start their own Portland-based technology businesses. This is a main reason why Oregon's tech development, while flourishing, always feels a year or two behind Seattle and San Fransisco.
Additionally, many Oregon tech staples from the previous generation like Mentor Graphics, Lattice Semiconductors, and Viewpoint Construction Software are still experiencing large-scale growth. While Portland may not be on Silicon Valley's level, the city and state of Oregon are methodically transforming themselves into a national powerhouse in high tech development and production.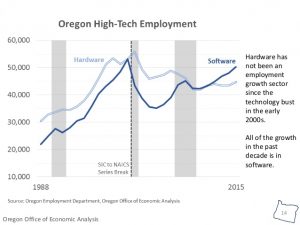 The percentage of people employed by Oregon's high-tech sector is the highest it's been in 14 years since the website bubble burst and caused a massive overhaul of technology-related jobs. According to a 2015 census taken by the Oregon government, there are 88,528 Oregon citizens working in the high-tech sector (That accounts for about 5% of all Oregon jobs.) Their annual average wage hovers around $100,000, which is more than twice as much as the annual income for an average Oregonian ($48,000).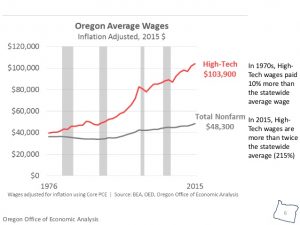 While manufacturing still constitutes the highest percentage of the jobs (43%), the influx of youth, a more programmer-centric market and the continued growth of social media are causing large year to year increases for computer design jobs as well as data processing. Silicon Forest is growing more diverse, and that is attracting a whole new generation of Oregon high tech employees.
Where It's Going
The 2008 recession hit the high tech sector harder than most others and employment took a significant dip. Since 2010 though, it has  seen growth on par with national trends for industries affected by the bursting housing bubble.
According to expert forecasts, Silicon Forest is only going to keep growing taller and wider. While the average industry is expect to increase by 14% over the next ten years, Oregon's high tech sector is expected to grow by a whopping 20%. And with average salaries hovering around six figures, now might be the time to seriously consider teaching yourself how to program.
If you're one of the millions of people feeling the pressure from Oregon's rising rent prices, the bad news is that it will probably only get worse. As Oregon's tech sector continues to grow, more and more young, computer-savvy professionals will seek out Silicon Forest jobs and continue to drive up prices.
The continued growth of Silicon Forest will only further the divide between the "new Oregon" and the "old Oregon" that everyone loves and is trying to preserve.