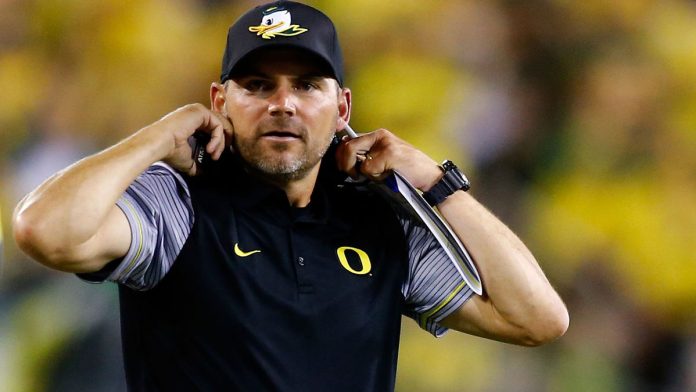 Mark Helfrich is out as Oregon's football coach after the Ducks wrapped up their worst season in more than 20 years, making this the first time in 40 years that Oregon has fired a head football coach.
The news was announced by Oregon Athletic Director Rob Mullens after he and Helfrich Tuesday night.
In a statement, Mullens said, "We want to thank Mark for his eight years with the University of Oregon and appreciate his efforts on behalf of Oregon football. We wish Mark and his family the best."
After his termination, Helfrich released the following statement.
"It is a great honor to have served as the head football coach at the University of Oregon," Helfrich said. "It is with respect and disappointment that we receive this decision. Plain and simple — we didn't win enough games this season.
"Thank you first to my wife, Megan, and our family, the fans, the campus community, the board, our donors and administration. To our coaches, staff and their families, it is impossible to communicate my gratitude for the environment we got to work in every single day.
"Finally, to the players — thank you, and I love you. The future is bright for this young, talented team, and we will be supporting them and their new leadership."
Mark Helfrich's buyout is reported at $11.6 million, and was fired just two years after the Oregon Ducks played for the National title. Helfrich ended this season with a 4-8 record with the Ducks. He previously only lost eight games through three seasons leading Oregon. He is 37-16 overall.
The Ducks' most recent defeat was Saturday, in the 120th Civil War game breaking the 8-year streak the Ducks had over the Oregon State Beavers.