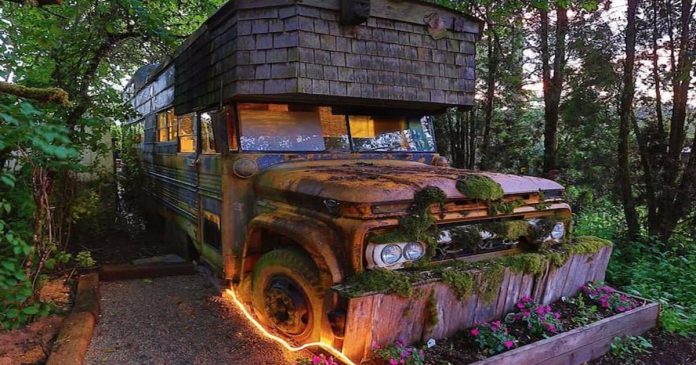 Last updated on September 13th, 2019 at 05:10 pm
If you're going to be in the Eugene area, or you're just a local here, you'll definitely want to check out this sweet vintage bus that's located on four acres in Oregon.
As you climb aboard this enchanting bus, you may forget you're even on a bus as it feels more like a rustic cabin inside. The stay includes not only the cozy stay inside, but a stunning garden view featuring plenty of greenery and flowers. The bus is surrounded by plum trees, horses, cows, sheep, and gorgeous, sweeping land.
The path of glowing LED lights will take you to this private, hidden bus in the middle of nowhere, which is the ideal stay for anyone looking for a night of relaxation. With it's wooden interior, you will definitely feel at home with comfortable blankets and pillows, custom shelves and little touches like its curtains that make this space so special and unique.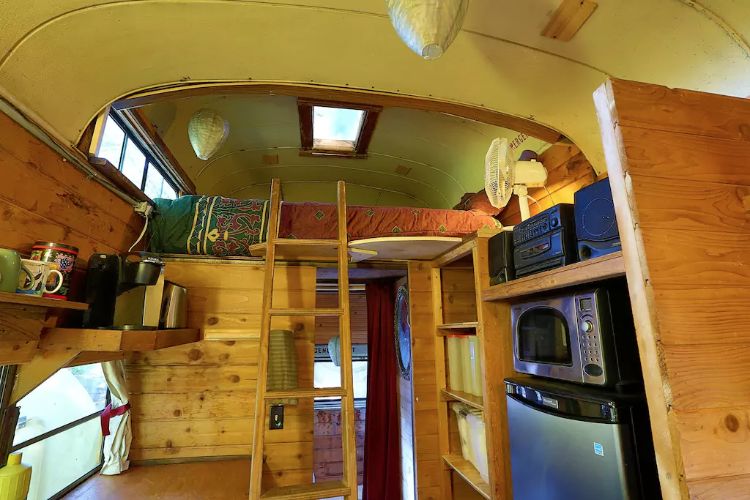 This vintage bus rental includes a full kitchen with appliances, wooden counters, sink, double sink, refrigerator, microwave, and of course a cooktop. Also included is a place to eat your meals with a small dining table with benches.
The living area can double as a small bedroom, and offers two comfortable chairs with end tables as well as a computer desk. The built-in shelves houses books and movies, along with other decorative items. For your added comfort, the bus also includes air conditioning and heat, to ensure a relaxing stay no matter what the season.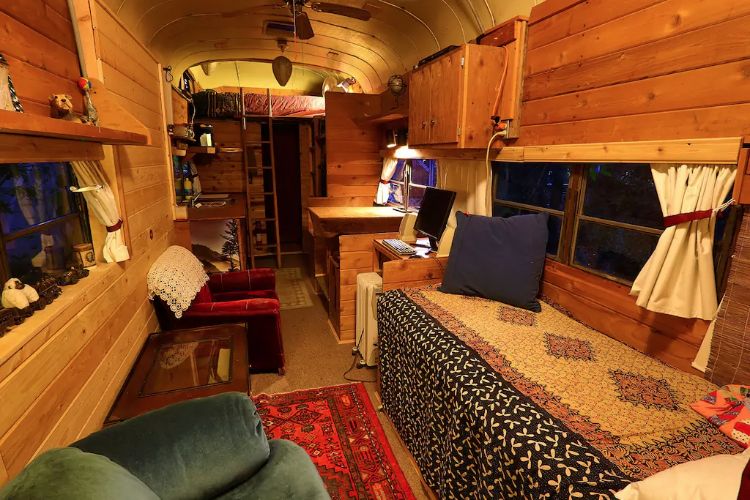 I especially love the loft, with ceilings extended to accommodate a sleeping area lthat is large enough for a king-sized bed! With the ladder access to the loft, you will also find a skylight, giving your stay here a truly unique experience.
Also included in this bus is a TV, Blue-Ray player, stereo, computer, and as we mentioned earlier plenty of books and movies to keep you entertained. The lighted path will take you to a private bathroom, reserved for bus guests.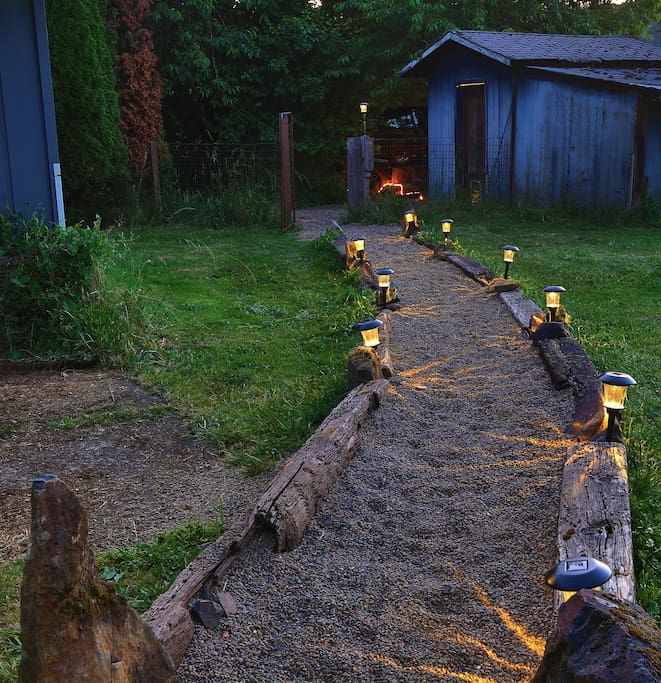 The bathroom is well kept, offering a sink/vanity, toilet, storage cabinets and a stand-up shower.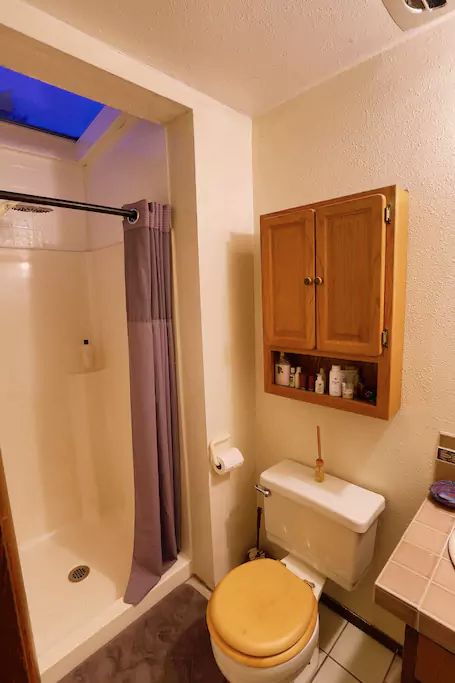 Your mornings will be extra special with the sounds of livestock, and gorgeous views like this in the stunning countryside.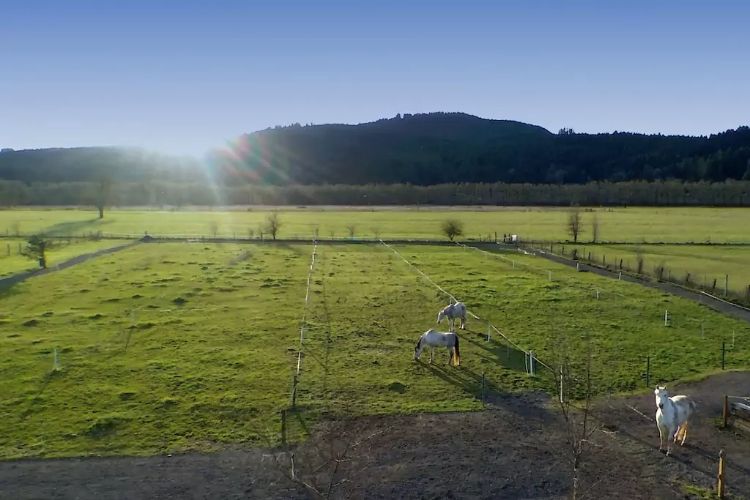 Nearby, you can enjoy a stroll through the luscious Oregon woods.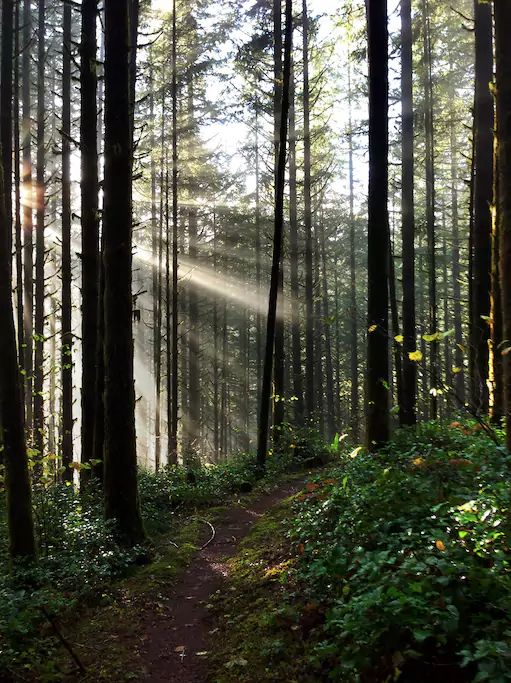 Also worth mentioning is the beautiful garden nearby, which you can see from the bus. If you love the outdoors as much as I do, and you're looking for a fun and different type of place to stay, you will definitely want to check in here soon!
Last time I checked you can get this room now for around $60. Hit up the link here at AIRBNB to learn more.