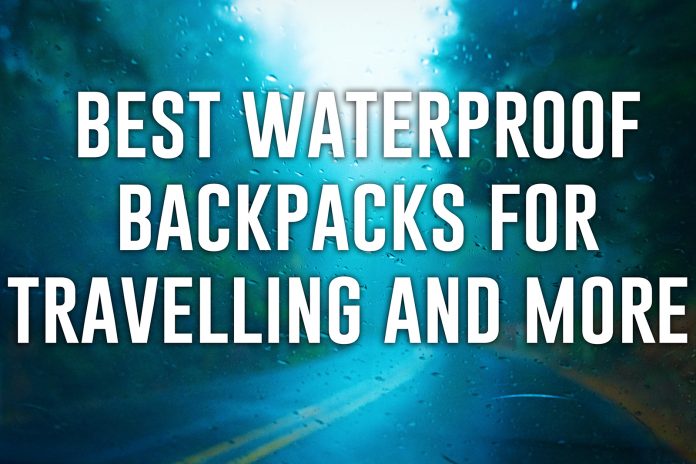 Last updated on February 21st, 2017 at 08:26 am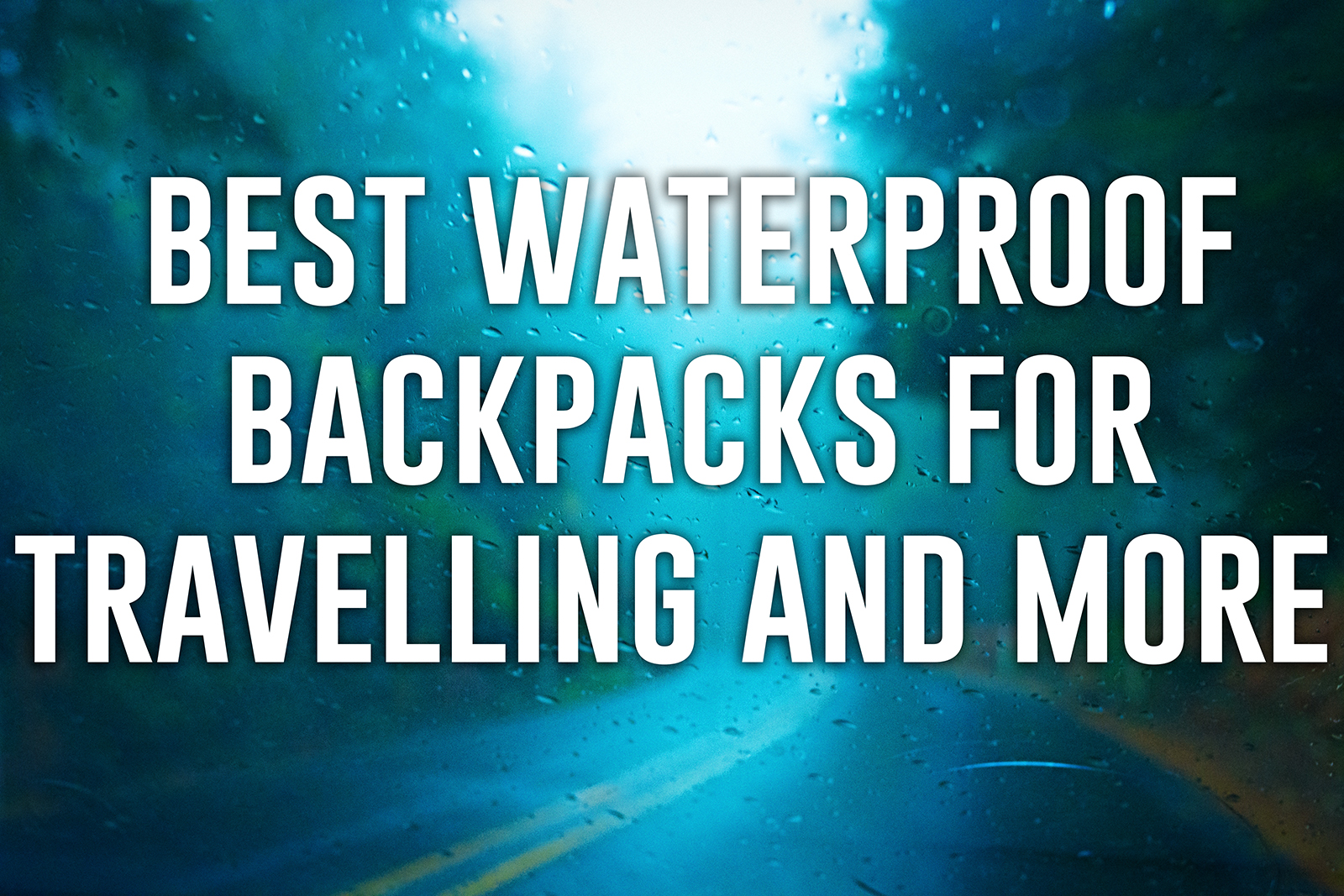 Having the best waterproof backpack is essential in Oregon, whether you are hiking, hunting, going to school or even just heading downtown to take some photos with your expensive camera. If you've ever been in a downpour while outside, then you will certainly understand just how important it is to protect your belongings. Think about all the things you pack… Clothes, maps, food, expensive electronics—nobody wants to open their pack to see these valuables drenched!
With the wetter season once again here in Oregon, I thought it'd be a good time to talk about a few options you have as far as waterproof backpacks go. While there are some decent options out there for backpacks that will withstand moisture, there are definitely only a few that are considered truly waterproof. Just because a backpack claims to be "water resistant" doesn't make it truly waterproof. A water resistant backpack may get you buy in a light shower, but it's not going to fully protect your gear.
When you're shopping for a waterproof backpack, keep in mind your best bet is going to be the top loader pack. In my opinion you will be better off with this option as they are much easier to load your gear into, much more accessible when you want to grab something, and when it comes to waterproof models zippers can just overly complicate things.
With hundreds of waterproof backpacks out there to choose from, it can be very difficult to narrow it down to just a few, but we feel like these are some great choices which also have awesome reviews.
Waterproof Backpack Reviews
1. Sea to Summit Flow 35L Dry Pack

Fully adjustable suspension system
Grab handle
Roll top closure
Top loading
Double sealed seams
Extra-large capacity
What Owners Are Saying
The majority of people who went with this waterproof backpack have been extremely happy with their choice, as it is one of the highest rated models available on the market. Most people who went with this backpack rave about the size of the bag, and the fact that it's fully adjustable for smaller loads but also spacious.
This backpack is extremely versatile and is known to be used for just about any situation. I have personally used this pack for awhile now, and it has been one of the best backpacks for
Check Amazon To View Current Pricing & Availability
2. Scramble 30 Outdry Backpack Specs
Waterproof and tested for 24 hours in a rain room
Top loading with pull down toggle closure
Two deep side pockets
Compression straps
Ergonomic hip support and shoulder straps
If you're looking to save a few bucks, this affordable backpack is still an excellent choice to waterproof your gear. Don't be thrown off by the price, those who have gone with this pack have been very satisfied with the quality.
If you're on a budget, I would highly recommend giving this backpack a try.
Check Amazon To View Current Pricing & Availability 
3. Ortlieb Velocity Backpack
Convenient roll-top to stow food, books and electronics
Foam backing improves ventilation
Offers great stability with dual padding shoulder straps
Carrying handle makes it easy for transporting
If you are looking for simple and compact, this pack is an excellent choice for keeping your belongings dry. Whether you are bicycling, hiking, this pack proves to be reliable and also compact.
Check Amazon To View Current Pricing & Availability 
4. Diamond Candy
Durable zinc alloy resin zipper
Rain cover included
Known for being very comfortable with its streamlined contracted design, on the principle of the human body engineering design
This budget friendly waterproof backpack really holds up and is a solid choice, and most agree the construction of the pack is very well done. Have no worries when packing your camping gear or any other equipment, this pack is sure to protect it with a great waterproof liner. It's said to be very comfortable as well, with great pocket sizes. If you are packing a laptop around, you should have no problem using this pack to protect it.
Check Amazon To View Current Pricing & Availability  
5. Seat to Summit Flow 35L Dry Pack
Top loading for easy access
Seams are sealed for extra protection
Interior is white
Abrasion resistant material
This backpack is especially loved by kayakers and hikers as well. The top loader is quite popular and offers abrasion resistant while also being waterproof. It's easy to carry, and also includes a fully padded waistband which will add that extra support.
Check Amazon To View Current Pricing & Availability   
6. Aqua Quest Stylin 30L Backpack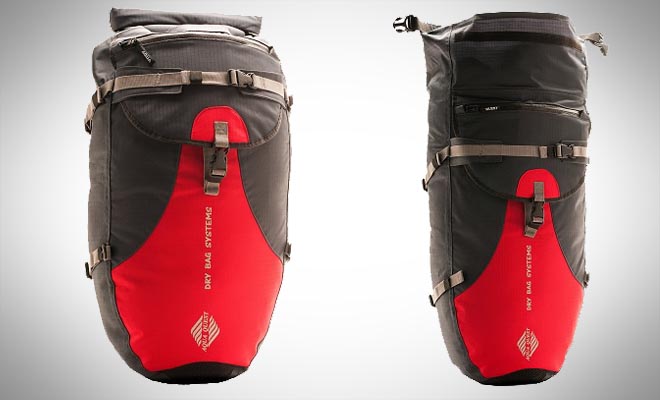 Lightweight at only 1.9 lbs and extremely tough
Comfortable with adjustable shoulder
Aqua Quest is based in the Pacific Northwest and offers a full warranty
Another popular choice, the Aqua Quest Stylin 30L is 100% waterproof that floats and has great reviews. The 30L features a high frequency welded construction and durable PVC that holds up to light showers and watersports like white water rafting. This backpack is a roll-top featuring waterproof storage to protect your gear, as well as a splash-resistant front pocket and front sleeve pocket keep quick-access items within easy reach.
Check Amazon To View Current Pricing & Availability   
7. Overboard Pro-Sports Waterproof Backpack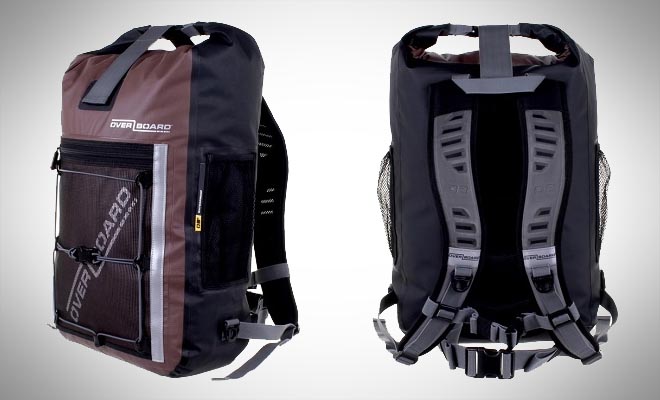 Floats safely ir dropped in water
100% waterproof
Front zip mesh pocket, great for securing storage of smaller items
Comfort fit featuring padded shoulder straps and lumbar support
This backpack is not only waterproof but said to be fully submersible, featuring a  high frequency welded construction and durable PVC tarpaulin that will withstand light showers and of course any watersports you enjoy.
This backpack has been a huge hit while many who have purchased this one gave it 5 stars. It has exceeded expectations for most customers, and did a great job keeping the rain and snow out. No matter if you are biking in a crazy rain storm, need to protect your books or you are hiking, this pack will certainly not let you down.
Conclusion
While they are all great choices, we'd probably go with the Seal Line Pro Pack 115 for the fact that this waterproof backpack has long stood the test of time with great reviews for many years. This pack is extremely versatile and will work for just about anything across the board.
Ultimately it all comes down to personal preference, and whatever works for your budget. If you are serious about the outdoors, or just living in Oregon period, you will definitely want to invest in a trusty waterproof backpack, as it is an absolute necessity.