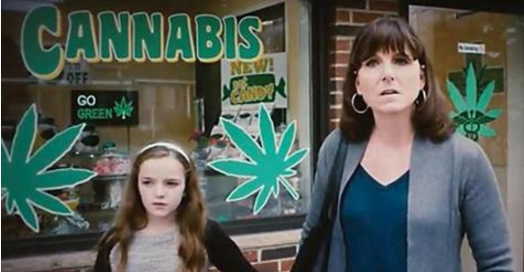 Last updated on February 21st, 2017 at 08:26 am
The devil's lettuce is destroying states like Oregon, according to this hilarious anti-weed video launched recently by opponents of legalizing marijuana in Massachusetts. In the ad, you will see the distraught mother driving through a familiar suburban scene of strip malls, where to her horror she finds one cannabis shop after another in her once perfect little community.
"Question 4 would allow thousands of pot shops and marijuana operators throughout Massachusetts — in neighborhoods like yours," a female narrator says, referring to the Nov. 8 ballot measure. When the mother and her daughter park and get out of her vehicle, the big bad cannabis store is right next to the toy store. I especially love how they made it out to look like candy cannabis edibles are in plain view, in open windows. Because we see that every day now that marijuana is legal in Oregon right?
Shops that sell pot edibles that look like candy and high-potency marijuana," the narrator says, as the young daughter is drawn to a window display of edibles. Her mom walks over and is appalled by what she sees. Then emergency vehicles, sirens wailing and lights flashing, speed by.
"In pro-pot states, incidents of drugged driving and fatal car accidents are up," the narrator continues. There are "more pot shops than McDonald's and Starbucks combined," she says referring to Colorado, one of four states where marijuana is legal for recreational use, as a person billowing smoke walks by across the street.
What a bunch of crap, drugged driving and fatal car accidents stemming from marijuana? Don't even get me started on this topic. Apparently, the ad was made by Jamestown Associates, a GOP political consulting firm. It has also made ads for Governor Charlie Baker, one of a bipartisan group of politicians backing the anti-pot effort.