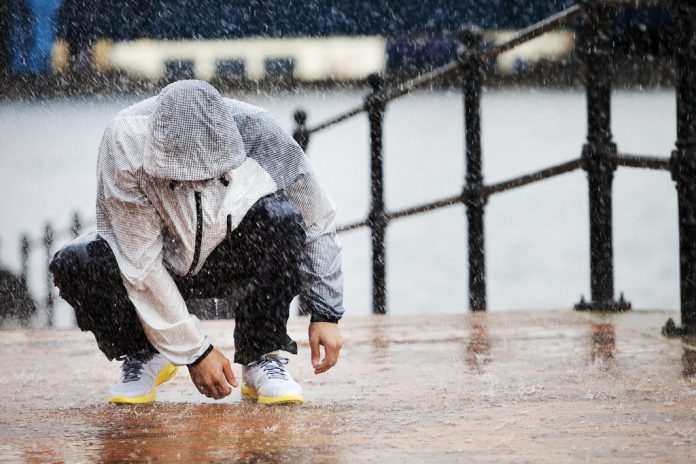 Last updated on February 21st, 2017 at 08:26 am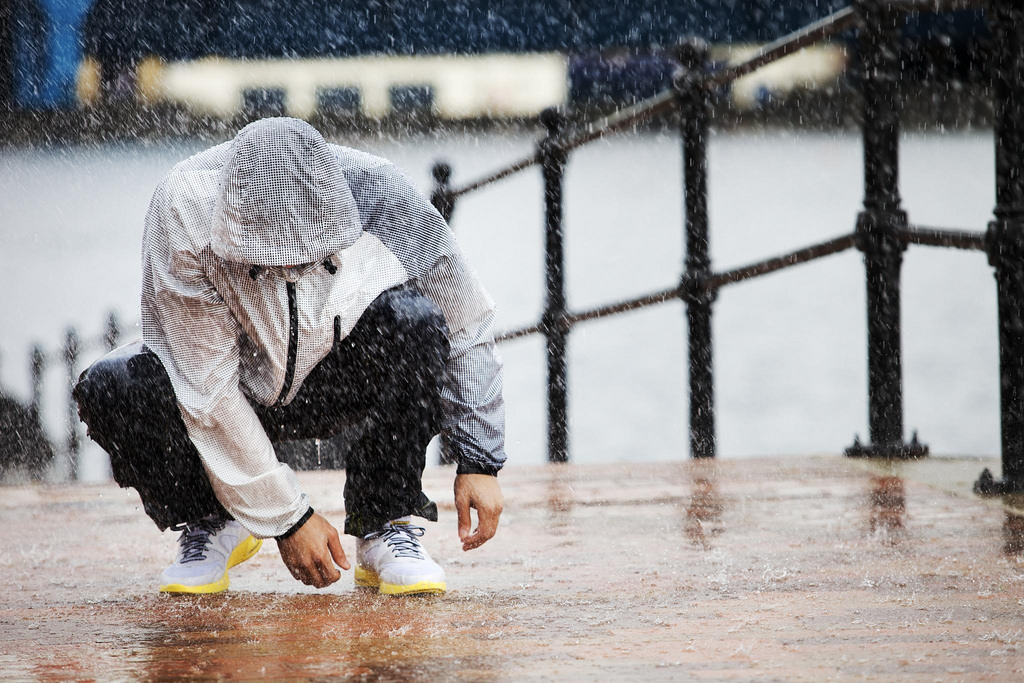 When you're livin' That Oregon Life, having a packable lightweight rain jacket is an absolute must in the great northwest. I personally have a closet full of not only ultralight rain jackets, but also heavy jackets, dressy jackets, and basically a jacket for just about every occasion. I have a decent size shoe collection, but my real obsession is jackets. I currently have at least 10 in my closet — you can consider me somewhat of a jacket hoarder.
With summer coming to a head, I figured this would be a great time to talk about some options when shopping for ultralight rain jackets. There are so many expensive rain jackets out there to choose from, but you shouldn't have to break the bank to keep yourself dry when exploring, cycyling, or simply heading to the office for work. Everyone wants not only an ultralight rain jacket, but ultralight gear in general when exploring the wilderness. Obviously this will be lighter on your load, allowing you to travel farther and more freely.
Why have an ultralight rain jacket
Sure, heavyweight jackets are great for keeping you warm. But me personally, I love to have a lightweight waterproof jacket as not only is it easy to pack, but I find them much more comfortable to wear than heavier jackets.
The ultra lightweight rain jacket market is constantly evolving and innovating. Jackets are obviously a highly personal decision that will depend on what your style, and of course your budget. Opinions vary widely about the best waterproof rain jackets and below you'll find a few of my personal favorites, as well as other popular lightweight rain jackets.
1) Outdoor Research Helium II Jacket
One thing I love about The Outdoor Research Helium II is the chest pocket which is so easily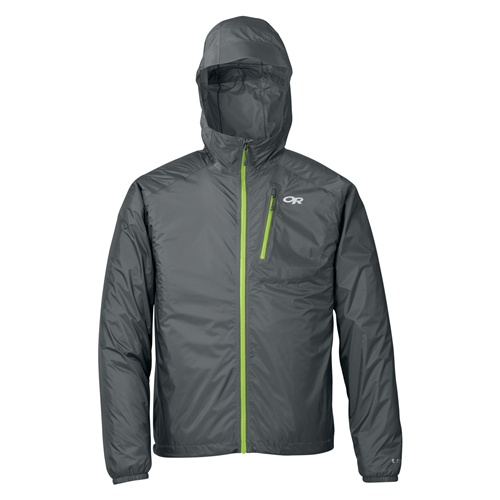 accessible when you are hiking a lot like me with a backpack. This chest pocket
The Outdoor Research Helium II features elastic cuffs, an adjustable hood and hem, and is an all around simple basic ultralight rain jacket. The single chest pocket is what some people prefer, as it's more easily accessible when wearing a backpack with a hip belt than hand pockets would be.
The single chest pocket is great too as you can easily access it when wearing a backpack with a hip belt.
Outdoor Research also offers an upgraded version called the Helium HD, and includes hand pockets and pit zips. The upgraded version still comes in under 10 oz, and is an excellent option for those who want a few extra features.
Get it here. For the ladies, they also have the Helium II available here.
2) Paradox Men's Waterproof Breathable Rain Jacket
This coat has been an absolute favorite for me. While this is jacket is a men's coat, I have seen a lot of women sporting it as well, and it looks great on the ladies! Not only does it look great, but it is very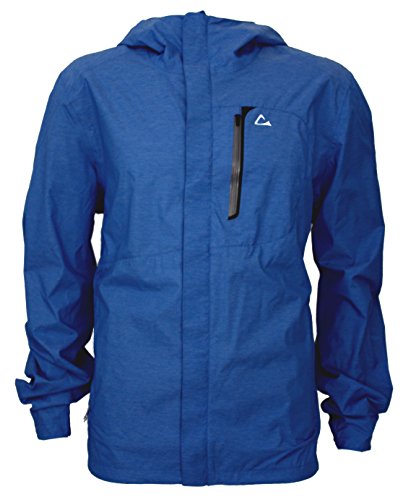 comfortable and has proven to be a reliable ultralight rain jacket for me. This waterproof jacket will repel the rain very well. The jacket is breathable, compressible, and for less than $100 you can have a great quality coat that will last you a long time. This lightweight rain jacket has kept me warm from the cold Oregon winds but stays breathable so I don't get too warm. Another perk to this jacket is you can fold it and put it in your backpack with complete ease.
The rain literally beads up and rolls away like nothing. This thin jacket will give you enough space for a fleece or sweater underneath as well. The jacket also has plenty of pockets to hold your things in. The cuffs are large enough and can be closed tighter with velcro that feels like it will hold up well. Overall this jacket has been an excellent choice.
3) Marmot Essence Jacket
Marmot is definitely taking the lead in super ultralight rain jackets. The Marmot Essence jacket uses a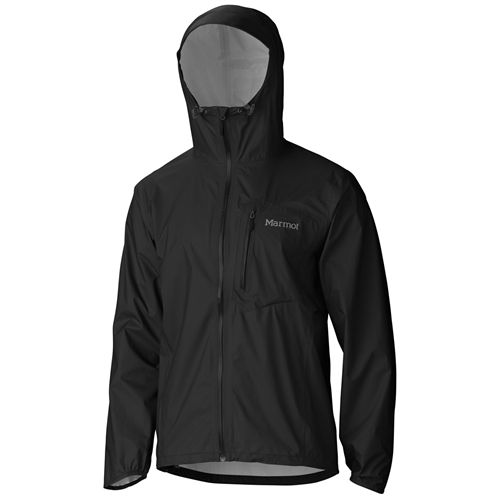 different fabric that's supposed to be even more breathable, and is still lighter than the aforementioned Mica. This basic lightweight rain jacket offers an adjustable hood and hem, elastic cuffs, and 360° reflectivity, for greater visibility.
If you like having hand pockets when it's raining, this may not be the coat for you as it only has a single chest pocket. Again, the chest pocket is more accessible when you're using a backpack with a hip belt.
4) Mountain Hardware Plasma Jacket
When it comes to Mountain Hardware, you simply cannot go wrong. Not only are their jackets stylish,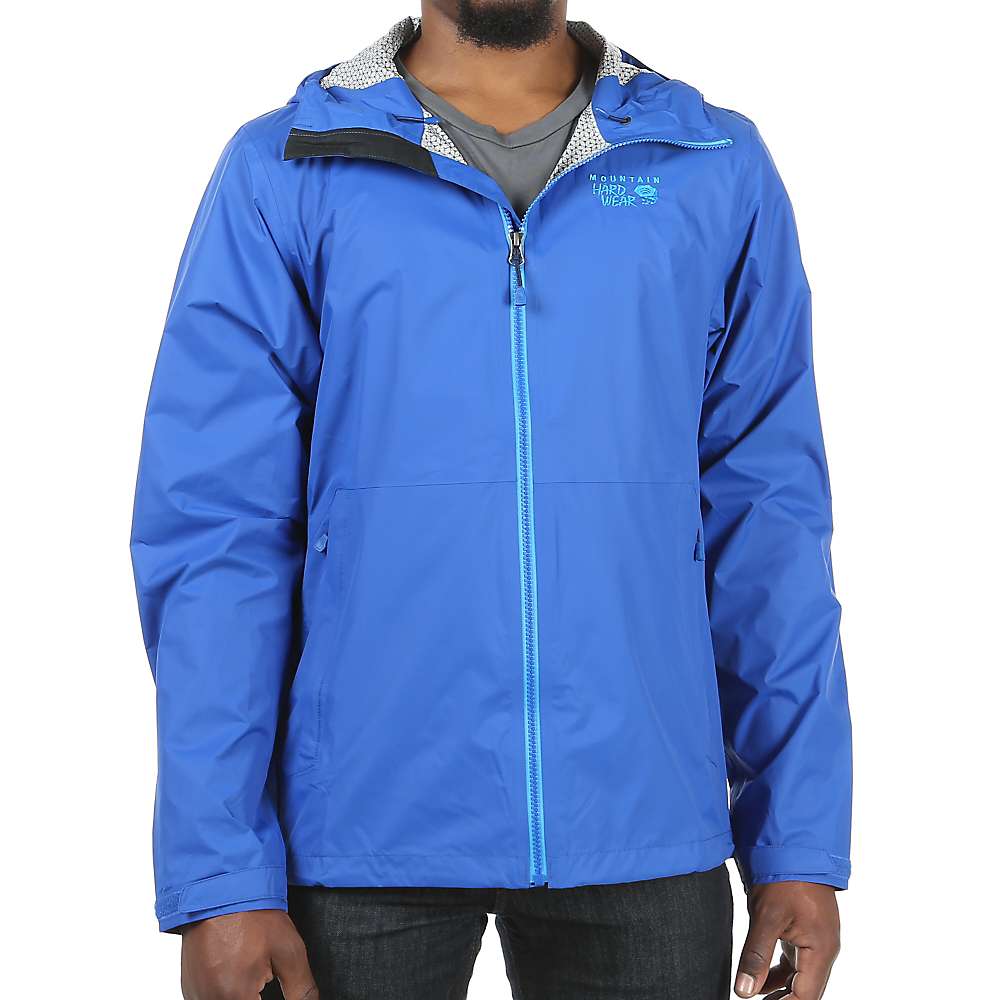 but they are tough and super comfortable. While I don't own the Plasma Jacket, This is a hugely popular ultralight rain jacket right now you should definitely consider.
Mountain Hardwear's Alpen Plasmic jacket is a versatile alpine shell made with 2.5 layer, 70 denier Dry.Q Evap waterproof breathable fabric. Dry.Q allows rain to evaporate more quickly, improving breathability and keeping you drier and more comfortable.
The build quality is really nice. Seams are clean and straight. Zippers have a nice heavy but smooth action with their protective "sheathing" if you want to describe it. The hood has nice adjustments and the pockets are well placed. This jacket is a Large and leaves room for a couple thin layers, and would be slightly snug with a sweatshirt. The abrasion-resistant fabric, pit zips and pack-compatible hand pockets make it the perfect choice for hiking and climbing.
Get it here. For the ladies you can get the Plasma Jacket here.
5) 
ExOfficio Men's Rain Logic Jacket
Not only is the ExOffico Rain Logic Jacket waterproof, it makes a great travel and packable airport jacket. The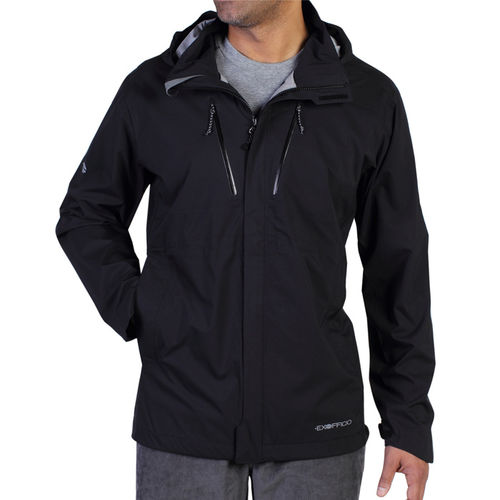 jacket includes a phone pocket for your cell, and while your phone could potentially be too big for this pocket, there are plenty of other pockets that should hold your phone just fine. This waterproof jacket has rave reviews on Amazon, and is also available for women.
This jacket is breathable so you can stay dry without overheating, and is constructed with 2.5 layers: a lightweight face fabric to block water, a polyurethane laminate to block wind, and a protective inner sheen for abrasion-resistance and durability.
Get it here. For the ladies, the ExOfficio is available here.
If you'd like to provide feedback on a lightweight packable rain jacket that we recommend or feel like we've missed an important piece of gear, we'd love to hear from you! Please let us know in the comments or email us [email protected].