We all love our home state, well at least most of us do. If you're from Oregon and you don't like it here, I'd be really surprised to hear that. While it may not be perfect here, I'm proud to call myself an Oregonian and I'd say it's a much better place to live than a lot of states in the good ol' USA.
Recently a popular blog I enjoy very much turned the best and worst qualities of all 50 states and turned them into a map.
The best part of each state in the U.S.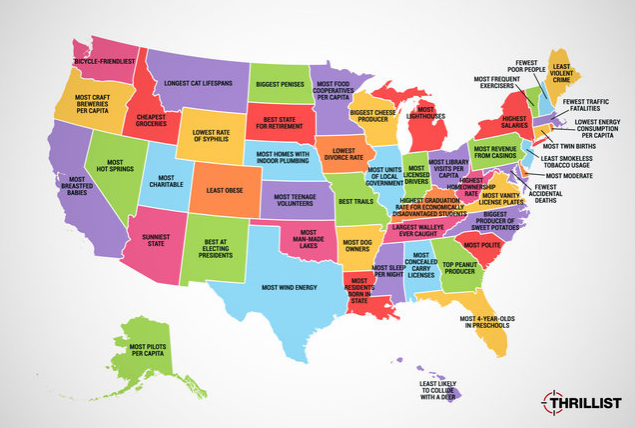 Washington is the most bicycle-friendliest? Hard to believe as Oregon is well known for cycling. But of course, we'd win for craft breweries (and strip clubs per capita)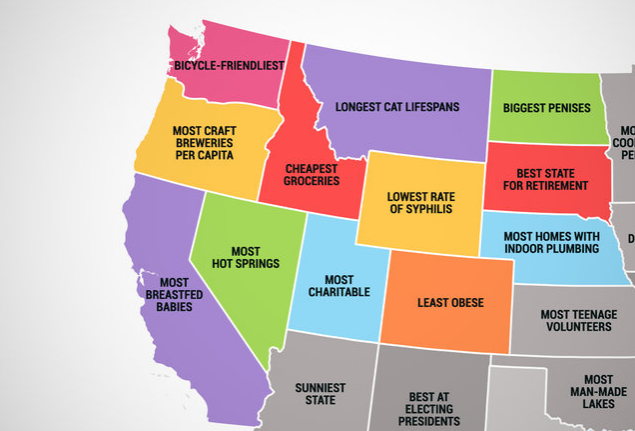 North Dakota wins for largest junk.
Let me look over those numbers again, everyone knows Oregon boys pack the most meat. And then of course you have Alabama, as no surprise ranking highest in the number of concealed carry permits.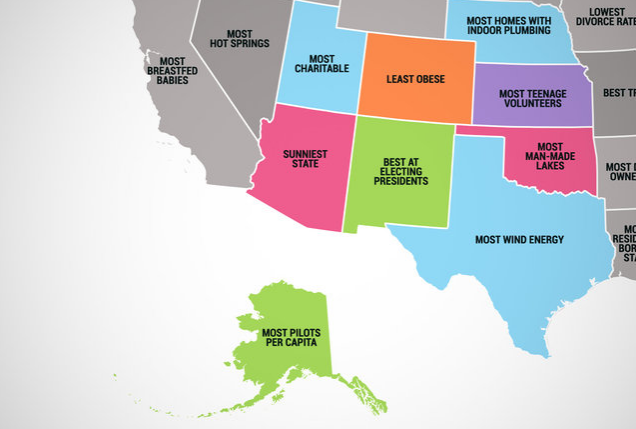 Apparently the best they could come up with for California was the most breastfed babies? Colorado came in for the least obese, which of course you can expect with all the great outdoors — hiking, skiing, etc.
I have to admit, some of these states I'm sort of jealous of. Head over to Idaho for the cheapest groceries!
The worst part of each state in the U.S.
But with the good comes the bad, and Thrillist made sure to include with their article the worst parts also.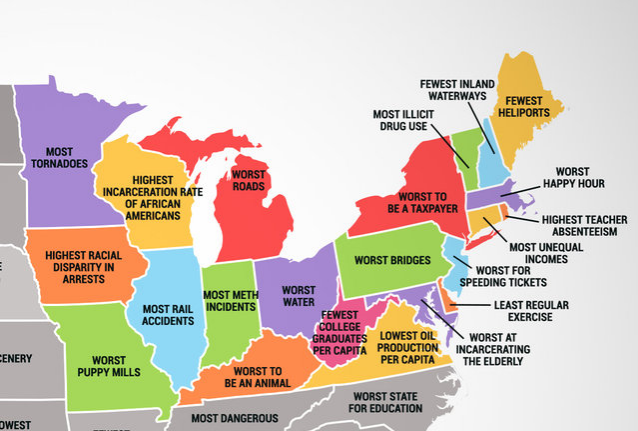 Im surprised Florida wasn't nominated for the most perverts, I literally read about a 21 year old woman engaging with her K9, which she shot video of on her cell phone. That state never ceases to amaze me.
Of course, most of you are from Oregon and want to know where we ranked for worst. You guessed it, most prescription painkiller abuse. Although I'd argue it's a problem everywhere, and it's hard to imagine Oregon is the worst.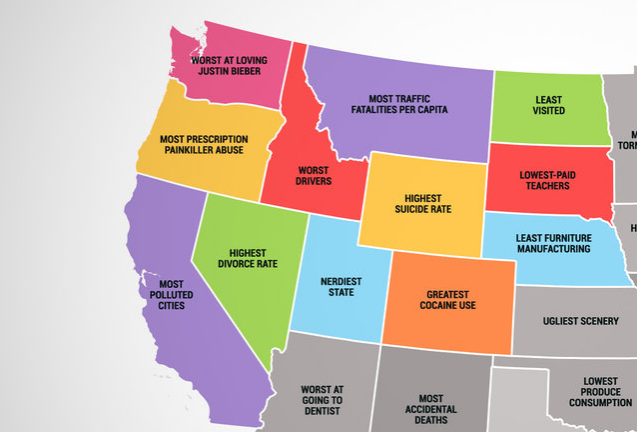 But i'll take that any day over the most polluted, which is very accurate for California.
And according to Thrillist, Colorado is known for greatest cocaine use. I was unaware coke was still a thing? I figured meth took over by now as it's much cheaper. There must be a lot of wealthy folks in Colorado, because that nasty habit gets pretty spendy.
A state-by-state study of Facebook trends also found that Utah is the "nerdiest state" in the country.
And Justin Bieber apparently is a huge hit to our neighbors north, in Washington state. All things considered, we're not doing too bad. We may not pack the biggest meat, but at least we have craft beer and legal weed!
[h/t Thrillist]