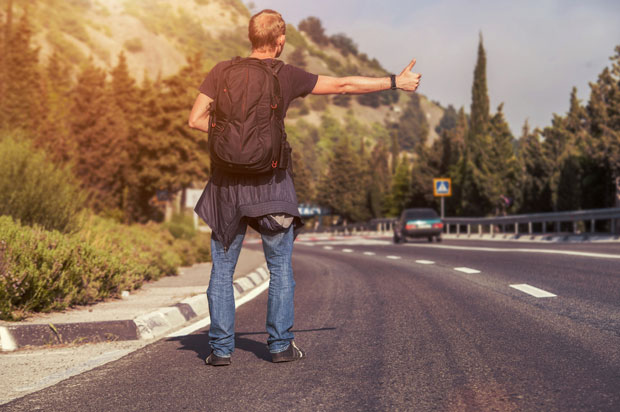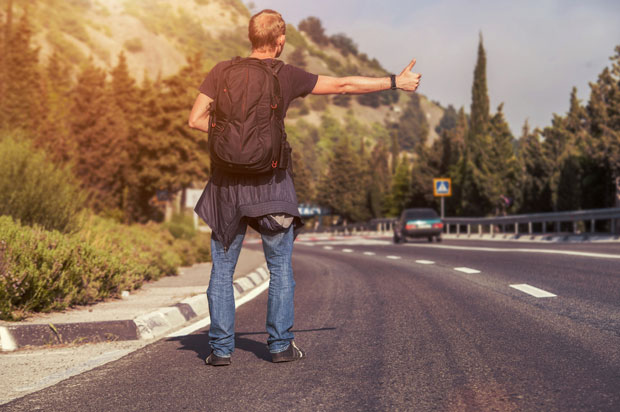 A Klamath Falls man, openly carrying his .357 on his hip, hitchhiked 420 miles to his Grandfather's funeral across Oregon. The young man, Jeremy Bryant said he was expecting a harder time getting a ride with his gun. He documented the whole thing on video, and his progress to see just how many people would pick up a guy with a gun. Can you guess the outcome?
Take a look at the Press Release below:
Man with Gun Hitchhikes 420 Miles in Support of Open Carry.  No One Gets Hurt.
"I carry a firearm to keep the peace good and dignity of my country and the welfare of its people." – Jeremy Bryant
Klamath Falls, OR.  When Oregon man Jeremy Bryant learned that his grandfather had passed, he decided to make a bold move.
An avid gun enthusiast, Jeremy would use this time to make a statement in support of open carry.  He would hitchhike to and from his grandfather's funeral, all while openly carrying a .357 Magnum on his side.  And he would film the reactions of the kind Oregonians who offered him a ride.
His goal? To show that regular everyday Oregonians support open carry. So much so, that they are perfectly willing to pick up a stranger carrying a gun.
On July 20, 2015, his two day journey begins. The funeral is held in Lookingglass, OR – over 200 miles away from Jeremy's home in Beatty.  Jeremy successfully makes the entire 420 mile journey by hitchhiking, all while carrying a pistol on his side.
On his way, Jeremy is helped by an unlikely assortment of people: a rocker, a pregnant beauty student, a miner, and even a female security officer from the airport. Amazingly, not a single person who initially pulls over changes his or her mind once Jeremy discloses that he is carrying. In fact, most express support of Jeremy's act.
The result is a 13 minute mini-documentary, which offers intimate insights into the lives of everyday Oregonians who feel perfectly comfortable around strangers with guns.  Kevin Starrett of the Oregon Firearms Federation calls it "a fascinating look at the reality of openly carried firearms in rural Oregon."
Jeremy's hope is to break down stereotypes of gun owners. He also wants to show those who live in more restricted parts of the world that guns can be an acceptable part of a functioning society.
As for the positive response, even Jeremy was surprised.
"I was expecting a harder time getting rides," Jeremy says, "yet I do not leave my fire arm anywhere. I was incredibly surprised that every single person greeted me with a smile for the most part and offered me a ride even after telling them that I was carrying a .357 on my side."