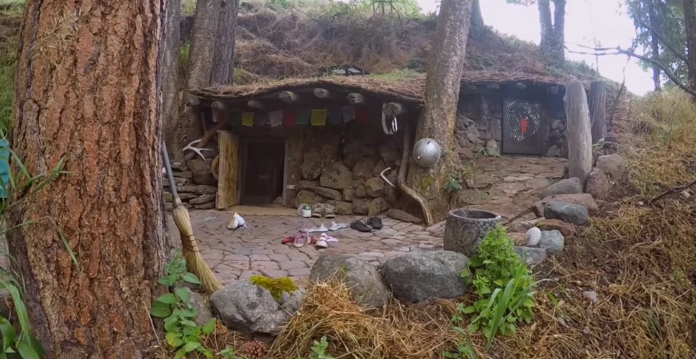 Last updated on December 27th, 2021 at 09:26 pm
You won't believe this amazing story of Daniel Price, who lives in real hobbit house. The little home is just outside of the small town of Joseph in Eastern Oregon, where he even manages to survives on a meager $5,000 per year.
A Real Hobbit House in Oregon
Price, who is originally from Oregon, returned home in 1990 and was determined to avoid mortgages or rent and built himself a hobbit house. He started with an used meadow he discovered in Joseph, where he began renting it from his neighbors for $100/year. In exchange for his ridiculously cheap rent, he cut down trees and repaired fences.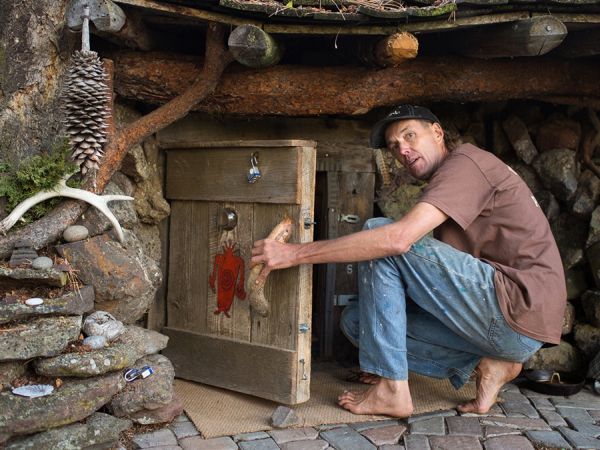 He's plugged into the grid and has been approved by the city and county, although he gets water from a spring on the property. He showers using water from a river which is powered by propane,
and he also uses a composting toilet.
"Initially I had to go through the county and the city because there's an electric line brought down. And they approved it. They also approved, the city council approved this composting toilet 25 years ago. So I'm kind of grandfathered in. And I don't, as you can see there's no junk cars or piles of trash around. I keep it really pristine so there isn't anyone complaining. And if I had trashed the place and people were complaining they'd probably come and kick me out."
What Lead Daniel Price to Move Into a Hobbit House
According to stories he was tired of the rat-race and daily stress that leads to the so called American dream. He was even robbed in his home in Kentucky, where someone had entered a skylight and got away with his photography equipment and computer. He tore down the home and left only the underground portion as his entire home. "That was what 15 years ago. That's when I went into the little hobbit hole. Eventually, of course, I saw the Hobbit movies and made like the porch with the little curved porch on it and I've been in that ever since."
"I used to work as a photojournalist with regular crazy hours. The problem is, people have their lives organized so they are the slaves. Basically, the average person spends a ton of their time working for very little money, just to survive. I spend a very little of my time working for enough money to not just survive, but do what I love – draw and travel." Price said in an interview at galfromdownunder.com.
In this regard, his petite abode does come in pretty handy by totally eschewing those mortgages and energy costs; a perfect accompaniment to his $5,000 an year income.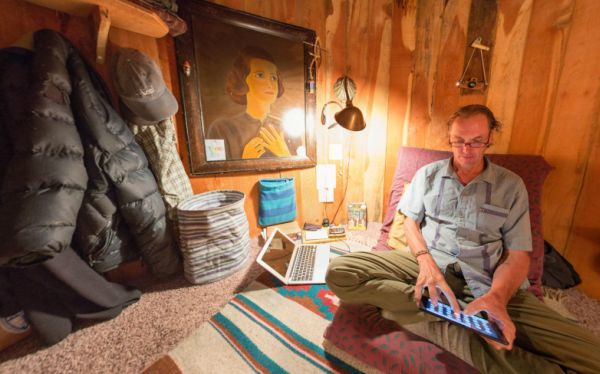 So what does he do to pay the minuscule electric bill and feed himself? He doodles. Since 1992, Dan's reclusive days and nights have been meticulously recorded in an ongoing series of pocket-sized journals called the Moonlight Chronicles, www.moonlightchronicles.com. He's got himself up to 100 or so fans across the country, who pay him $5 per issue.
'I've worked out it you can live on around $5000 a year,' he says.
'All you need is a piece of land, and a source of fresh water, and you can make a life.'
Yes, this is America.  Even a hobbit has to pay that electric bill.
Sources: galfromdownunder, faircompanies, homeharmonizing