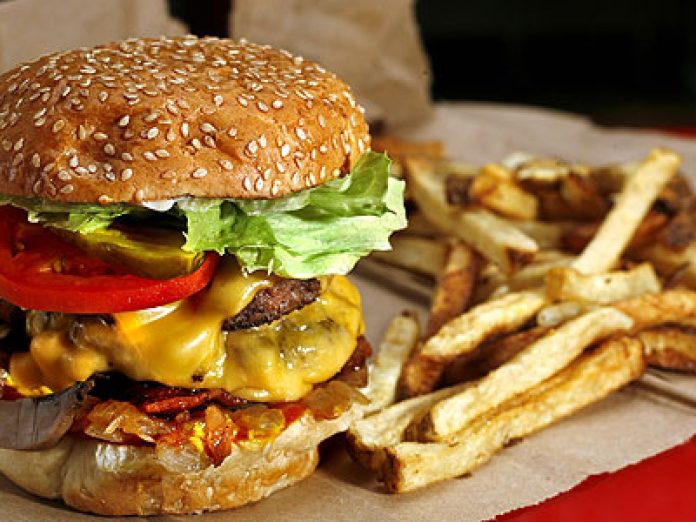 We recently asked our followers to give us some tips on where to find the best cheeseburgers in Oregon. If you're looking for a great place to grab a burger, look no further as I have compiled this list based on answers from our followers, as well as a few places I've personally ate in Oregon.
Ruby's of Ashland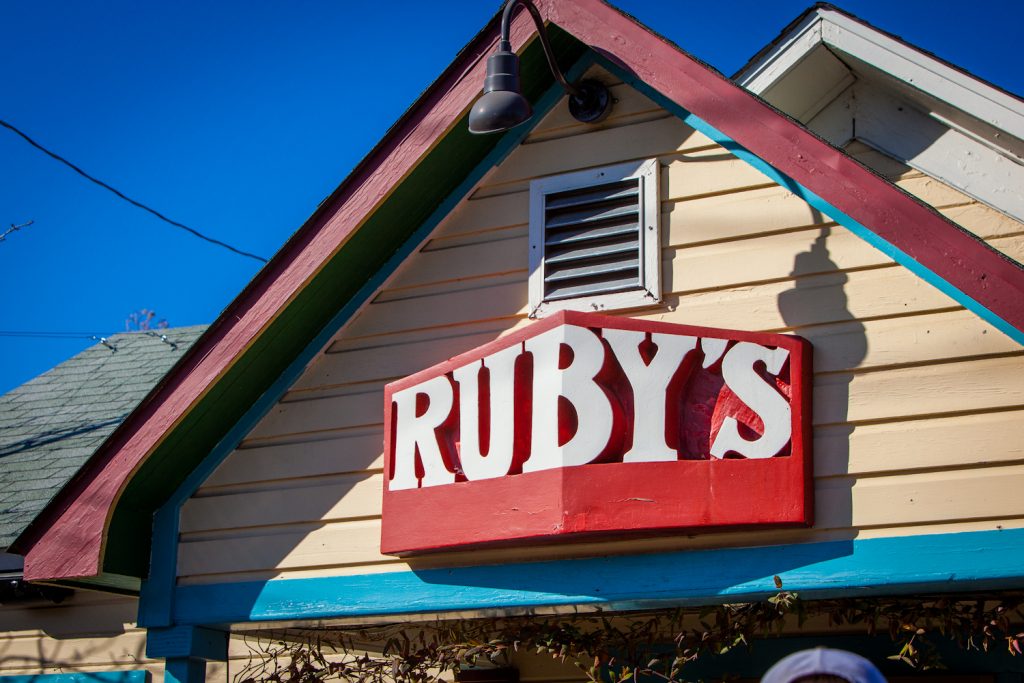 Keegan, a follower at That Oregon Life recommends their Tatanka Burger, and hhad this to say about Ruby's in Ashland:
Best burger I've had in Oregon that I can remember is the Ruby's Tatanka (Bison) burger in Ashland.
From their website:
Established in 2011, Ruby's neighborhood restaurant bridges downtown Ashland with the Historic Railroad District. We feature a wide variety of breakfast burritos and eclectic lunch sandwiches, including many vegetarian, vegan and gluten free options. Ruby's also offers locally roasted organic coffee, espresso and a large selection of house-made refreshments (as well as beer, wine and cocktails).
Where to find them:
163 N. Pioneer Street
Ashland, OR
97520
HOURS
Open 7 Days A Week
7:00am – 6:00pm
Killer Burger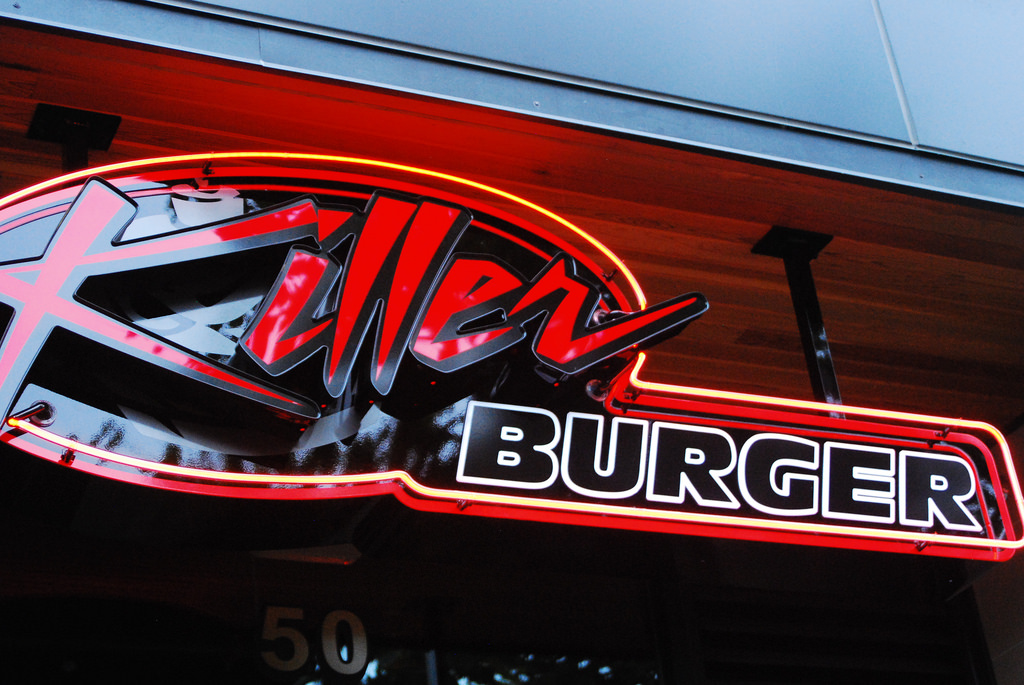 Probably the most mentioned by our followers, and a personal favorite place to grab a burger is Killer Burger, which you will find in both Eugene, Portland, and other areas. I love the atmosphere here, and the burgers are indeed killer. One thing I love about this place is every burger includes BACON. That alone should convince you to try this awesome burger joint.
I can't wait to try the peanut butter burger next!
Hours:
Downtown PDX:
Monday-Thursday 11:00-9:00
Friday & Saturday 11:00am-Midnight
Sunday Closed
FULL BAR Happy Hour- drink specials- 3:00-6:00
Sellwood:
Monday-Thursday 11:00-9:00
Friday & Saturday 11:00-10:00
Sunday Closed
Eugene:
Monday-Thursday 11:00-9:00
Friday & Saturday 11:00-10:00
Sunday Closed
Sherwood:
Monday-Thursday 11:00-9:00
Friday-Saturday 11:00-10:00
Sunday 11:00-8:00
Five Guys
Five guys has become hugely popular in Oregon. Due to the fact they have so many locations, I will just give the link here where you can find all of their locations which include Beaverton, Bend, Salem, Eugene, Springfield, Gresham, Happy Valley, Hillsboro, Beaverton, Milwauki, and Oregon City. While mentioned by a few of our followers, I have also personally tried this place out recently and was very satisfied with both service and food. When they had made a mistake on my order, they promptly fixed it. I especially loved how all of their cooking is done right in front of you while you wait! Their fries were also incredible, and they definitely don't hold back and gave me more than I could even finish.
First Burger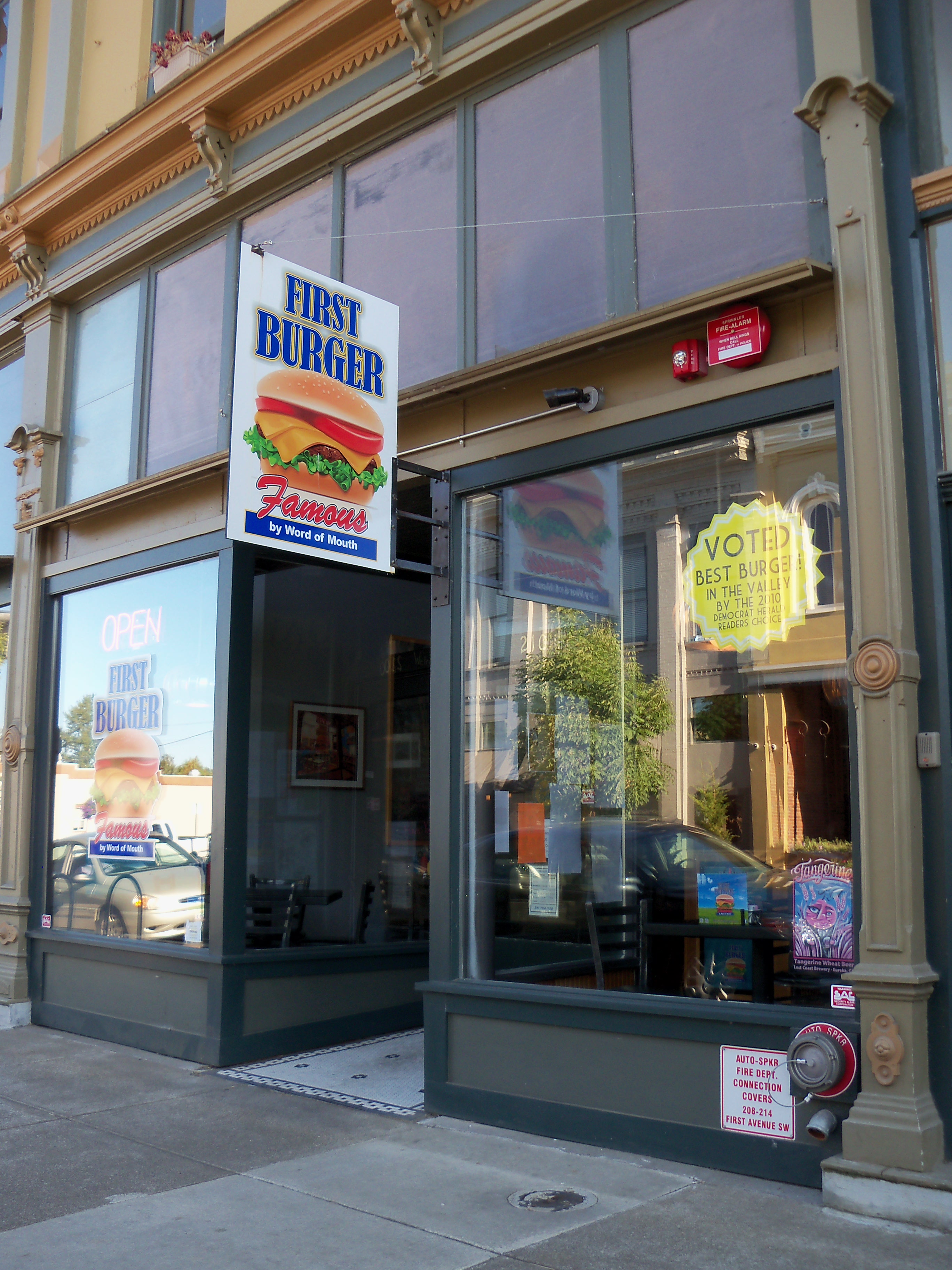 Here's another great place, recommended by Pam, a follower of That Oregon Life.
From their website:
At First Burger we use the freshest local ingredients to create hamburgers the way they ought to be: hand-formed, generously sized, made-to-order, and delicious.
First Burger is simple food done right: we don't cut corners!
Our USDA Choice hormone-free beef is ground at the restaurant every day
Our chili has never seen the inside of a can.
Our veggie patties are made fresh in-house.
Our fries come from the potatoes we buy, not from the freezer.
Our fabulous onion rings are prepared fresh every day
We believe that we're making some of the tastiest, most wholesome burgers in the Willamette Valley – we hope you'll agree!
Make sure to have an appetizer and try one of our famous shakes or a local craft beer to help wash down the best burger and fries in the valley.
Hours are 11:30 a.m. to 2 p.m. Monday to Saturday, plus 5-8 p.m. Tuesday to Friday and all day Saturday from 11:30 a.m. to 8 p.m.
Pete's Drive-In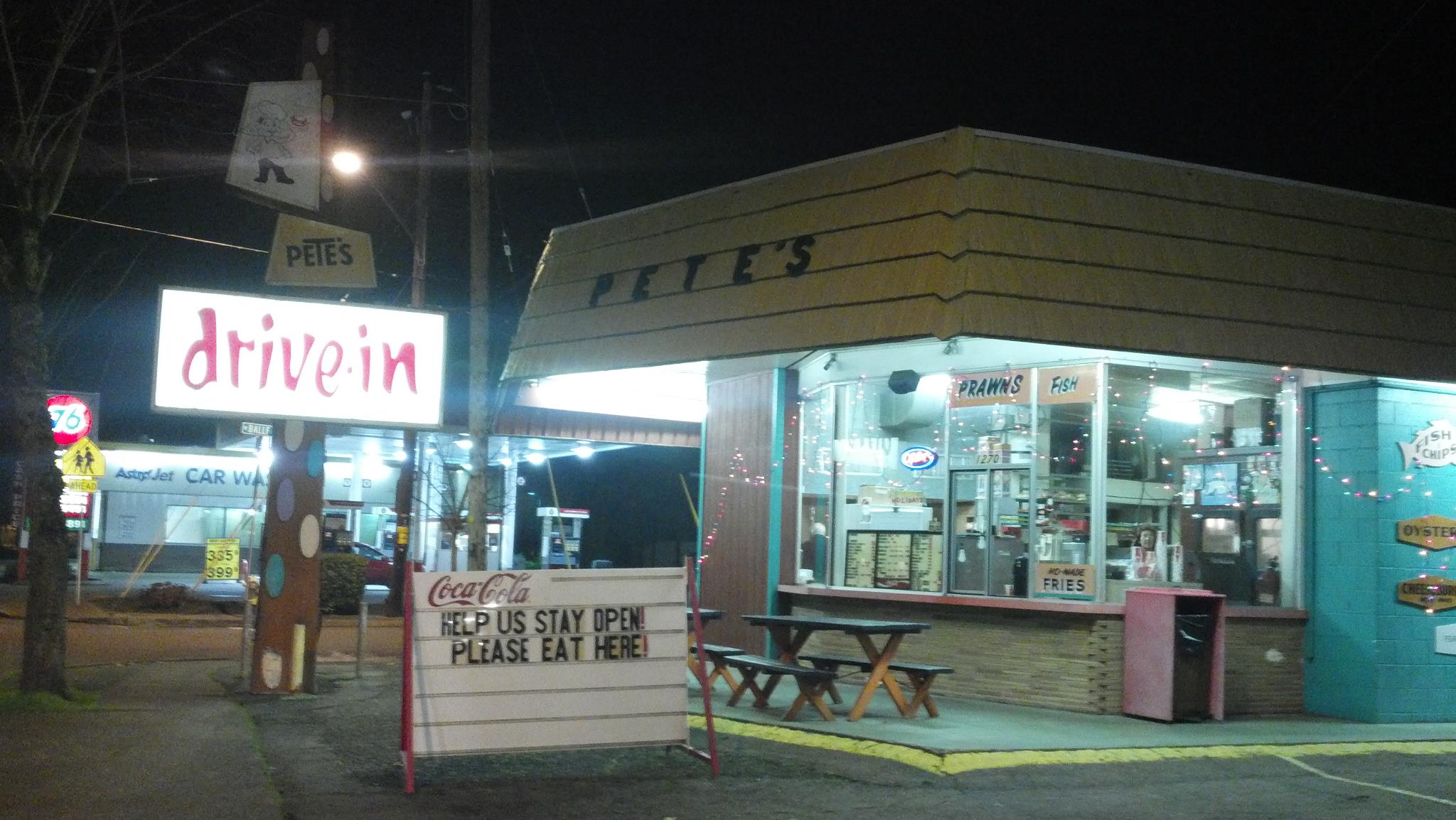 Yes, drive-ins still exist! Fry sauce and amazing chocolate shakes delivered right to your car window, what more could you ask for?
Review from their Facebook page:
My husband an his dad went to Pete's every Sunday growing up. Then when we got married it quickly became our favorite place to grab a great burger. Now that we have kids we have had to scale back on where we eat as a family but is still a for sure date night must for the two of us. Hope Pete's is around for many more years to come.
Find them at:
1270 W Harvard Ave
Roseburg, OR 97470
Phone:(541) 672-6011
Bob's Burgers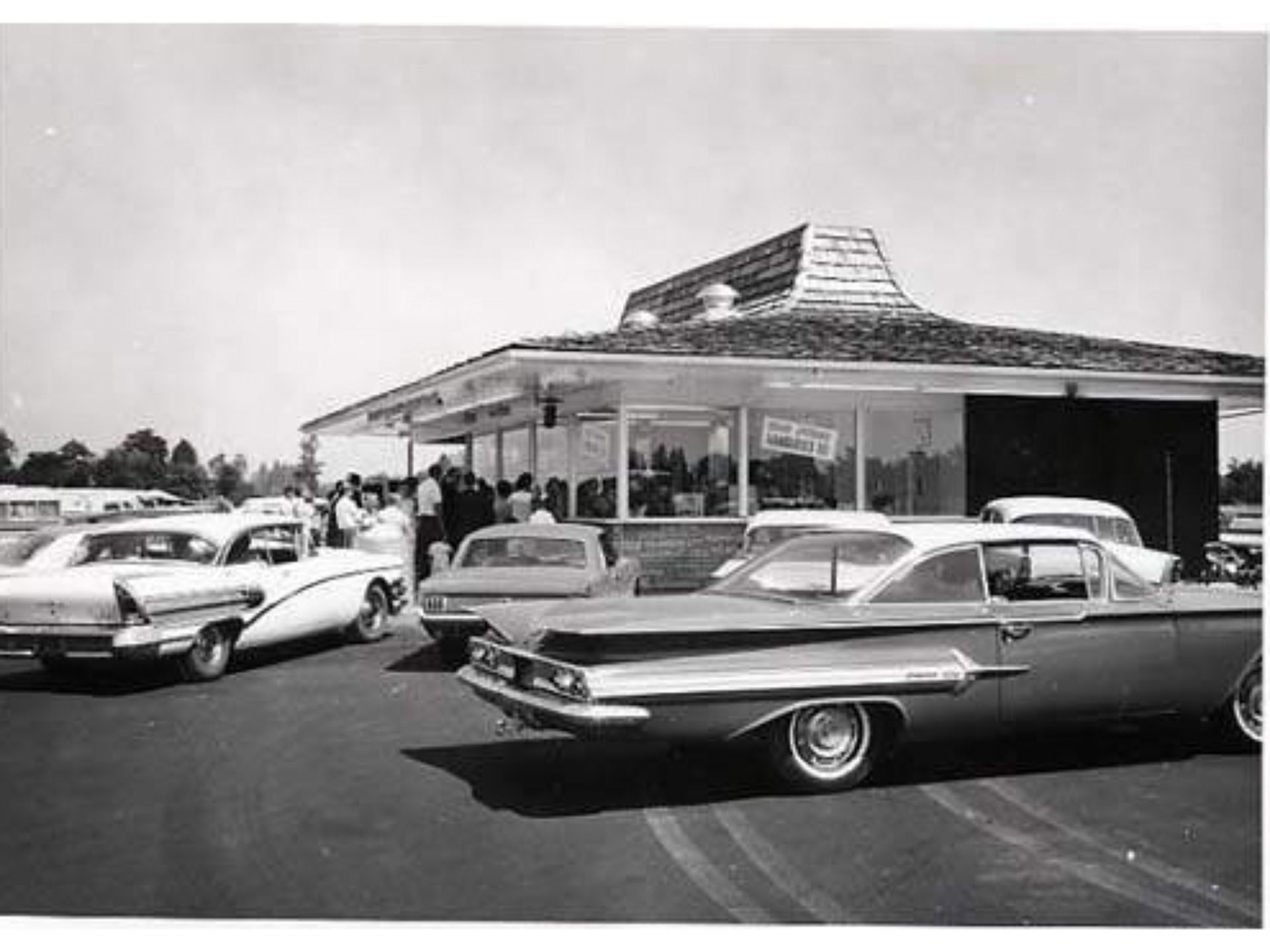 Bob's Burgers started in Salem in 1955, and went away for a number of years. For a long time, loyal Bob's customers have yearned for the day they'd return. Bob's closed in 2001, and the owner has recently opened two locations in both Lancaster Mall and the Salem Center Mall in the food court, open 7 days a week.
Growing up, I remember going to this place in Springfield with my mom and always loved their burgers — especially their famous secret sauce.
Yeong's Place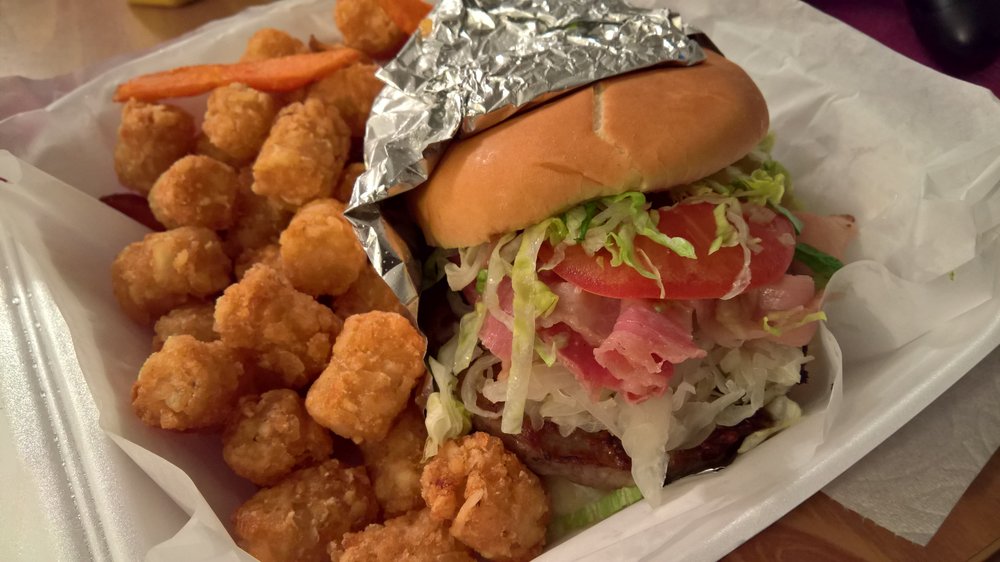 From a follower at That Oregon Life:
Yeong's Place, North Bend—they have the best cheesburger, hamburger, bacon burger, etc. It would be near impossible to find a better burger anywhere, since they have so many choices, and sizes to meet everyon's needs. Good Prices too!
Find them here:
1120 Virginia Ave
North Bend, OR 97459
Phone: (541) 756-1914
The Pink Rose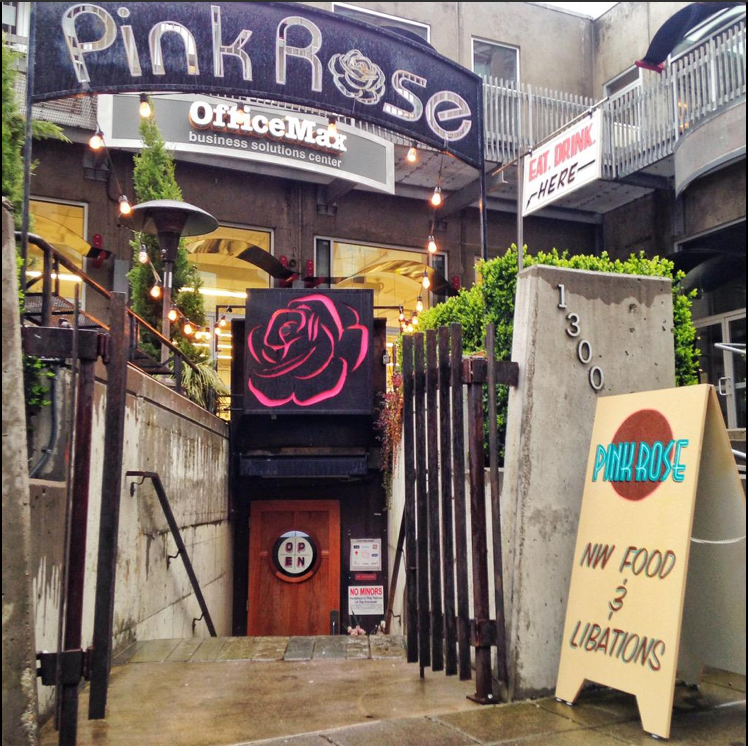 Another place worth mentioning, recommended by Justin, a follower at That Oregon Life is The Pink Rose. You will find this spot in the Pearl District, in Portland.
Justin had this to say:
The Pink Rose in the Pearl District in Portland. One of the most underrated burgers in the city!
From their website: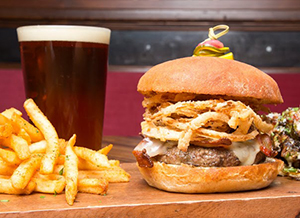 In addition to our locally sourced organic gluten free artisanal Bloody Mary, enjoy heartstopping comfort food made from scratch.
Find them here:
King Kone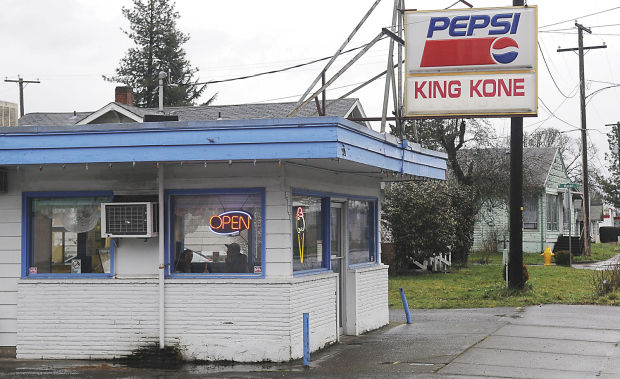 From Julie, a follower at That Oregon Life:
King kone in Albany is tiny and been there forever but amazing burgers and huge ice creams cheap AF
John, another follower also mentioned:
I grew up in Albany and love King Kone!
Find them here:
Address:
1515 SE 2nd Ave, Albany, OR 97321
Wichita Pub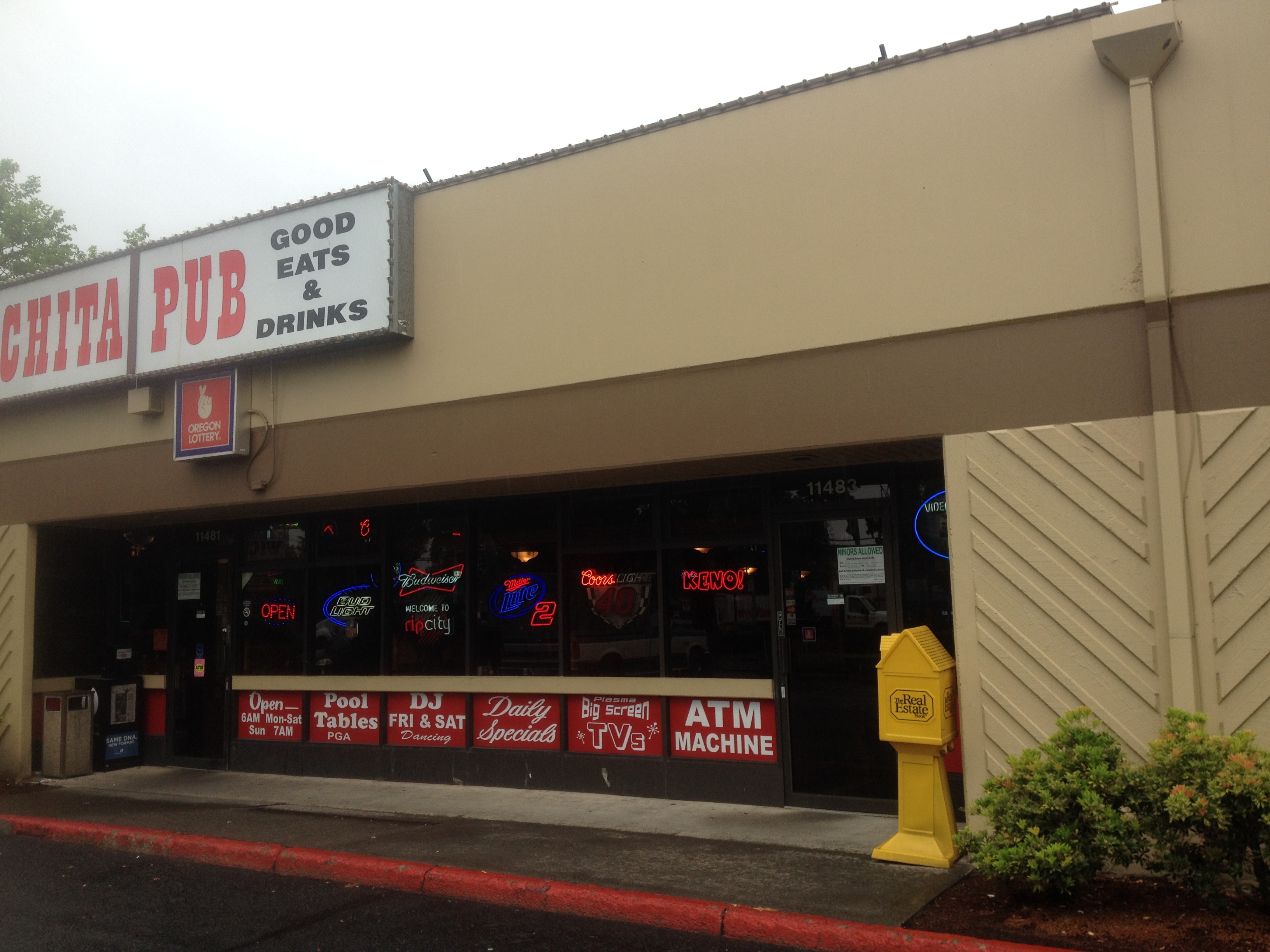 Wichita Pub was recommended by Angela, a follower at That Oregon Life. She had this to say:
Wichita pub…clackamas..they are huge and taste great.
Also in response, from Deena, another follower:
Definitely! They are huge and I love the fried eggs and ham added to it. The quality remains the same even after the first one I had over 25 years ago!
From happyhourportland.com:
Stop by the Wichita Pub to enjoy breakfast (opens at 6am on weekdays) with the family, lunch with the co-workers, and dinner with the date. After 9pm, minors are not permitted, and the music goes up a notch. Enjoy a diverse menu, experienced wait staff, and a familiar seat every time.  Enjoy all the festivities of the Oregon Lottery with keno, ticket games, and video lottery.
*Daily Specials*
Where to find them:
11481 SE Highway 212
Clackamas, OR 97015
(503) 657-8344
Giant Burger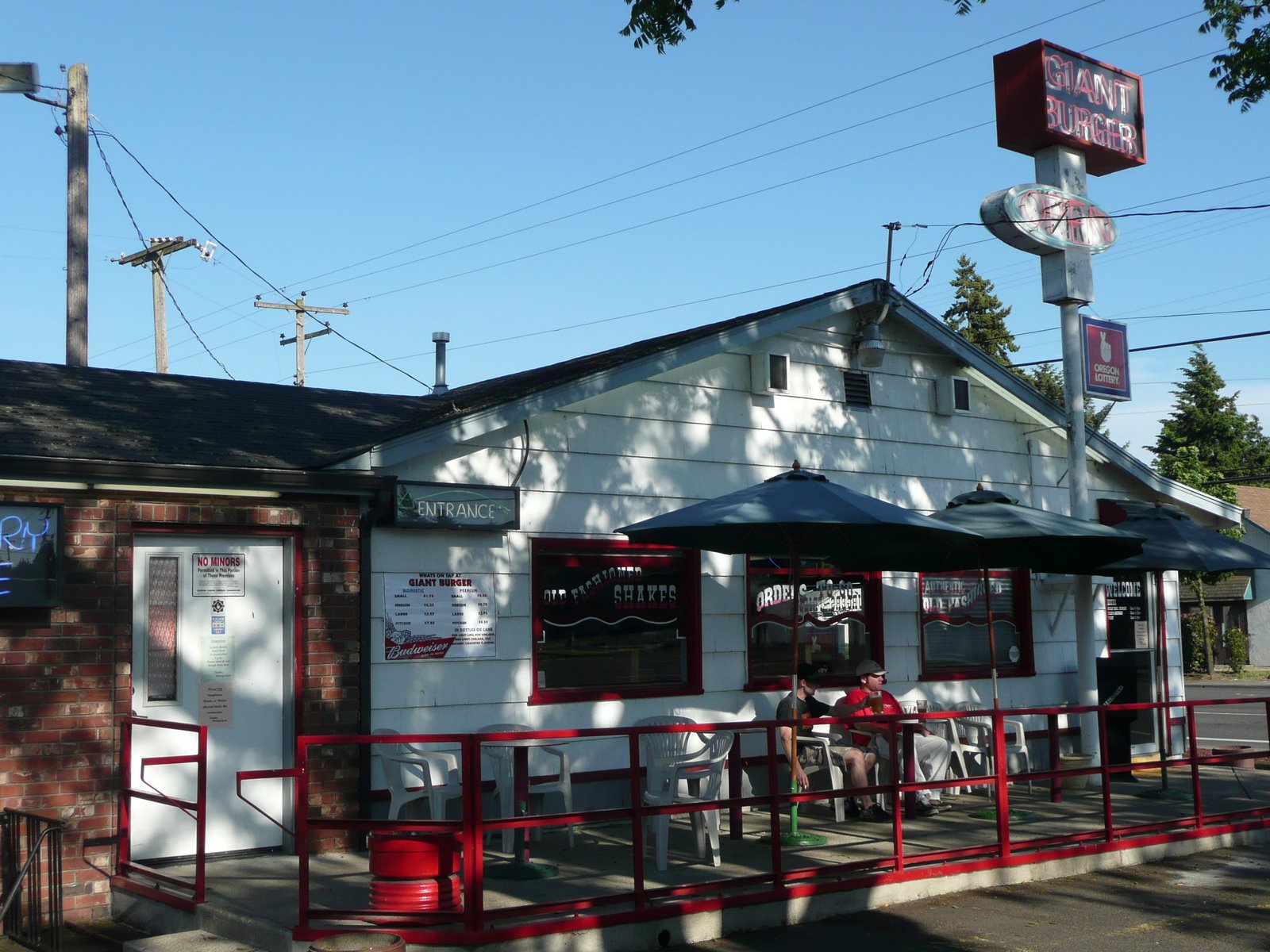 Giant Burger advertises that it is one of the few places left that makes real burgers and that it has a selection of 20 different burgers. Its menu features all other old school favorites like curly fries, floats, shakes, etc. It further does some regular dishes, including home-made chili. If you want to see if they'll live up to their name, as you can see in this photo below they definitely can.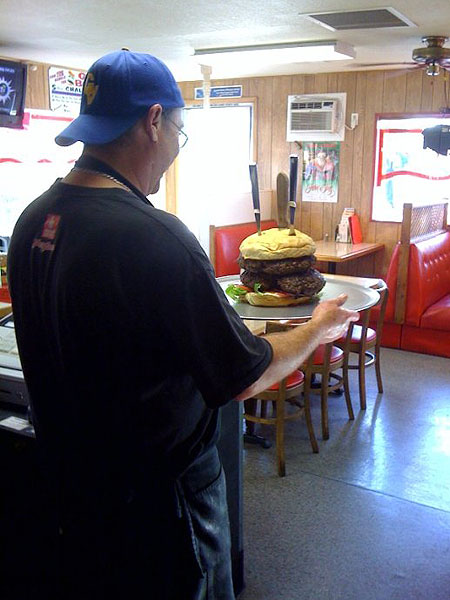 I've personally ate here a few times over the years, and have been satisfied with both their service and food.
Find them here:
Address:
3760 Main St, Springfield, OR 97478
Jasper's Cafe
Here's another great place you might want to try if you happen to be in the Medford area. Samantha, a follower at That Oregon Life highly recommends this joint.
From their website:
This tiny, local burger joint has been dishing out burger baskets in Medford for over 35 years. After browsing the huge selection of burgers, I tried the Western Burger Basket for less than eight bucks. Big, fat burger with excellent fries and a delicious dipping sauce. Iced tea with unlimited refills was free with the burger. I now know why Jaspers was a 2010 Mail Tribune Readers Choice winner. Excellent service and exceptionally friendly staff. Expect it to be packed around lunch time. If your driving north or south on I5 near Medford and find yourself craving a good burger, I highly recommend Jaspers.
Where to find them:
2739 N. Pacific Hwy
Medford, OR
Phone
Hours
Monday-Thursday 11am – 7pm
Friday-Saturday 11am – 8pm
Sunday 11am – 6pm
In-N-Out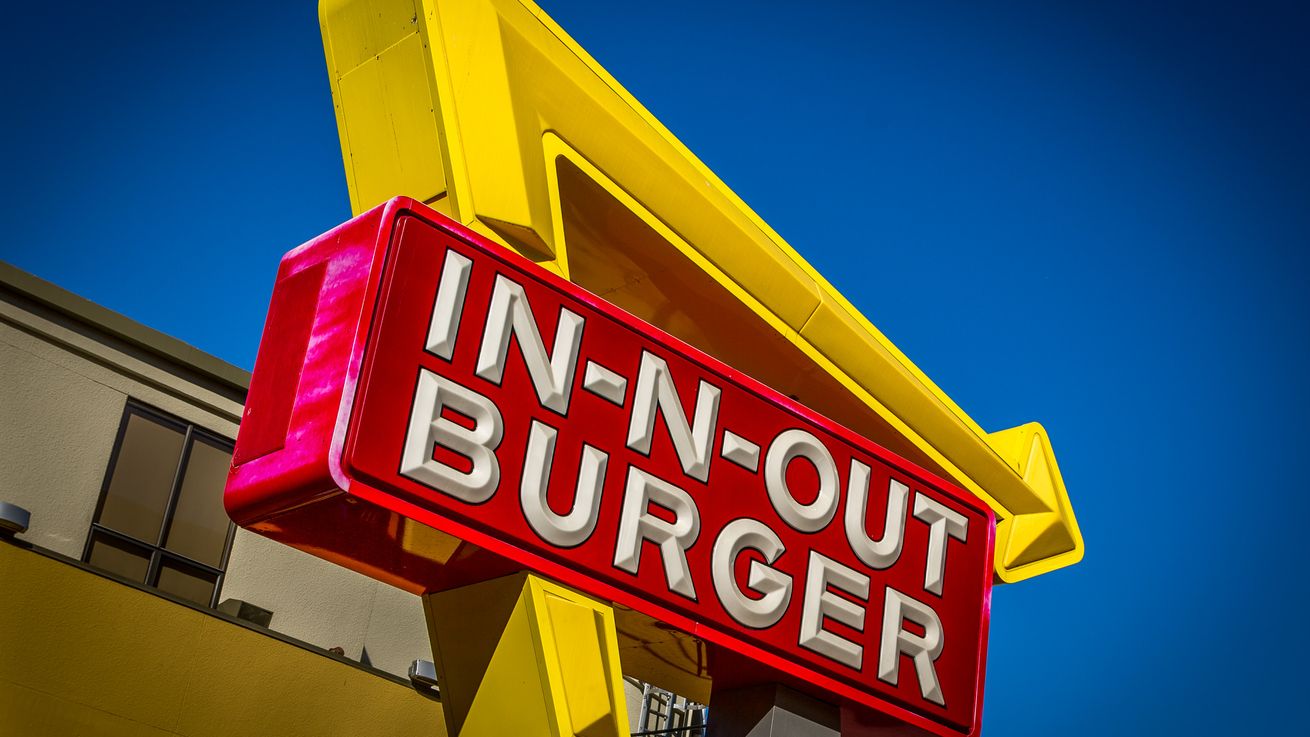 The burger chain that Oregonians would drive to California just to get a taste, is now open in Medford and soon to be Grants Pass as well. While I haven't personally tried this place, I can't wait to try it for myself!
Address:
1970 Crater Lake Hwy, Medford, OR 97504
Burgerville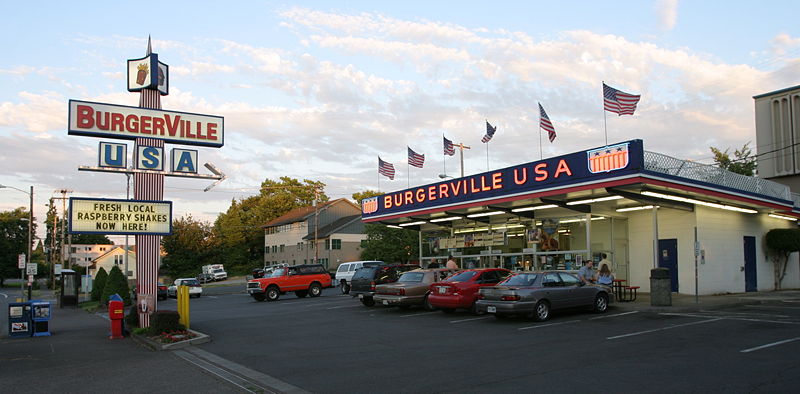 I am in the Eugene area, and unfortunately we don't have Burgerville here but growing up I always loved going here with my grandma. Burgerville will always be a great memory from my childhood, and whenever I get a chance I will stop in to grab a burger, which features their delicious Tillamook cheese. In the fast food world, I would take Burgerville over McDonalds any day hands down.
From their website:
Built on a tradition of serving fresh food made with local ingredients, we continue to partner with neighboring farms and businesses that share our commitment to quality food and regional vitality. From a single restaurant in 1961 to over 40 across the Pacific Northwest, we continue to push the boundaries of quality and transparency. It's no wonder we are the hometown favorite.
Pilot Butte Drive Inn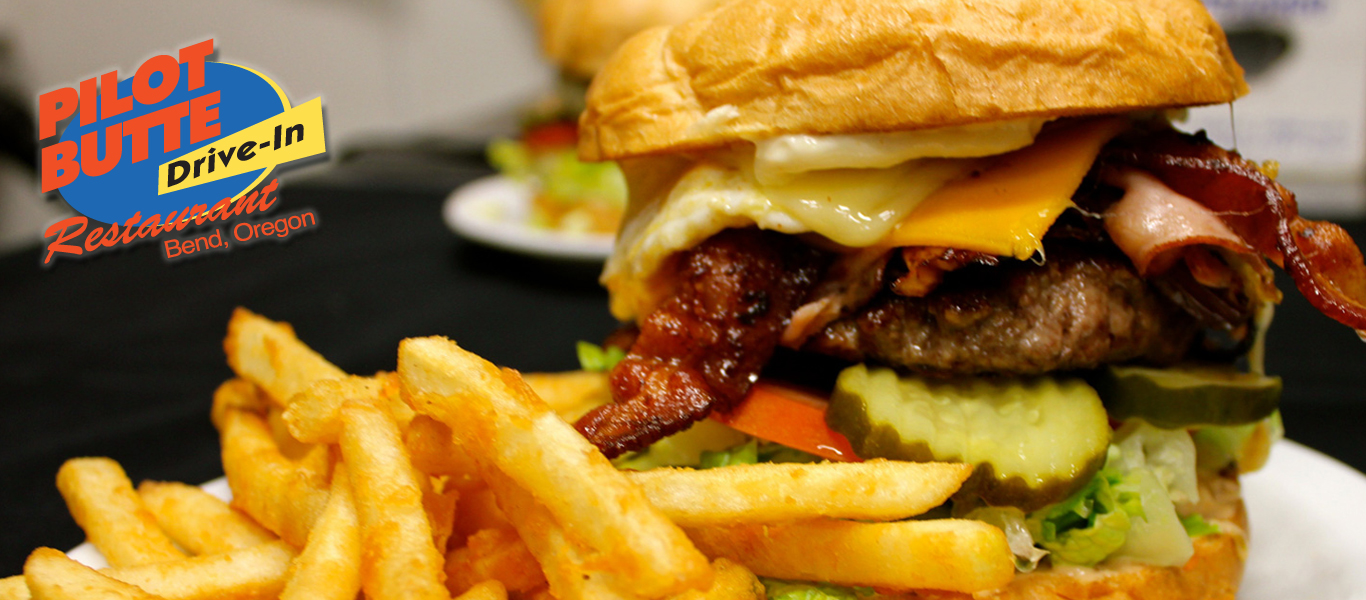 Another great place to check out in the Bend area is Pilot Butte Drive In. This great place was also recommended by a follower at That Oregon Life.
From their website:
In the Beginning there was darkness. Then came light. After that is a bit fuzzy, but somewhere along the way came the Cheeseburger. Soon after, in 1983, Jack and Dee Mangin moved to Oregon and opened a little diner call the Pilot Butte Drive In Restaurant. The building was an old A&W location and still sports the classic peaked roof. In 1988, Steve Mangin, Jack and Dee's son, and his wife Melanie moved up to Bend to help run the increasingly popular restaurant.
Fast forward to the year 2007… Jack and Steve decided it was time to let someone else have a turn. In came the new owners, Bill and Tammy Falconer, to keep the tradition of incredible food and drinks rolling along. With the growth of Central Oregon, in 2011 Bill and Tammy decided to expand to two locations and the Westside Pilot Butte was born. We now serve over 40,000 Cheeseburgers per year, plus all the other great food and shakes, including some of the best breakfast found anywhere. That is our story, at least all I can remember of it! We thank everyone for their continuing support of our restaurants and our wonderful staff at both locations.
Where to find them:
Pilot Butte Drive In – Westside
320 SW Century Drive, Suite 410
Bend, OR 97702, USA
Phone: 541-323-3272
Pilot Butte Drive In
917 NE Greenwood Ave (at NE 9th Ave)
Bend, OR 97701, USA
Phone: 541-382-2972
Cornucopia Restaurant & Catering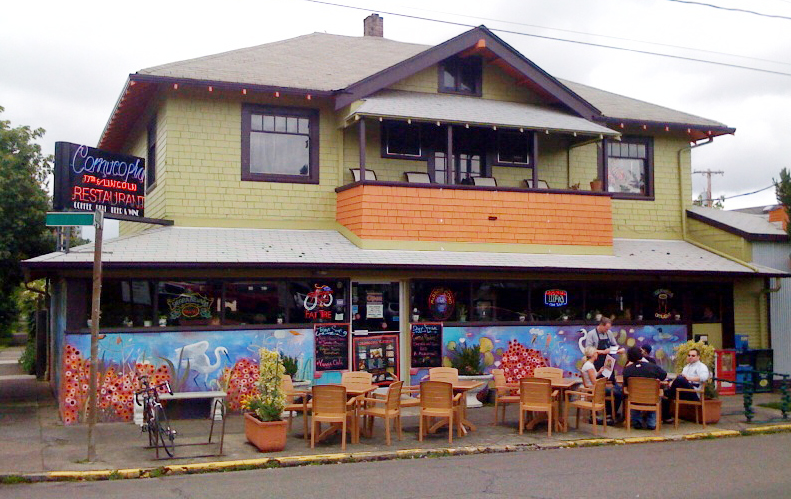 Ate here a few times, absolutely loved their tasty burgers. Cornucopia takes place in the fact they won 'Best Burger' award by Register Guard People's Choice Awards, as well as 'Best Burger' from Eugene Weekly. They have two great locations in Eugene.
From their website:
Cornucopia's mission is to offer excellent fresh food, a friendly atmosphere, a great selection of beverages combined with warm service. Our restaurants are neighborhood hubs built for friends and families, people of all ages and types, to relax, socialize and enjoy each other's company while getting to meet new people. Whether it's the neighbor down the street or the tourist visiting from out of town, Cornucopia is a community gathering place for all
Where to find them:
Address:
295 W 17th Ave, Eugene, OR 97401
Also their other location, on the corner of 5th & Pearl. The phone number to this location is (541) 485-2676.