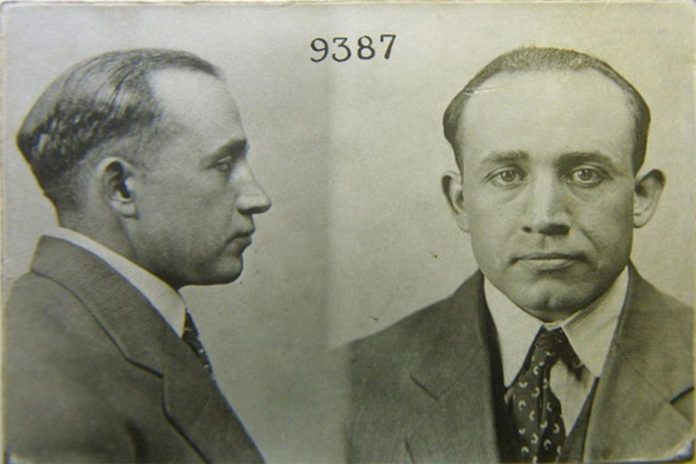 Last updated on February 22nd, 2022 at 06:27 am
One of America's first known serial killers, Earle Leonard Nelson preyed on landladies, killing them while they were showing him real estate. By the time he was hanged, he'd slain at least 21 women — including four in Portland.
October 20, 1926, could easily have been the day Mrs. M.D. Lewis died — suddenly, silently and violently.
She was doing some work around a small house she had for sale in the Sellwood neighborhood of Portland when an old car pulled up in front of it and a small man with black hair and dark complexion stepped out. Rude and brusque, he beetled into the house as if he owned it, muttering, "House for sale" as he passed her.
Lewis, of course, found his manners completely offensive. Perhaps that was why she disliked him on the spot.
But there may have been something else, too, because when she heard him shouting down the stairs — "Come upstairs and see what's wrong with this door!" — something clearly told her not to go.
Instead, she called upstairs that he should not worry about it, and the door would be fixed. Moments later, she heard him coming back downstairs, and he went into the basement. Then up the stairs came the abrasive voice again: "Come down here and see what's wrong with this furnace!"
Lewis, now thoroughly alarmed, left the house and, from outside, shouted to the man to come see the flowers she'd planted in the yard.
"To hell with your flowers!" the man shouted back, and moments later he was driving away — fast.
The next day, the worried father of 37-year-old widow Mabel Fluke was searching for any sign of her in the house she'd been showing for sale, just a few blocks from Lewis's. He didn't find her, but the police did, two days later, in a dark corner of the attic.
She'd been strangled with a scarf.
The victims
Mabel Fluke was the second of three Portland women who fell victim that week to one of the first known serial killers in American history — a man who would come to be known in the newspapers as "The Dark Strangler." By the time her body was found, both the other two had been discovered: Beata Withers, 35, found at the bottom of a trunk full of clothes in the room-for-rent she was showing; and Virginia Grant, 59, found in a crumpled heap in the basement of a house she had for rent … behind the furnace.
At first, police had thought Withers' death had been suicide, although it seemed a pretty weird way to go, smothering oneself at the bottom of a trunk of clothes. And Grant's death had looked like heart failure. But as for Fluke, that just wasn't possible, and besides, she'd been robbed of her jewelry.
Also, once they took the time to check, authorities quickly figured out that the victims' bodies had been, in the euphemism of the day, "outraged" after death. This hadn't been obvious, because the killer had carefully re-dressed the corpses afterward.
But by the time they figured all this out, the Dark Strangler was already a thousand miles away, at a boardinghouse with a room for rent in San Francisco, with his fingers around yet another feminine throat.
Thanksgiving in Portland
By late November, though, the Dark Strangler was back in Portland. Perhaps he was looking for another woman to murder when he came to see the room in Sophia Yates' lodging house on Third Avenue. For whatever reason — perhaps because there were two other women there as well, the lodgers in the other rooms — he rented the room instead of murdering the landlady.
Giving his name as Adrian Harris, the Dark Strangler spent Thanksgiving with Yates and her lodgers. They found him very nice — polite, soft-spoken, very intelligent, but a bit of a religious fanatic. When he learned the women didn't have enough money for a Thanksgiving dinner, he offered to spring for the whole spread if they would cook it for him.
"Adrian" also was generous in other ways. He gave both Yates and one of her lodgers, Emily Crawford, bits of expensive jewelry — jewelry that he had, of course, pulled from the fingers and ears of their freshly slain owners a few weeks before.
But Yates and Crawford didn't know that. What they did know was that Yates had gotten nicer gifts than Crawford, the discovery of which now caused the two of them to exchange some sharp words.
"They must have gotten loud about it," writes historian J.D. Chandler in his book, "because suddenly 'Harris' burst into the room. 'I'm going to beat it,' he said. 'You two will have the police up next.' He ran from the house and drove away, leaving two days' rent unused."
On the day after Thanksgiving, "Harris" checked into another boardinghouse. This time, he didn't stay long, or give anything away. And the next day, the body of the landlady, 48-year-old Blanche Myers, was found stuffed under the bed.
The Dark Strangler's Canadian Waterloo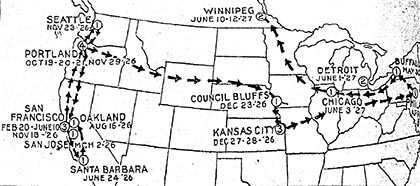 After that, Portland was on high alert; but, perhaps knowing the turf was burned here, the Dark Strangler never returned. Instead, he struck out on a sort of six-month-long blood-soaked road trip, leaving bodies behind him in Council Bluffs, Iowa; Kansas City; Chicago; Philadelphia; Buffalo; and Detroit. Then, following a pair of murders in Winnipeg — including one of shocking brutality, perpetrated with a hammer — he was snagged by the Mounties while trying to make his way back to the U.S. border.
Left in his wake, the Dark Strangler left at least 21 murdered women — probably more than 30 — and one 8-month-old baby.
As it turned out, the Dark Strangler's real name was Earle Leonard Nelson, and he'd had — as so many serial killers do — a rough childhood. His mother died of syphilis shortly after his birth, leaving him to be raised by a fanatically religious grandmother. He was expelled from elementary school at age 7 for violent behavior. By age 18 he was in San Quentin, serving time for a burglary charge.
After his release, he was in and out of mental hospitals over the following decade or so, until he embarked on the nationwide murder spree that brought him to Portland — and subsequently to Winnipeg.
A bungled execution?
It was in Winnipeg that Nelson's sordid life story turned its final page. Sentenced to hang for his crimes, he stood on the platform on Jan. 13, 1928, and said, "I declare my innocence before God and man. I forgive those who have injured me, and I ask pardon from those I have injured."
Unimpressed, the executioner pulled the lever and away Nelson went.
"The hangman's rope was a little too short," Chandler writes in his book, "and it took Nelson nearly 15 minutes to strangle to death. Some thought it was poetic justice for the 'Dark Strangler.'"
It is at least worth considering the possibility that this oversight in preparing Nelson's noose was not accidental.
By the way, a more thorough treatment of this story, along with quite a few others like it, can be found in Chandler's book, Murder and Mayhem in Portland, Oregon.
(Sources: Chandler, J.D. Murder and Mayhem in Portland, Oregon. Charleston: History Press, 2013; Portland Morning Oregonian, Oct. 23, 24, 25 and 27, 1926, and Dec. 4, 1927) 
This article is free and open source, and was originally published at OffBeatOregon.