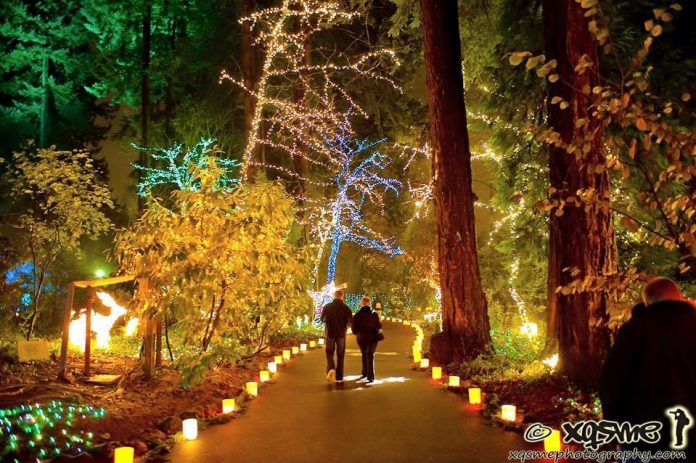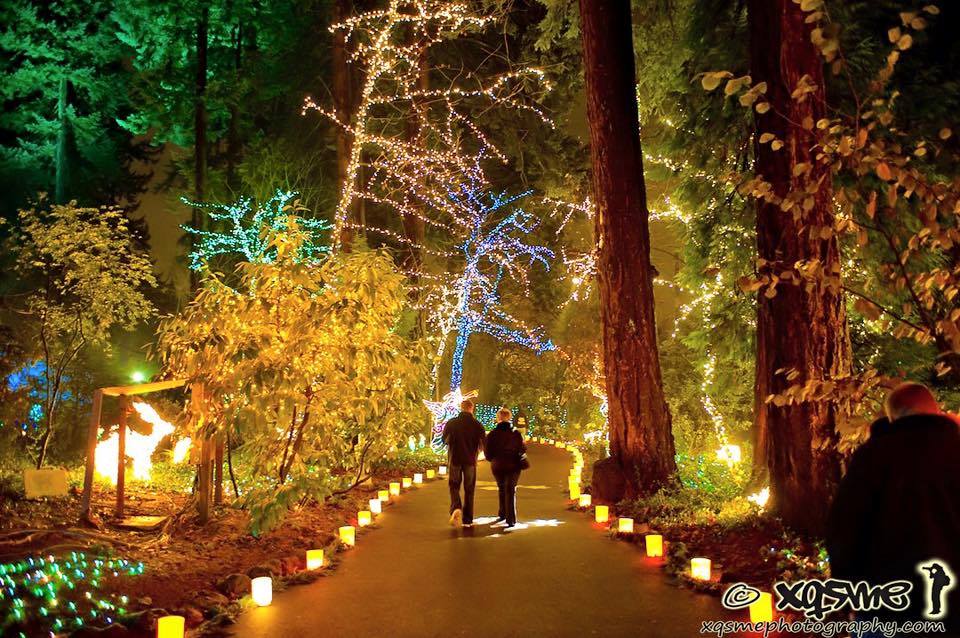 Last updated on November 21st, 2021 at 02:10 pm
We have updated our list of best places to see Christmas lights in Oregon and also in the Portland area for 2021. Sadly some of our favorite Christmas light displays have been removed from this list as they were canceled for yet another year, due to COVID-19.
Have you grabbed your official 2022 Oregon Calendar yet? Our calendars make for awesome gifts during the holidays! Available in limited stock, hit the link here to grab yours today.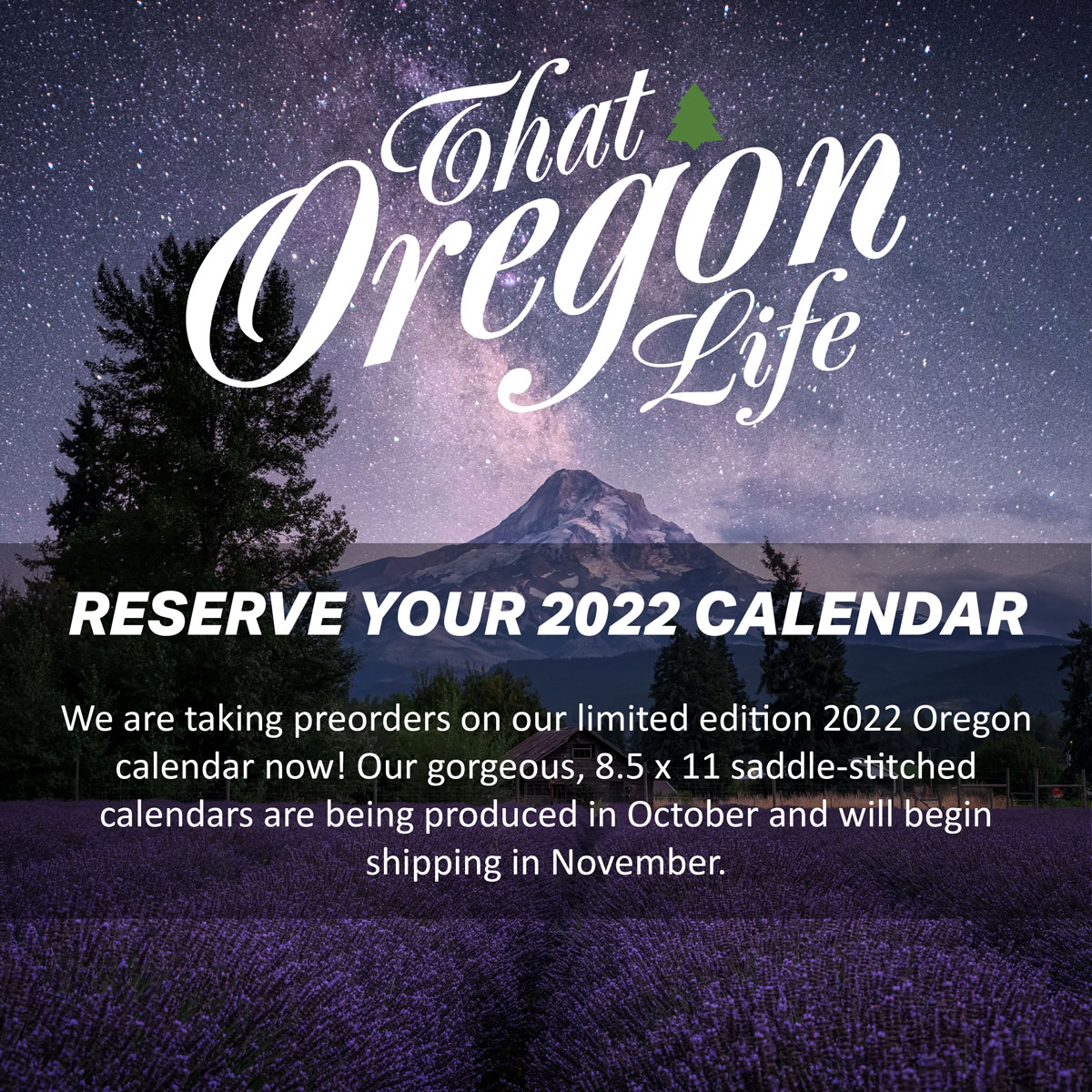 It's that time again, time to drink hot cocoa, spend some much-deserved time off with loved ones, and of course go see beautiful Christmas light displays. Here's a list of some of the best places to see Christmas lights in Oregon. These places are magical and truly beautiful and we really owe it to the people who put in the hard work every year to make it a special holiday for all Oregonians.
Christmas Lights in Portland and all around Oregon
1. Silverton Christmas Market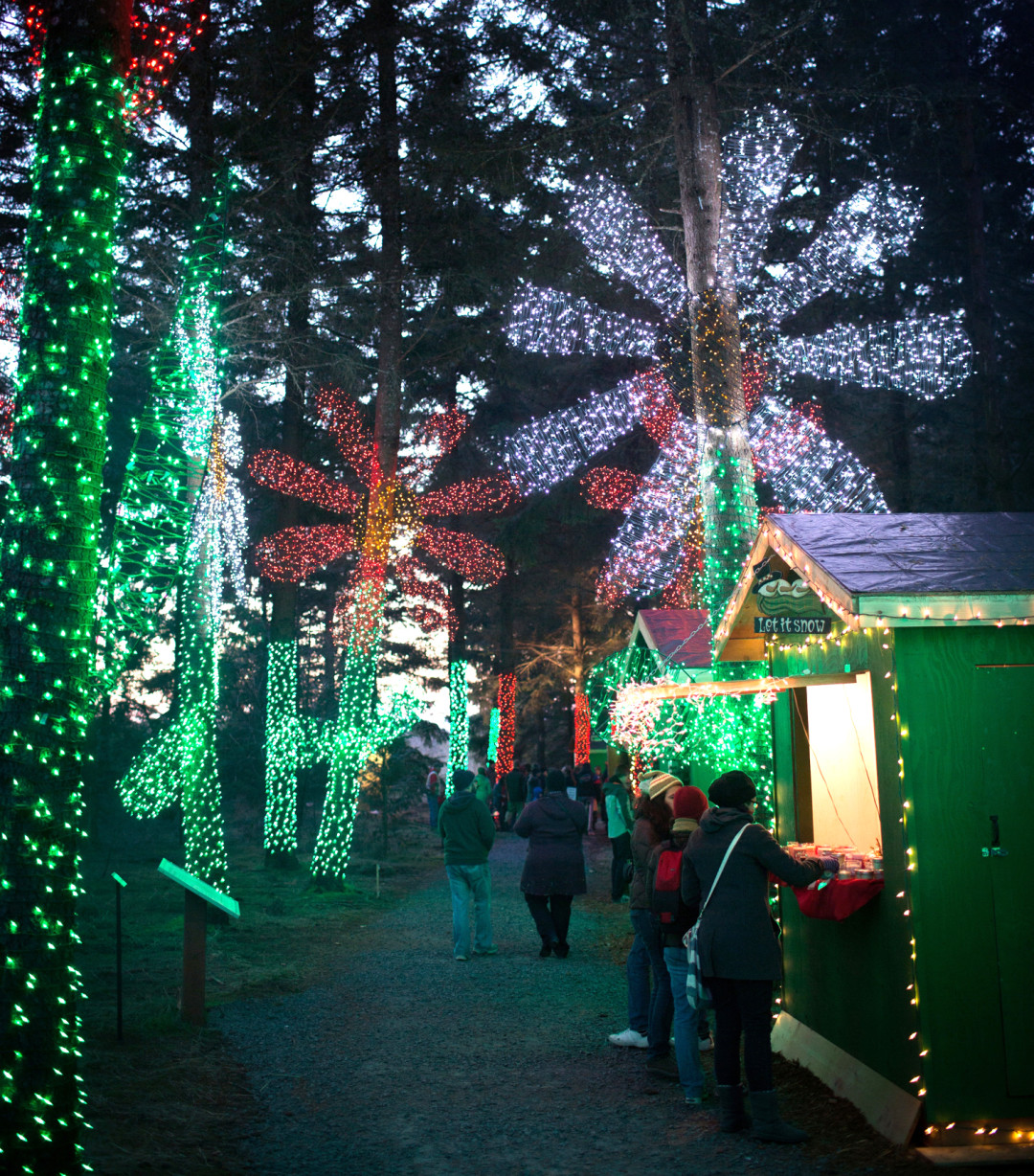 Looking for a more relaxing holiday tradition? Don't miss Oregon Garden's Christmas in the Garden, Silverton's 80-acre flower, tree, and bush wonderland is only about an hour from Portland and features over 1,000,000 lights during the holidays, and is complete with roaming carolers, and a German village-inspired holiday bazaar. Are you ready for the best part? They even feature live reindeer on select weekends. The Garden, which is only about an hour away from Portland has a 3,500 square foot covered ice rink surrounded by Christmas trees and snowflakes. It's straight up magical.  You can read more about Christmas in the Garden here.
Christmas In The Garden Information:
2. Christmas Festival of Lights in The Grotto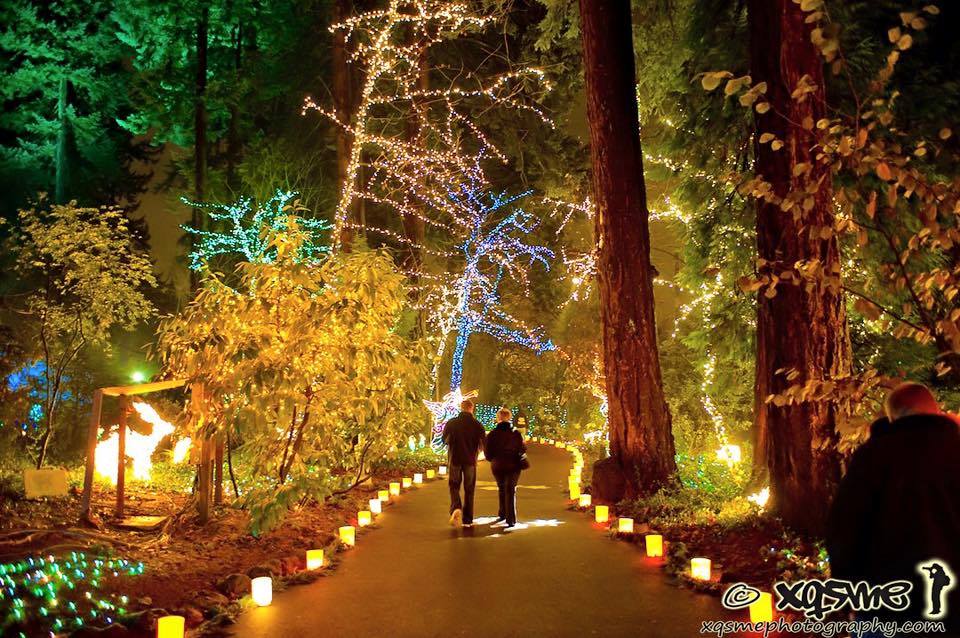 The Grotto in Portland is one of the most popular places this time of the year during the holidays. This particular stunning image comes from a friend, Ben Abroleda, who has contributed many beautiful photos to That Oregon Life. One event you don't want to miss at The Grotto is the winter choir performances which are held every year.
Lights In The Grotto Information:
3. Zoolights At The Oregon Zoo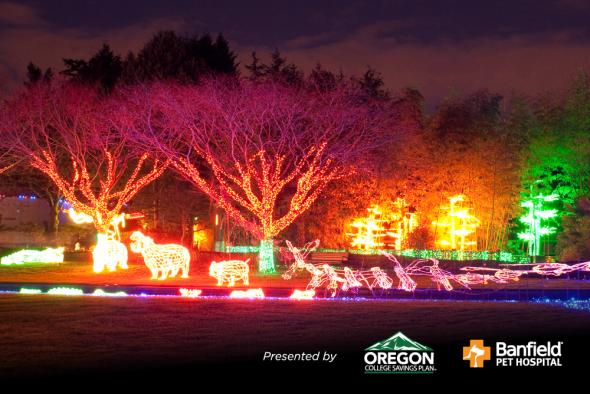 You can't go wrong with the beautiful annual ZooLights festival at The Oregon Zoo in Portland, where you'll see a dazzling display of a whopping million and a half lights.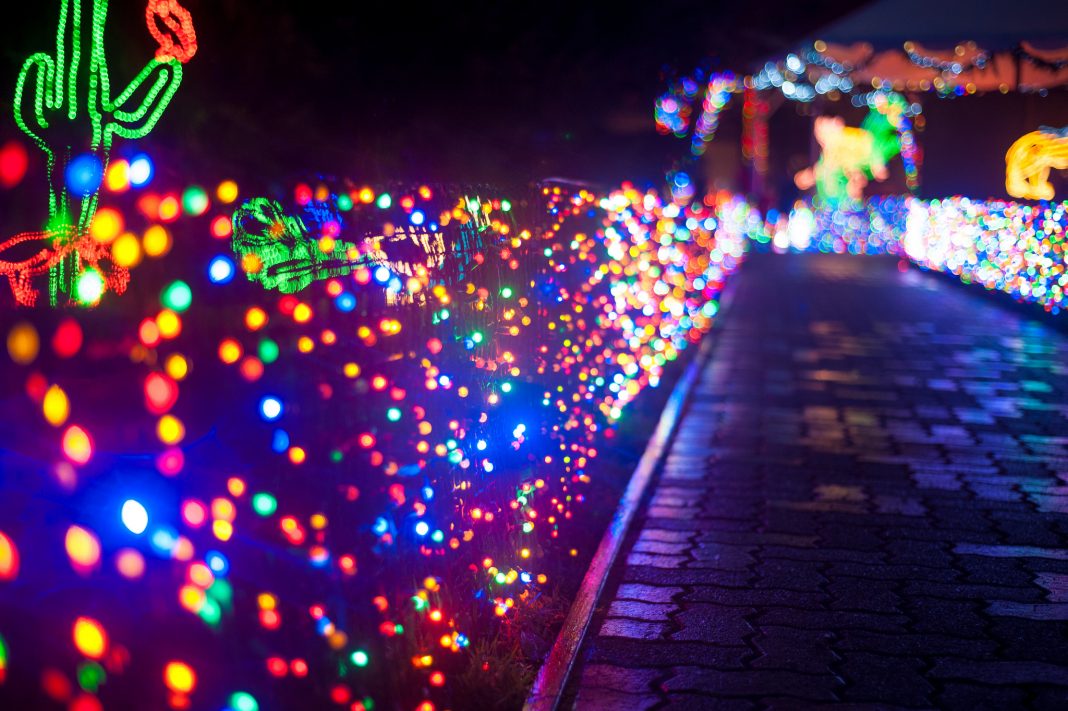 Oregon Zoolights Information:
4. Portland Christmas Ships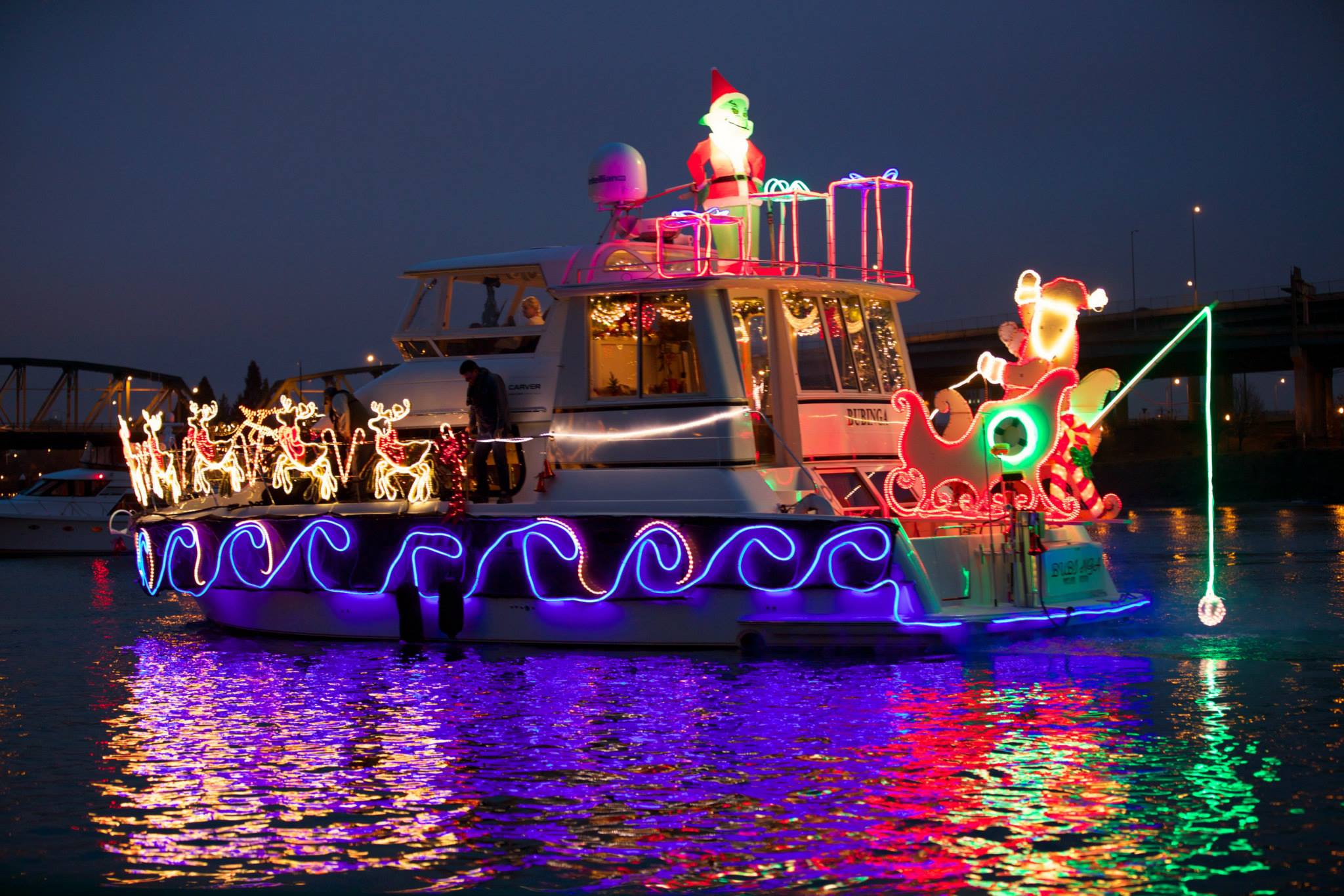 The Christmas Ship Parade started in 1954 with one lone sailboat from Portland Yacht Club.  Bows of green with some ribbon were tied along the rails and they paraded on the rivers.  The next year the parade started to grow.
Today, the Christmas Ship Fleet averages about 55 to 60 boats between the Columbia and Willamette River fleets.  Things have changed from the first lone ship.  Now the displays are brightly lit and can be seen from bank to bank on each river.
Each boat owner designs and builds their lighted Christmas display and pays their operating costs which include fuel.  Many of the displays can be seen each year, but new boats join the flotilla each year and bring with them new Christmas oriented lighted exhibits.
Christmas Ships Information:
5. The Pastega Christmas Light Display (formerly at Corvallis Pepsi Plant)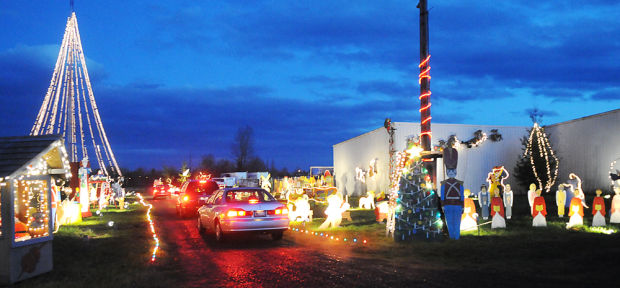 The Pastega Christmas Light Display is a holiday tradition in Corvallis going back to 1981.
One of my favorite memories of going to visit my grandparents in the Salem area was driving through the Corvallis Pepsi plant to see the light display which has been going strong every Christmas for 25 years. A spectacle of plywood cutouts, Christmas lights, and canned music, the local paper reports 40,000 visits per year to this drive-through Christmas pleasure. Every year the lot outside a small Pepsi Cola factory was transformed into a Christmas paradise.
Plywood cut-outs of Disney characters, Santa Clauses, angels, and even an Oregon Beaver jingle and jangle on small motors, adorned with Christmas lights. On a good night, near Christmas, it takes twenty minutes just to get into the driveway.
For 31 years the Pepsi Bottling Plant hosted the popular display. After the death of founder Mario Pastega, the display moved across town to the Benton County Fair Grounds. Display pieces are created and maintained by community members. 400 – 700 cars enjoy the display each day.
6. Old Mill District
Paddle in the Parade or Watch from the Old Mill District!
Celebrate the holidays with Tumalo Creek's annual Holiday Lights Paddle Parade on Friday, Dec. 10! From fun in the snow at Mt. Bachelor to holiday lights and special meals and gift runs in the Old Mill District, the eggnog flows like wine in this part of Oregon during the holiday months.
Every year Bend's most dedicated paddling enthusiasts dress up their canoes and kayaks in bright lights and other holiday garb for a paddle around the Deschutes River in the Old Mill District. After missing out on last year's Paddle Parade, Tumalo Creek is more excited than ever for this year's event.
Paddle Parade Information:
Paddlers: Meet at Tumalo Creek from 2 to 3:30 p.m. to decorate your boat. Please bring whatever decorations you want. We recommend small battery-operated lights, inflatable characters, and of course, costumes!
The parade will launch around 4 p.m. (dusk) from the dock behind Tumalo Creek's shop, with a paddle upstream toward the Old Mill District Flag Bridge.
7. PIR Winter Wonderland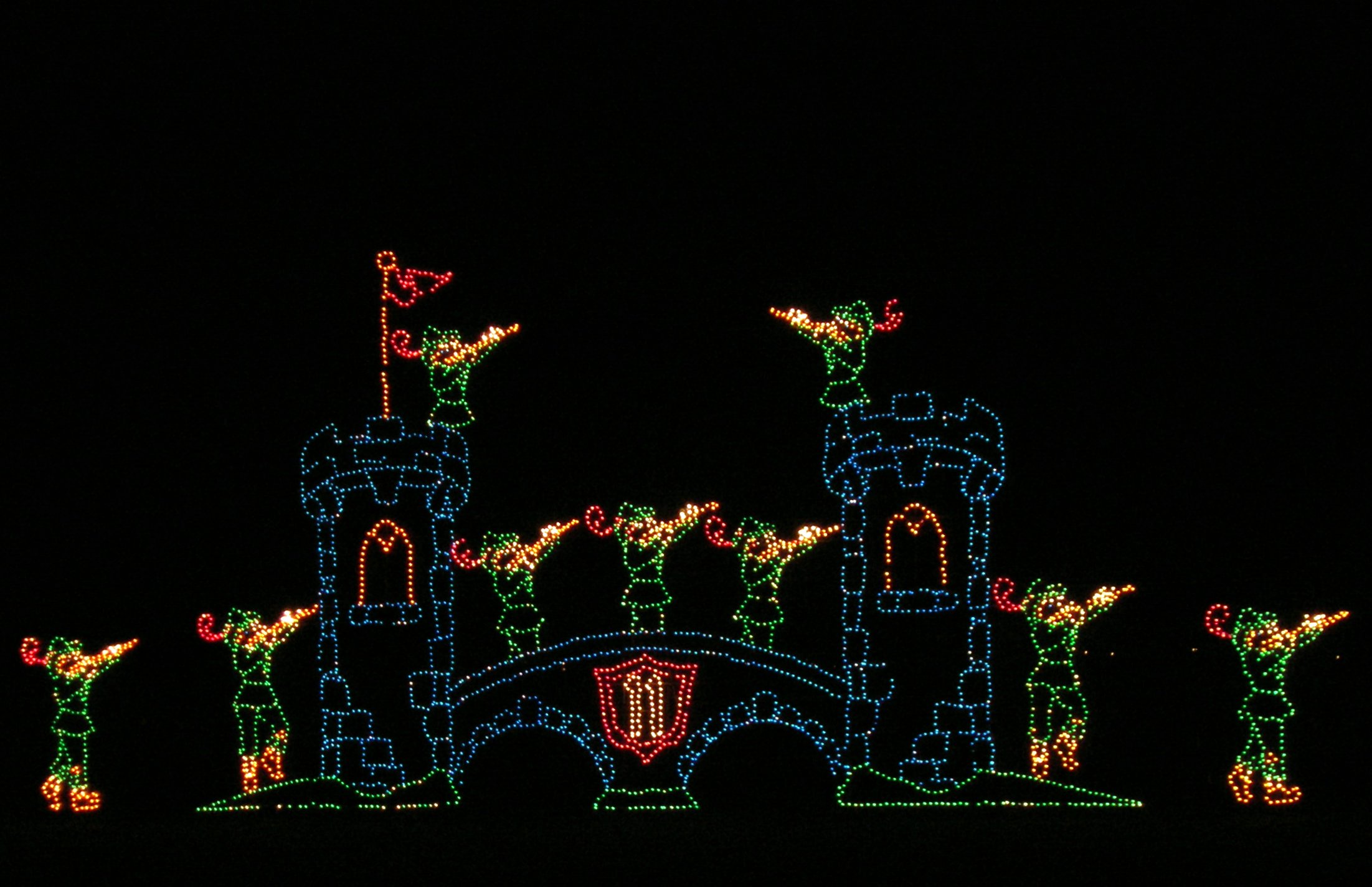 USA Today called it "One of 10 great places for families to see Christmas lights". Recognized throughout the Pacific Northwest as the "Largest Holiday Light Show West of the Mississippi."
Since 1993, a journey through Winter Wonderland has become a Holiday tradition for many families, friends, and social organizations to celebrate the spirit of the holiday season. Spectators can enjoy the most spectacular drive-through light show in the region, viewing over 250 colorful light set pieces and many fully animated scenes from the comfort of their own vehicle.
Over two million visitors have taken the Winter Wonderland journey since its origin.
PIR Winter Wonderland Information:
8. Festival of Lights at Riverforks Park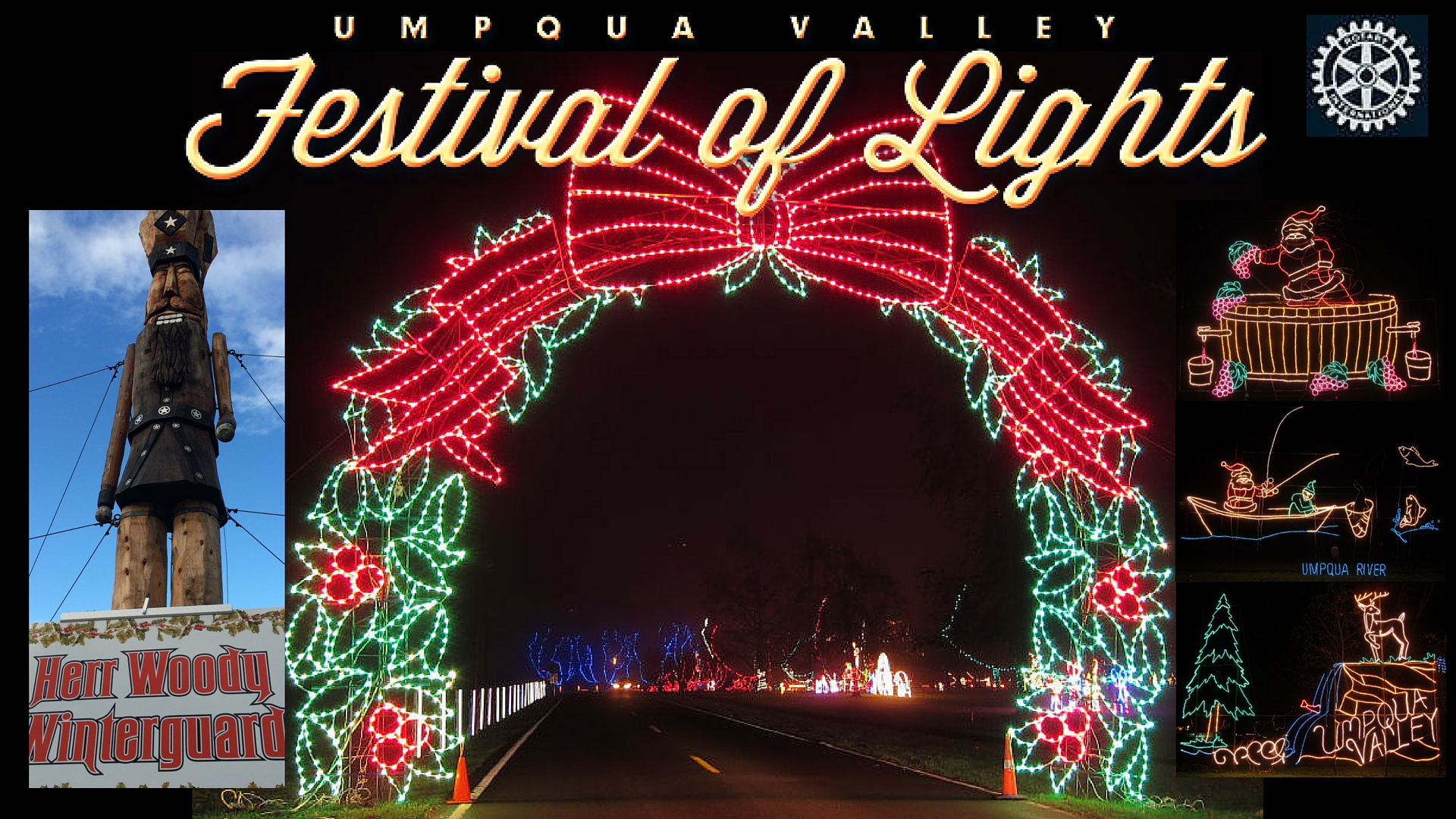 The Festival of Lights has become an annual tradition in Douglas County, drawing nearly 30,000 visitors in 2014 and generating hundreds of thousands of dollars for Rotary Club scholarships since beginning in 1993.
While visitors once again enjoy 90 light displays containing nearly 500,000 and all the traditional attractions that have made the Festival famous, some new additions such as the world's largest nutcracker will make the experience even more unforgettable.
Umpqua Valley Festival Of Lights Information:
9. Azelea Park
Brookings' Azalea Park is transformed into a Holiday Wonderland with 500,000 lights and sculptures, attracting thousands of people from around the Northwest.  This year Santa and Princess Elsa will be present.  Check the website to see which dates Santa and Princess Elsa will be available.
Azalea Park Holiday Lights Information:
Where's your favorite place to see Christmas lights in Oregon?  Let us know in a comment, and tag the friends you want to go with!  Don't forget to bookmark this page to come back and find the information you need.