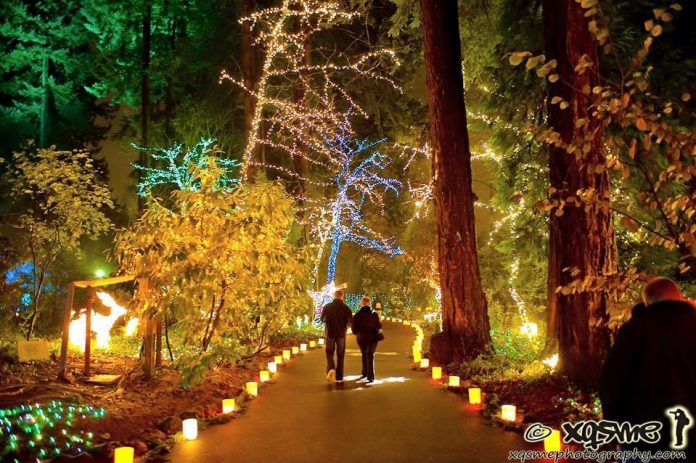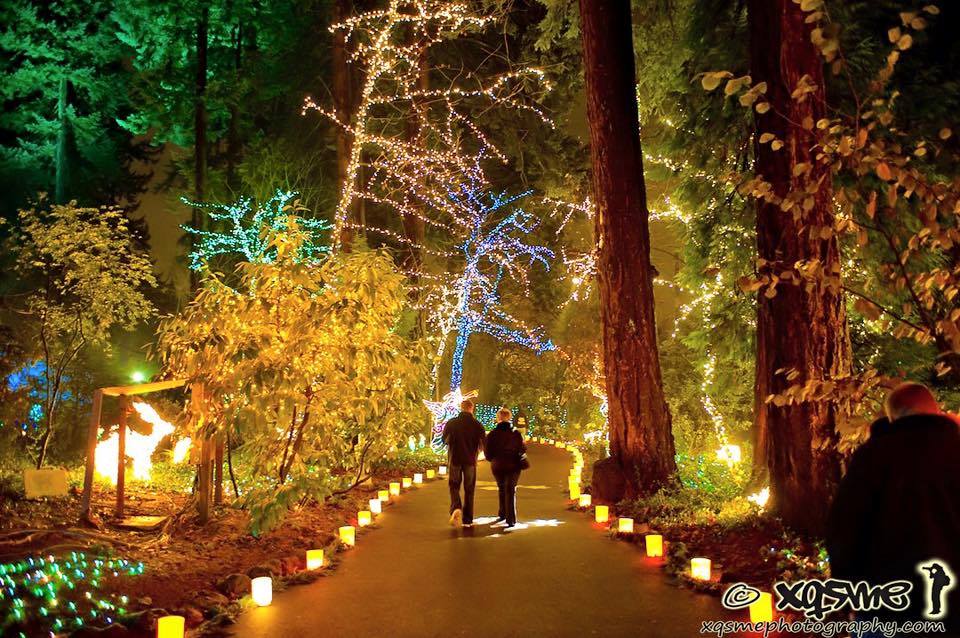 It's that time again, time to drink hot cocoa, spend some much deserved time off with loved ones, and of course go see beautiful Christmas light displays.  Here's a list of some of the best places to see Christmas lights in Oregon. These places are magical and truly beautiful and we really owe it to the people who put in the hard work every year to make it a special holiday for all Oregonians.
1. The Pastega Christmas Light Display (formely at Corvallis Pepsi Plant)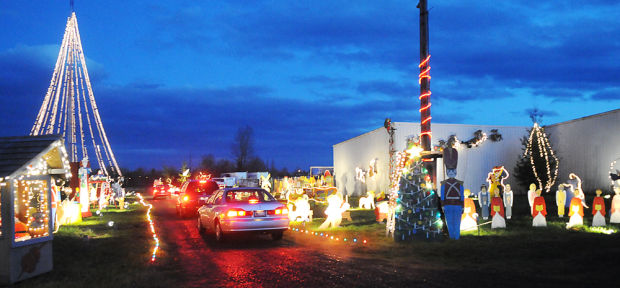 The Pastega Christmas Light Display is holiday tradition in Corvallis going back to 1981.
One of my favorite memories going to visit my grandparents in the Salem area was driving through the Corvallis Pepsi plant to see the light display which has been going strong every Christmas for 25 years. A spectacle of plywood cutouts, Christmas lights, and canned music, the local paper reports 40,000 visits per year to this drive-through Christmas pleasure. Every year the lot outside a small Pepsi Cola factory was transformed into a Christmas paradise.
Plywood cut-outs of Disney characters, Santa Clauses, angels, and even an Oregon Beaver jingle and jangle on small motors, adorned with Christmas lights. On a good night, near Christmas, it takes twenty minutes just to get into the driveway.
For 31 years the Pepsi Bottling Plant hosted the popular display. After the death of founder Mario Pastega, the display moved across town to the Benton County Fair Grounds. Display pieces are created and maintained by community members. 400 – 700 cars enjoy the display each day.
Website: http://www.pastegachristmasdisplay.com/
2. Christmas Festival of Lights in The Grotto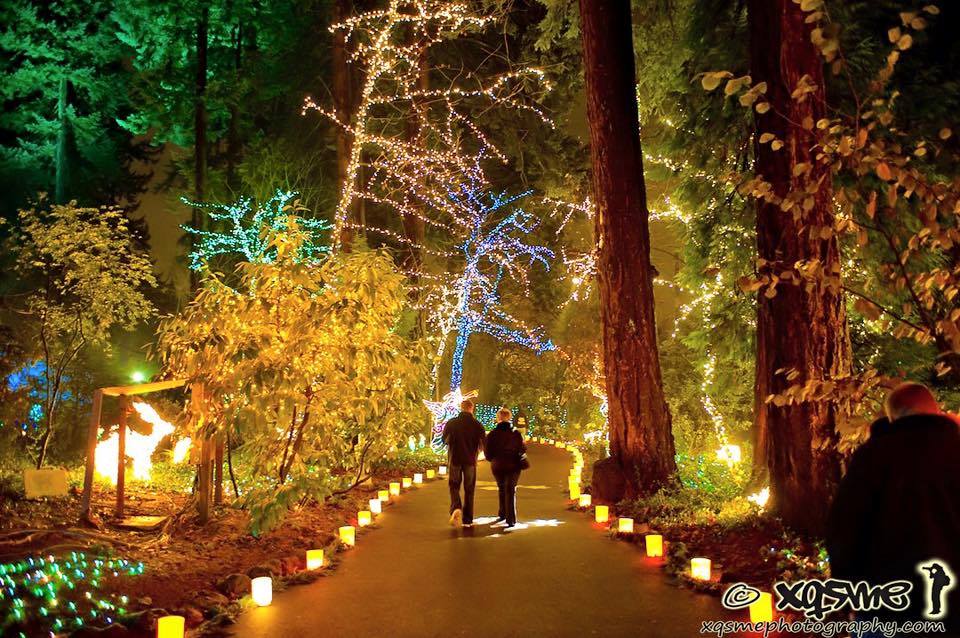 The Grotto in Portland is one of the most popular places this time of the year during the holidays. This particular stunning image comes from a friend, Ben Abroleda, who has contributed many beautiful photos to That Oregon Life. One event you don't want to miss at The Grotto is the winter choir performances which are held every year.
Lights In The Grotto Information:
Dates: November 23rd to December 30th 2018 Nightly 5 – 9:30 p.m. (Festival grounds close at 10 p.m.)  Closed Christmas Day.
Tickets: Sold at the gate.  General admission – $12.  Senior (65+)/Military – $11.  Children (3-12) – $6.  Children 2 and under – Free.
Website: https://thegrotto.org/christmas-festival-of-lights/
3. Zoolights At The Oregon Zoo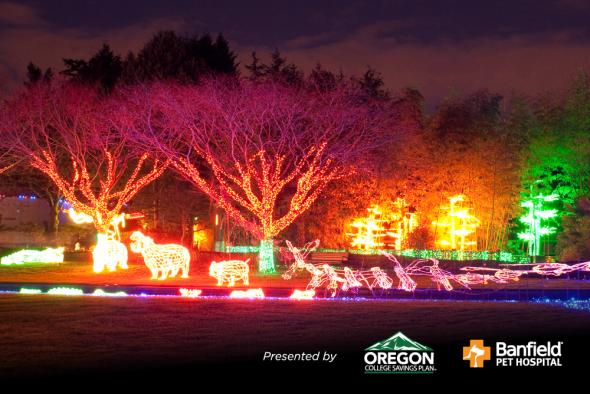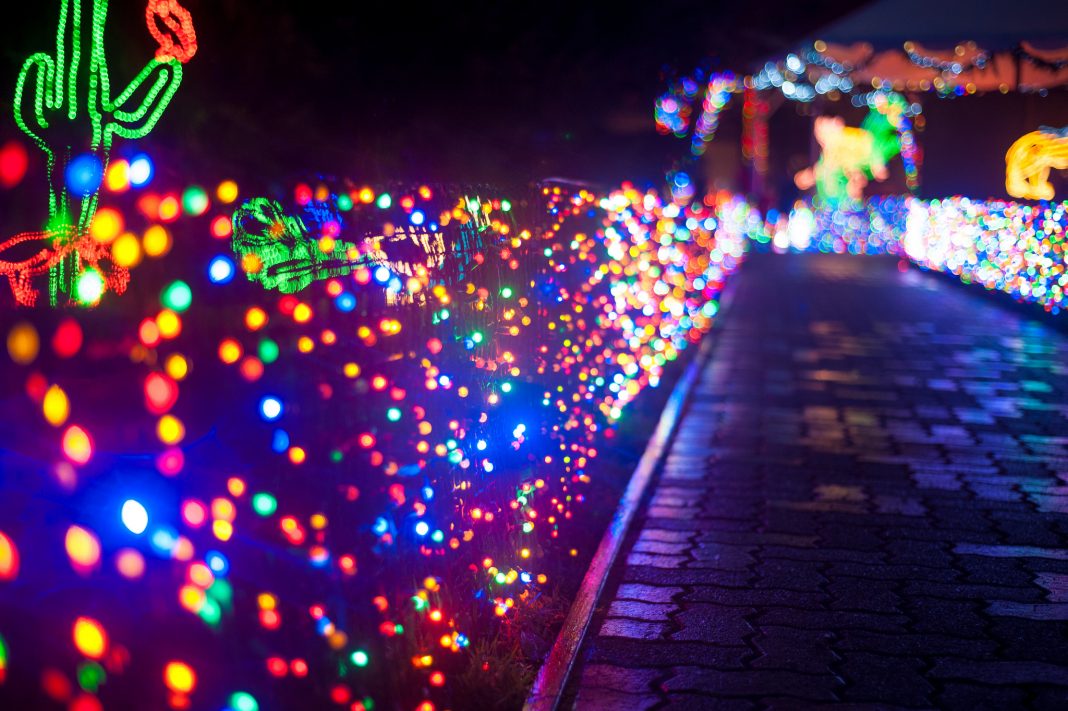 You can't go wrong with the beautiful annual ZooLights festival at The Oregon Zoo in Portland, where you'll see a dazzling display of a whopping million and a half lights.
Oregon Zoolights Information:
Dates: November 21, 2018 – January 5, 2019. Closed November 22 and December 24-25 for the holidays, and November 27 and 28 for BrewLights.
Tickets: Purchase tickets here.  Ages 12-64 – $17.95.  Ages 3-11 – $12.95.  Ages 65+ – $15.95.  Ages 0-2 – Free.  Train tickets are $4.00 for ages 3 and older and the carousel tickets are $3.
Website: https://www.oregonzoo.org/visit/zoolights
4. Portland Christmas Ships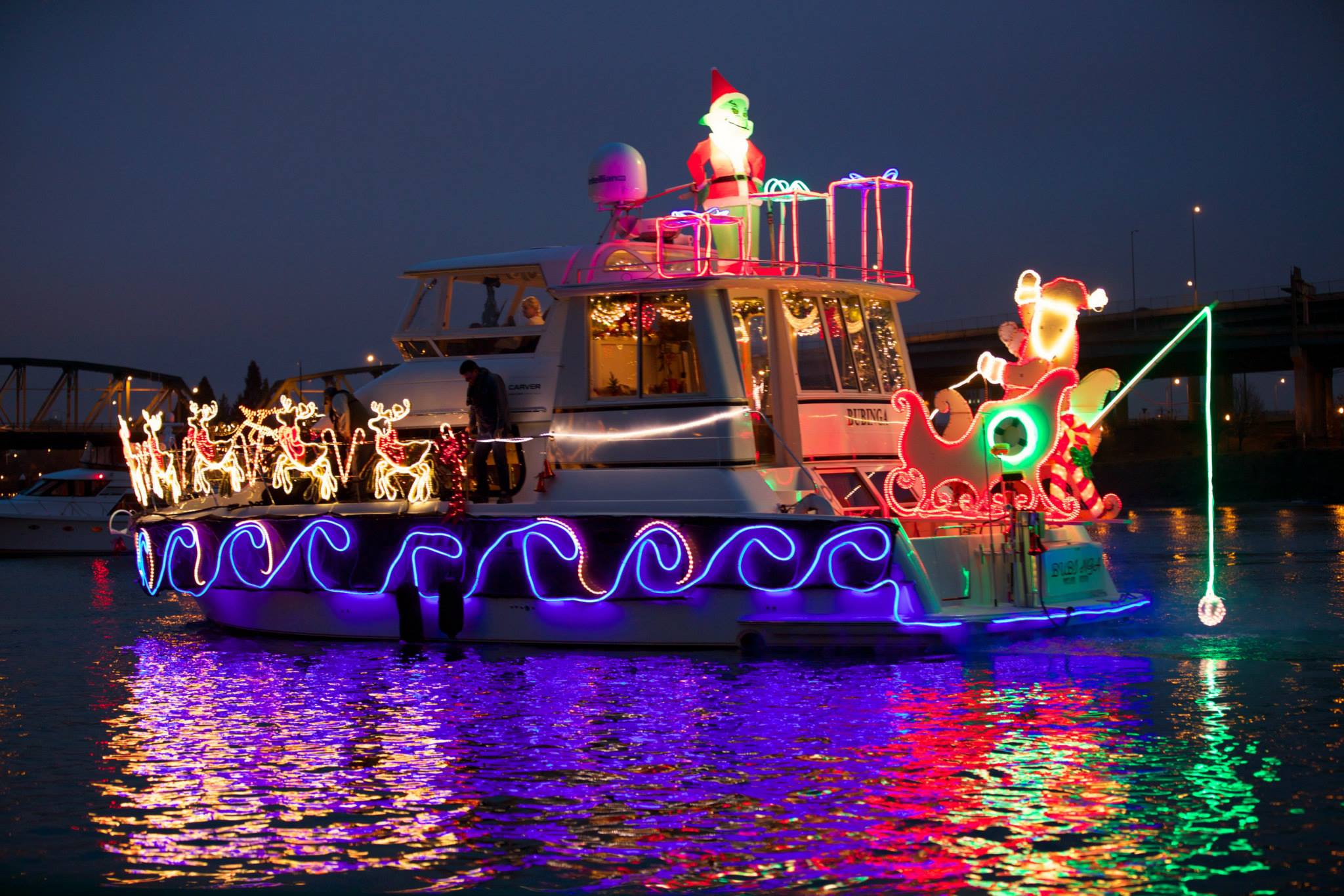 The Christmas Ship Parade started in 1954 with one lone sailboat from Portland Yacht Club.  Bows of green with some ribbon where tied along the rails and it paraded on the rivers.  The next year the parade started to grow.
Today, the Christmas Ship Fleet averages about 55 to 60 boats between the Columbia and Willamette River fleets.  Things have changed from the first lone ship.  Now the displays are brightly lit and can be seen from bank to bank on each river.
Each boat owner designs and builds their lighted Christmas display and pays their operating costs which includes fuel.  Many of the displays can be seen each year, but new boats join the flotilla each year and bring with them new Christmas oriented lighted exhibits.
Christmas Ships Information:
Schedule: Click here for the Columbia fleet schedule.  Click here for the Willamette fleet schedule.
Donations: If you'd like to make a donation to the Christmas ship parade visit the donation site here.
5. Christmas in the Garden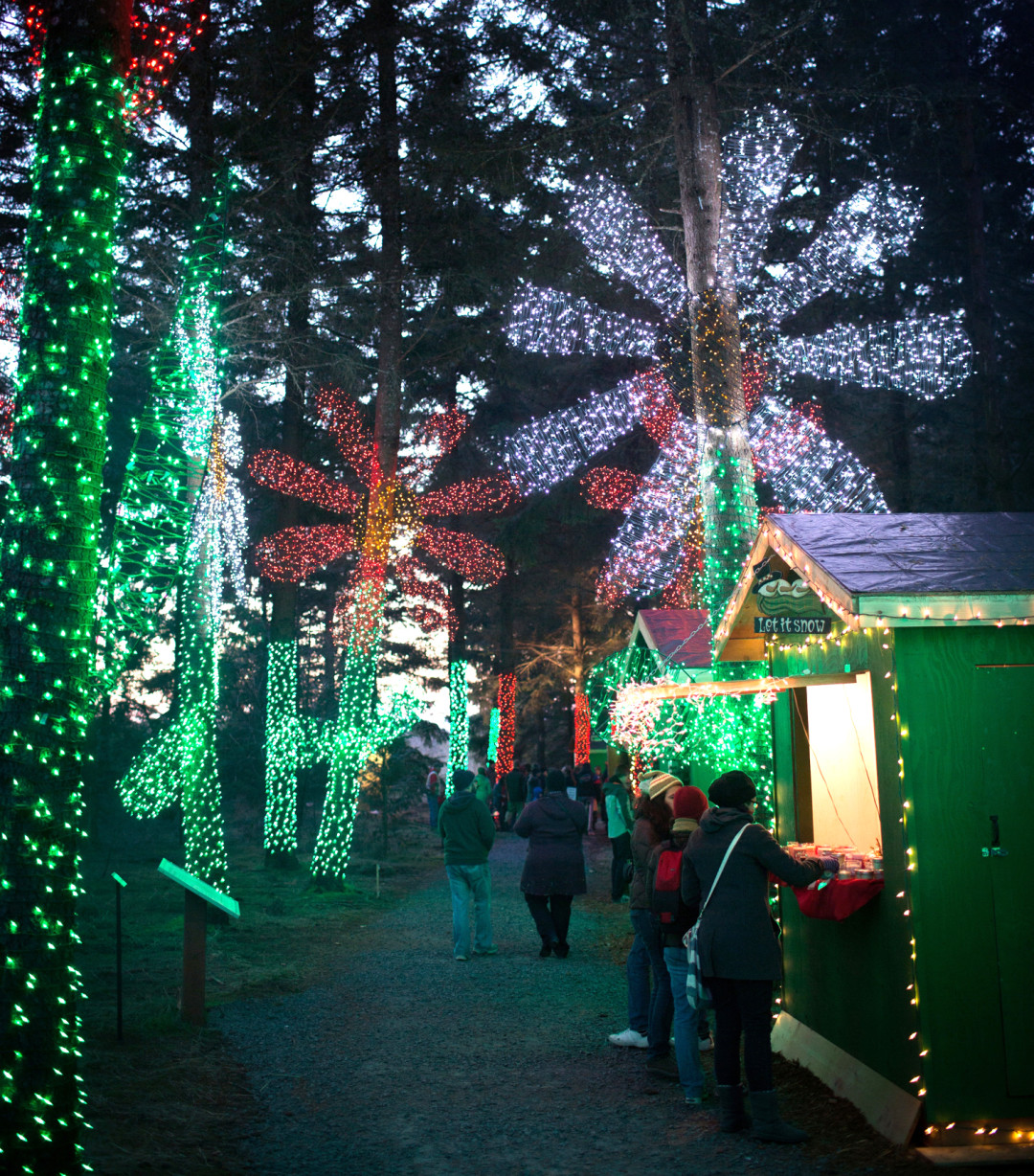 Looking for a a more relaxing holiday tradition? Don't miss Oregon Garden's Christmas in the Garden, Silverton's 80-acre flower, tree, and bush wonderland is only about an hour from Portland and features 400,000 lights during the holidays and is complete with roaming carolers, and a German village-inspired holiday bazaar. Are you ready for the best part? They even feature live reindeer on select weekends. This year the Garden, which is only about an hour away from Portland has even added a 3,500 square foot covered ice rink surrounded by Christmas trees and snow flakes. It's straight up magical.
Christmas In The Garden Information:
Dates: November 23rd – December 31st, open most days but check the website for closure dates.
Tickets: Get your tickets here.  Tickets and passes range from $5 – $60.
Location: Silverton Oregon
Website: http://christmasinthegarden.com/
6. Newport Lighted Boat Parade
Come down to the bayfront and enjoy the start the holiday season every year with the Lighted Boat Parade. Local boats decorated with festive lights parade along the historic bayfront.  The parade will leave the Newport Yacht Club and travel east (clockwise around Newport Harbor) to port. The parade will continue towards King Park and lighted Bell #3. Boats will finish the last leg of the circle headed North back towards the Goat Island Causeway area.
Newport Boat Parade Information:
Date: December 1, 2018 at 6:15 pm
Location: Newport Oregon
Website: http://www.newportshipyard.com/events/illuminated-holiday-harbor-lights-boat-parade
7. Christmas Fantasy Trail At Wenzel Farms
Take a  walk through an amazing lighted fantasy trail decorated with thousands of Christmas lights.  You'll be enchanted as you walk through a 40 foot castle with Christmas scenes, and as you walk through a tunnel, maze, crooked house, suspension bridge and more.  There will be a nightly bonfire and refreshments will be available.
Christmas Fantasy Trail Information:
Dates: December 1st – 29th 2018 from 6-9 pm.  Closed December 24th and 25th.
Admission: Adults – $7. Children 12 and under – $6.
Location: 19754 South Ridge Road, Oregon City, Oregon 97045
Website: http://www.fantasytrail.com/
8. Miracle of a Million Lights (Portland)
For most of the month of December, Victorian Belle is known as "The Miracle of a Million Lights" and is open to the public for tours of the decorated house and grounds. The entire 2.5 acres is filled with a million plus twinkling lights that turn this historic Portland landmark into a Christmas wonderland!
Tour the richly appointed historic Victorian Belle aglow with 10 uniquely-decorated Christmas trees and decorations. View rooms filled with period antiques and vintage heirlooms.  Enjoy homemade apple cider, holiday cookies, and other refreshments while being entertained with live musical performances by local performance groups and individual artists.  Santa will be there every night and you can get professional pictures available for purchase.  Holiday movies will also be played nightly and there will be live performances.
Miracle Of A Million Lights Information:
Dates: 6pm – 10pm on December 8th – December 21st, and December 23rd.
Admission: Adults – $8, children (4-17 years) – $5, Kids 3 and under – free, Seniors – $4.  $1 OFF when you bring a non-perishable food item.
Location: Victorian Belle, 1441 N McClellan St, Portland, Oregon 97217
Website: https://www.facebook.com/events/318485705629466/
9. PIR Winter Wonderland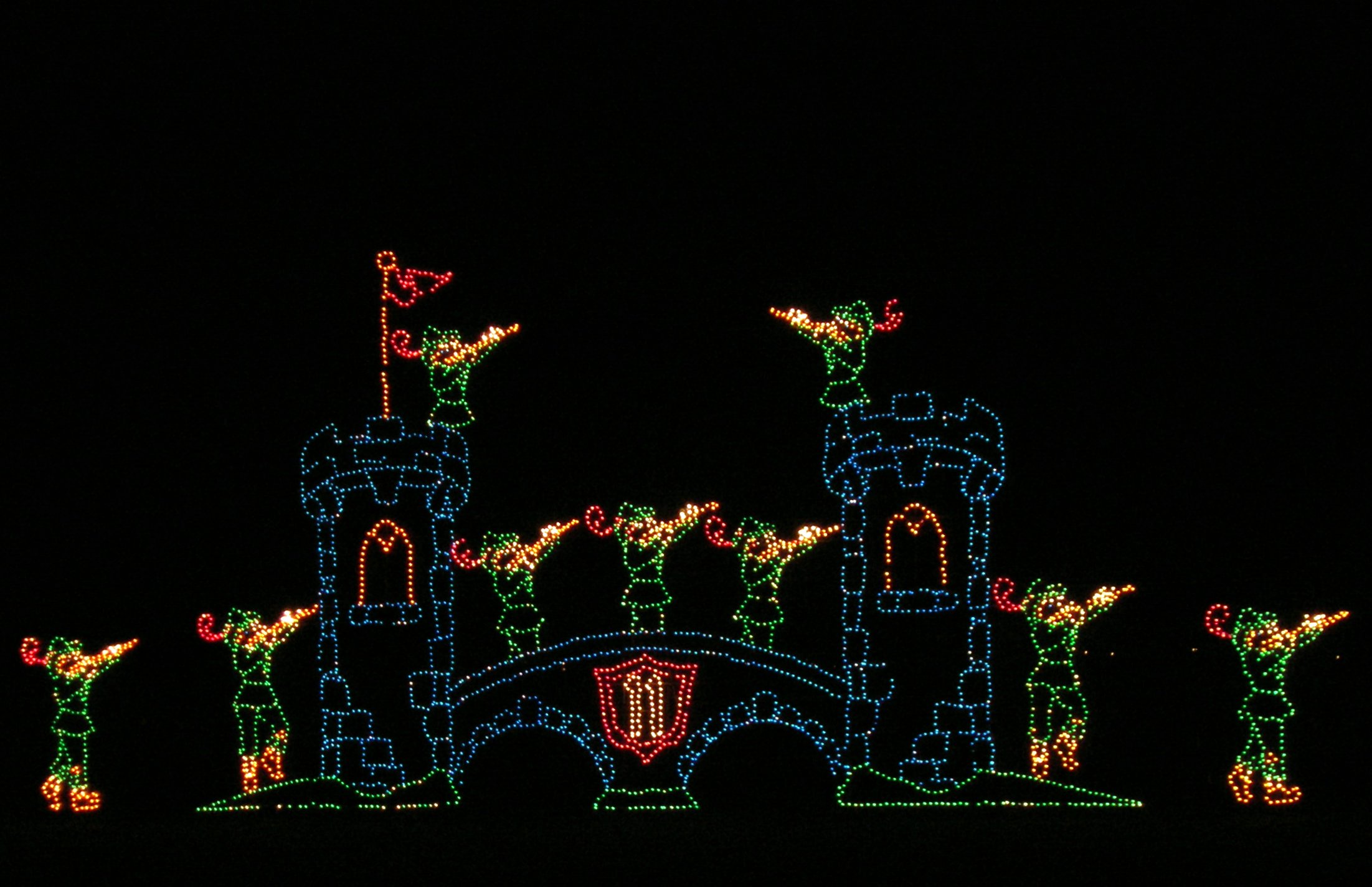 USA Today called it "One of 10 great places for families to see Christmas lights". Recognized throughout the Pacific Northwest as the "Largest Holiday Light Show West of the Mississippi."
Since 1993, a journey through Winter Wonderland has become a Holiday tradition for many families, friends, and social organizations to celebrate the spirit of the holiday season. Spectators can enjoy the most spectacular drive-through light show in the region, viewing over 250 colorful light set pieces and many fully animated scenes from the comfort of their own vehicle.
Over two million visitors have taken the Winter Wonderland journey since its origin.
PIR Winter Wonderland Information:
Dates: November 23rd to December 26th.  See the event calendar for dates that are closed.  Some nights are special event nights, so be sure to check the calendar before you go.
Tickets: Buy tickets in advance here.  Tickets cost between $6 – $50.
Location: Portland International Raceway at 1940 N Victory Blvd Portland, OR 97217
Website: http://winterwonderlandportland.com/general-info/
10. Festival of Lights at Riverforks Park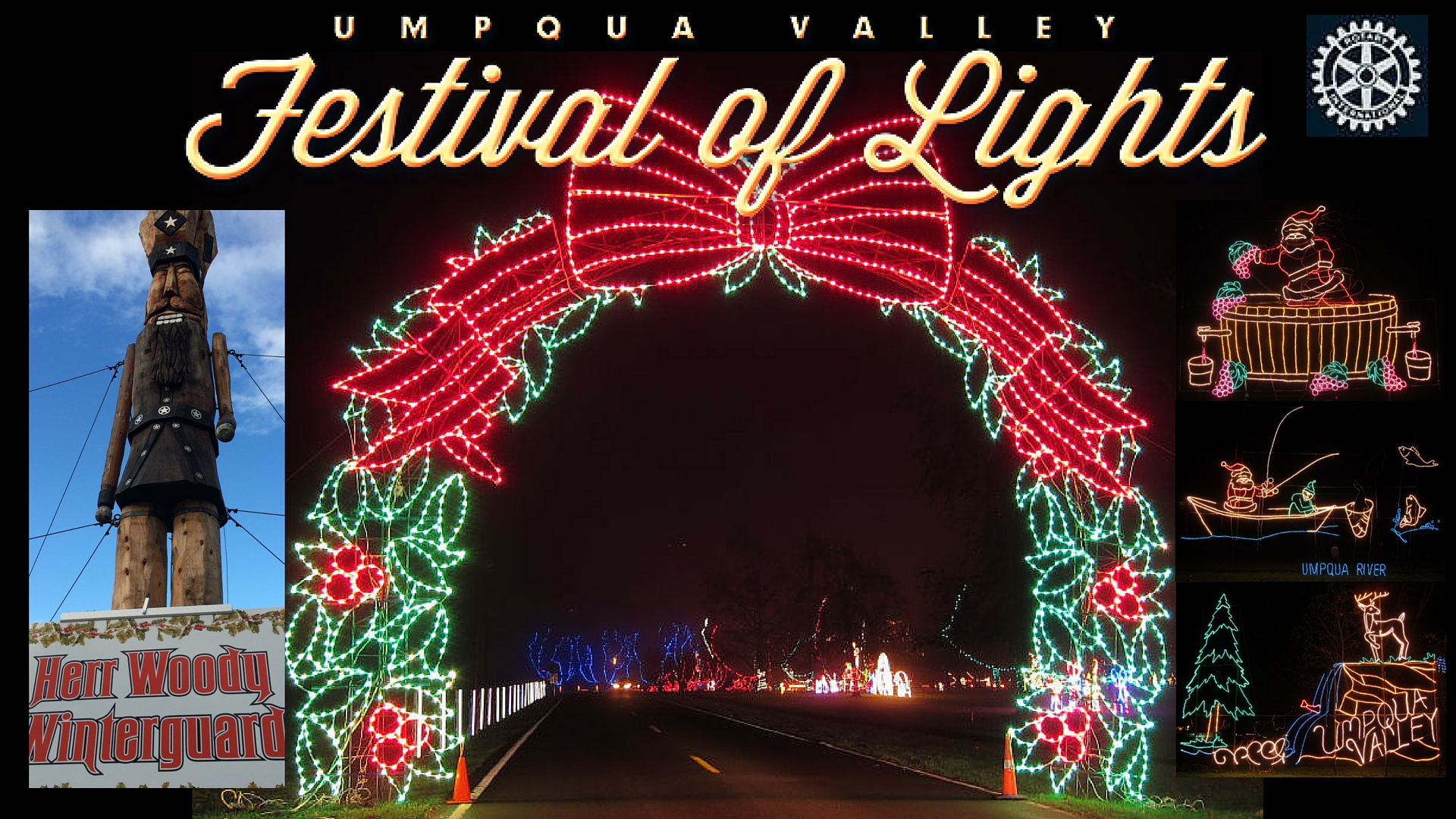 The Festival of Lights has become an annual tradition in Douglas County, drawing nearly 30,000 visitors in 2014 and generating hundreds of thousands of dollars for Rotary Club scholarships since beginning in 1993.
While visitors once again enjoy 90 light displays containing nearly 500,000 and all the traditional attractions that have made the Festival famous, some new additions such as the world's largest nutcracker will make the experience even more unforgettable.
Umpqua Valley Festival Of Lights Information:
Dates: November 18th 2018 – January 1st 2019.  Opens at 5:30 pm nightly.  Please see the website for the schedule to see specialty nights before you go.
Admission: $10 per car.
Location: River Forks County Park, Roseburg, Oregon 97471.  This park is located 6 miles West of Roseburg.
Website: https://www.uvfestivaloflights.com/
11. Aspen Meadow Celebration of Lights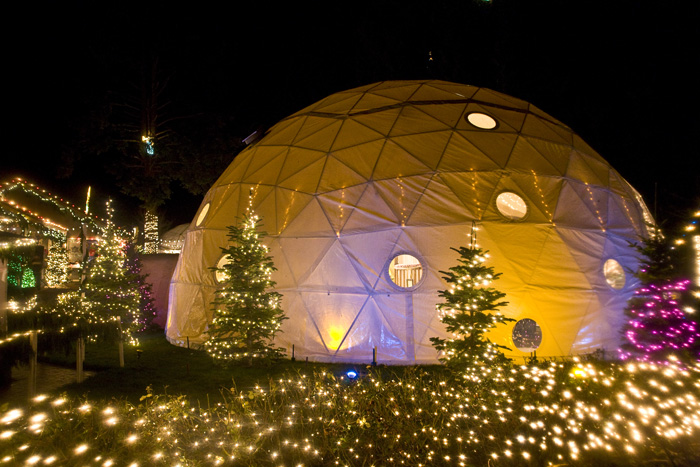 Bring your family and friends to Colton, OR and rejoice in the sights, sounds, smells, and feelings of this miraculous season. Stroll our grounds and see how each area is uniquely designed to reflect this year's theme of "Live to dream".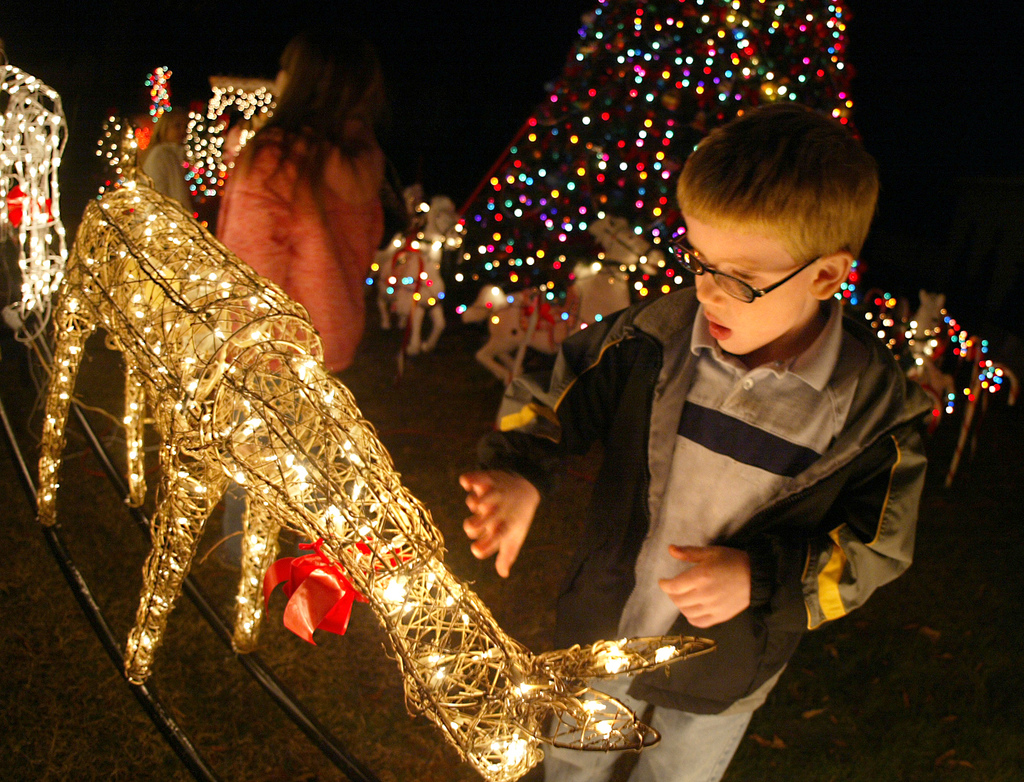 With over 150,000 lights, carolers, an interactive children's area, a miniature train village, videos, multiple indoor and outdoor displays, and warm refreshments, there's something to spark the light within each soul.
Aspen Meadow Celebration Of Lights Information:
Dates: Begins on December 8th 2018 ends on December 26th 2018.  Please see the calendar of events to see which night you'll want to go as there are concerts featuring different groups on different nights.
Admission: Free.
Location: 24232 S. Upper Highland Rd, Colton, OR 97017
Website: http://www.aspenmeadowlights.com/
12. Shore Acres Holiday Lights
During the 2017 season, an estimated 74,392  visitors viewed the lights display and enjoyed the refreshments in the beautifully decorated Garden House and the entertainment in the Performance Pavilion.
Shore Acres Holiday Lights Information:
Dates: November 22nd – December 31st 2018.
Location: 89039 Cape Arago HWY, COOS BAY, OR 97420
Admission: Parking fee: $5 per vehicle or current OPRD Annual Parking Pass or Coastal Passport or current OPRD Campground Receipt or current Special Access Pass.  No additional charge for lights viewing.
Website: http://shoreacres.net/holiday-lights/
13. Azelea Park
Brookings' Azalea Park is transformed into a Holiday Wonderland with 500,000 lights and sculptures, attracting thousands of people from around the Northwest.  This year Santa and Princess Elsa will be present.  Check the website to see which dates Santa and Princess Elsa will be available.
Azalea Park Holiday Lights Information:
Dates: November 23rd – December 28th 2018 from 5-9 pm.  Please note that extreme weather can cancel the event for a night.  Check the Facebook event page for information on closures.
Location: Azalea Park, Brookings, OR
Admission: $2 for adults, kids 12 and under are free.  No additional charge for parking.
Website: https://naturescoastalholiday.com/