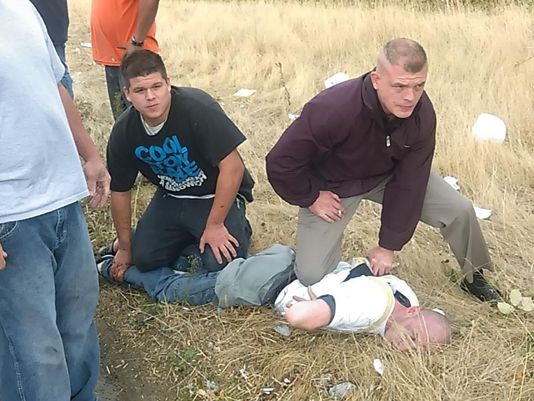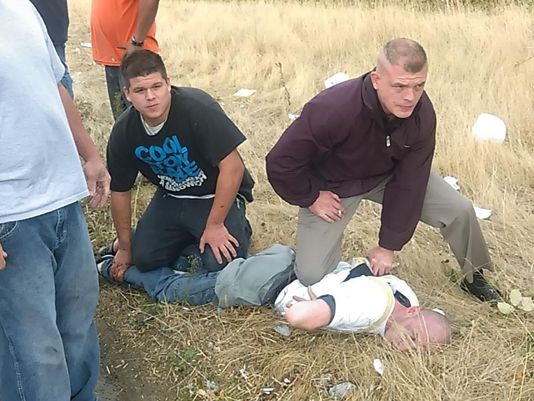 These are the kind of stories I like to read. Recently in Portland, two courageous men didn't know each other yet, but they came together and stopped a woman beater in traffic along I-205 Northbound, near the exit to SR-14.
William Byrum just got off work and was headed home, while the other man Joey Thomas was on his way to visit a friend in Vancouver, Washington. Traffic had came to a stop, and Thomas also mentioned both exit lanes were blocked.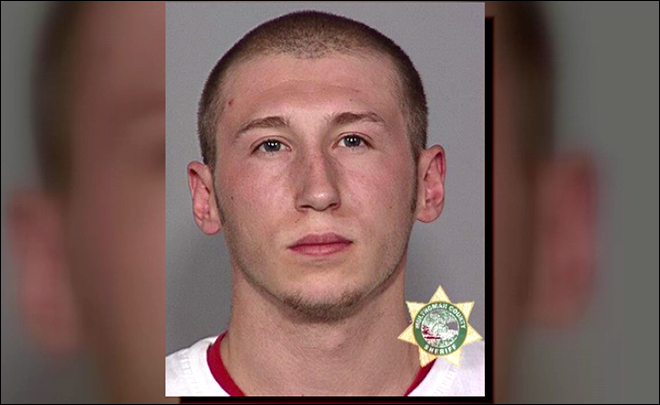 It was then, 26-year-old Darrell Classen with a lengthy criminal record was seen punching a woman inside a moving car.
The woman was able to pull over, exited her vehicle and ran straight into traffic to escape this crazy asshole, but the man apparently chased after her. That's when Thomas stepped in, getting out of his truck while two other men also chased the man down.
A female bystander who had witnessed Classen slap the woman across the face also stopped to help. When he finally caught up with the man, he didn't hesitate to pick him up and slam him into the ground. This gave him the upper hand, as he was on top not letting him go anywhere.
With the other men helping, they made makeshift handcuffs out of a piece of Thomas's briefcase to restrain him.
Byrum said he told Classen, "Yeah, you're going to jail. We are gonna sit here until the cops get here and you're going to jail."
"The way I look at it is, you don't hit women. I would hope if it were my wife or my mom, somebody else would have taken action if I wasn't there," said Thomas.
They snapped the photo as seen above, smiling while holding the crazed man down. Classen was arrested on the spot and charged with assault as well as reckless endangerment. According to the news, some of his past charges include evading police and failure to register as a sex offender.
According to the story, the woman was obviously shaken up from the whole ordeal, but she should be ok. It was unclear how she knew the man. Just glad these awesome guys handled this man as swiftly as possible, as these stories rarely end well. My hats off to William Byrum and Joey Thomas, that's one less puke off the streets!
[KGW]