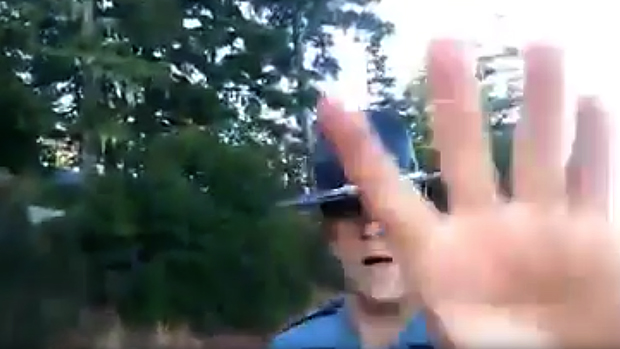 COOS BAY — Recently a video posted by a man in Oregon is making it's rounds on social media, and stirring up some serious controversy right now.
It all started when 911 dispatchers in Coos Bay took a call about a reckless driver in the Empire District of the city, just after 7 a.m. Saturday. Shortly after a state trooper who has been identified by others as Jeff Smith, responded to the dispatch call, and located a suspected vehicle unoccupied and parked on North Morrison Street.
The man who posted the video to Facebook, 25-year-old Michael Scott, claims the trooper showed up to his residence and questioned him about the yellow Honda CRX in front of his home.
During the questioning, Scott had asked the trooper for his name and badge number, and according to Scott the trooper refused.
According to information released Sunday by the Oregon State Police, sometime after this Scott climbed up onto the hood of the car and then sat on the roof with his legs positioned over the windshield, facing the Trooper who was positioned near the front of the suspect vehicle.
The police said the trooper did not engage with Scott, instead walked away from him, and then went back inside his patrol car. In the video you will see around this time Scott began circling the patrol car while recording.
Shortly after, the officer steps out of the car, visibly angry and tells him "get back right now, you're interfering with a police officer."
Before you know it, the trooper grabs the camera and Scott, knocking the camera into the grass nearby.
"You stay the f*** away from me. I'm going to report you for assaulting me," Scott responds.
After Scott had posted the video to Facebook, Smith was identified by others and apparently according to locals, has a history of negative interactions and conflict with citizens.
A man by the name of Benjamin Hodges who had commented on the video, claims he has reported Smith on several occasions to his superiors, although no action has been taken against the officer.
Oregon State Police is continuing the investigation into the incident with Scott, and is considering charges against the North Bend man saying he interfered with a trooper's investigation.
h/t oregonlive via photographyisnotacrime.com