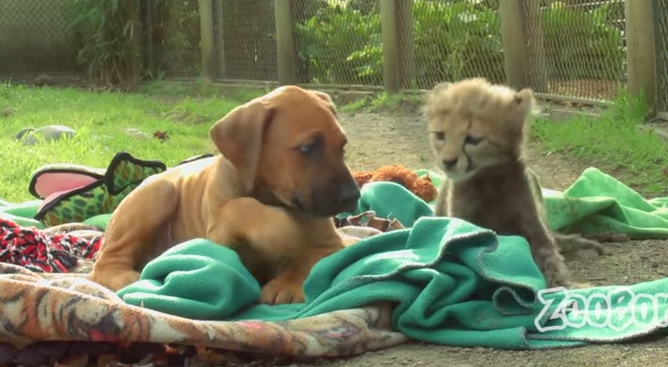 This was just too cute not to share today. I may even have to make a trip to the Wildlife Safari in Winston, Oregon soon!
They recently welcomed their new cheetah cub to the pack, and sadly the mama was unable to produce enough milk for the little cub. Taking her in, zoo workers named her Pancake after the way cheetahs flatten themselves down on their stomachs to relax. Now six months old, she's been introduced to a canine companion of her own: Dayo, another Rhodesian ridgeback pup, who spends his days playing and frolicking with his new foster sister.
This video shows the adorable animal duo fully enjoying their new best friendship:
(source ZooBorns)
It may seem like an unlikely combination, but after seeing them together, it's clear that dogs aren't just man's best friend. Head over to the Wildlife Safari website to see how you can plan a visit to see the sweet friends for yourself!