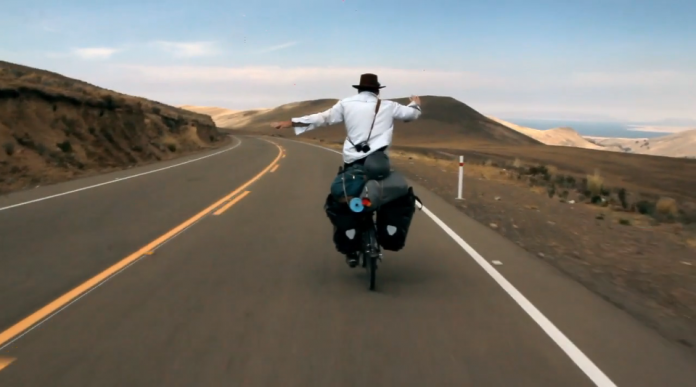 Last updated on February 21st, 2017 at 08:31 am
Who would just up and quit their job and ride their bike from Oregon to the very southern tip of South America?  Jedidiah Jenkins would, and he did. This has to be one of the most fascinating and inspiring stories I have came across in awhile.
His good buddy, Kenny Laubbacher, joined Jenkins for a month-and-a-half to get the answer everyone wanted to know – why did he do it?
Jedidiah Jenkins' parents once walked across America, ending their journey in Oregon. Now, Jedidiah has picked up where his parents left off and traveling south to Patagonia, Chile — by bicycle. His is an adventure of dreams and beauty; of strength and resilience.
"I've met a lot of older people who give me the spiel of, oh my life went by so fast, yesterday I was nineteen or twenty-five, and now I don't know where all that time went," says Jenkins. "I want to make it to eighty-five and be exhausted because I have been awake and alive every day."
Today, Jenkins is writing a book about his adventures so that he can teach others how to break their routines and not let their days control them.
Follow his adventure on Instagram at @jedidiahjenkins