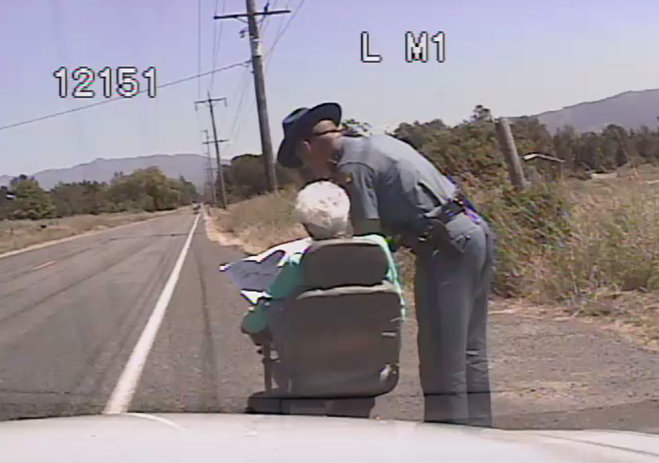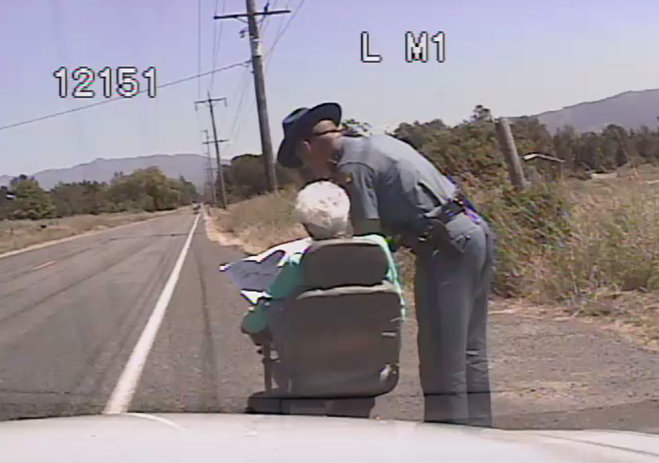 Meanwhile in Lynden, Washington an elderly woman in her 80s was pulled over doing a blazing 6 miles an hour. Nearby residents and drivers alongside State Rout 546, near the U.S. – Canadian border saw what looked like a hilarious slow-speed pursuit Tuesday and began posting to social media.
Apparently the woman was just going out for coffee in Lynden Tuesday afternoon, and along the way somehow got lost. When the officer caught up with her, she was nearly 4 miles from her home and still headed in the wrong direction.
"What it looked like at the time was this older lady on a Rascal cruising down the road. The cop car with the lights flashing going behind her is what caught my attention," said Andrea Ruth, whose office faces the highway, where the speed limit is 45 miles an hour. "You can't make that stuff up."
"I wasn't trying to stop her. I wasn't trying to detain her. I was just trying to get her back to her home," said Trooper Dave Hintz with the Washington State Patrol. "I just treated her the way I would've wanted somebody to treat my mom."
The officer, Hintz, who has been with the State Patrol for 24 years said this was a first for him.
HT KVAL