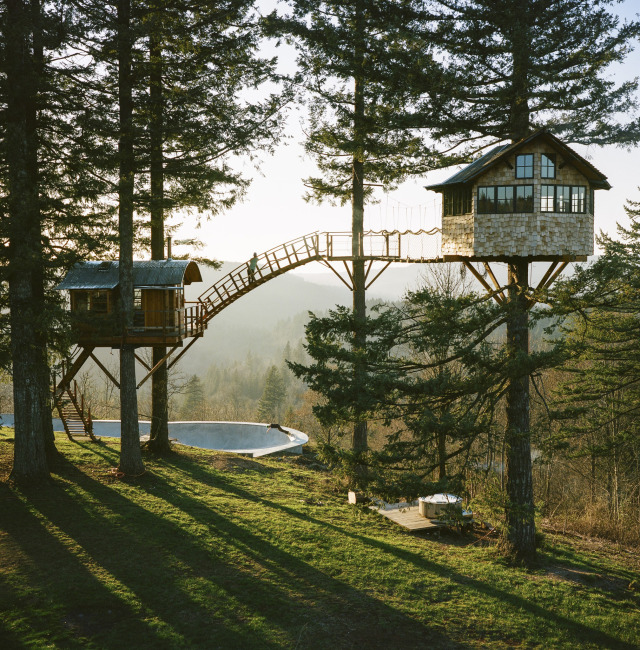 Last updated on February 21st, 2017 at 08:31 am
The Tree House
From the van life to tiny homes on wheels and living in bad ass tree houses, it seems everyone is escaping society's boundaries these days to live the dream. And that's exactly what 27-year-old Foster Huntington had in mind when he quit his comfortable job in New York City with Ralph Lauren and built an amazing tree house in the Pacific Northwest.
Since 2008 he has attracted nearly a million Instagram followers, and what is being said to be America's most inspiring photo and video blog. A few months ago The Cinder Cone project was unfolding, started by Huntington.
#VanLife soon reached fabled status amongst vagabonds, rubbertramps and travellers, as Huntington's photo-blog grew into a full-scale archive of America's most dedicated free spirits.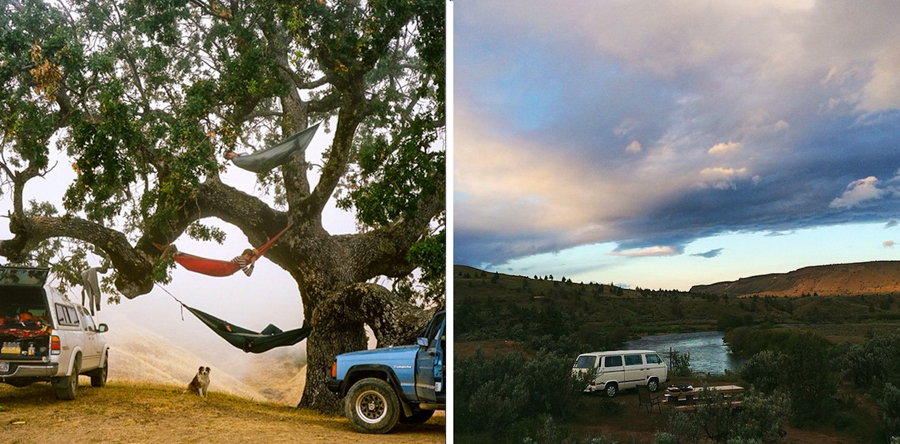 Surfing trips to Maine and Mexico became a cornerstone of #VanLife. Finding surf gave the road trip a destination, while vastness of the ocean kept the last wave just out of reach.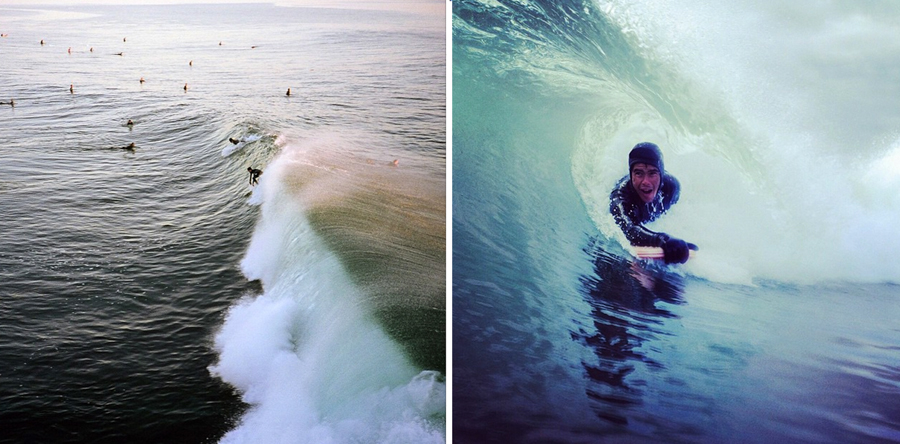 Eventually, Huntington parked on his family's land in Washington's Columbia Gorge, and paid his friends to help complete his fantasy tree house.
"I got really excited about the idea of other people living in their cars, so I made the VanLife hashtag and started documenting those people. I started a Tumbler based on that idea, and two years ago I developed that idea into a photo-book called Home is Where You Park It."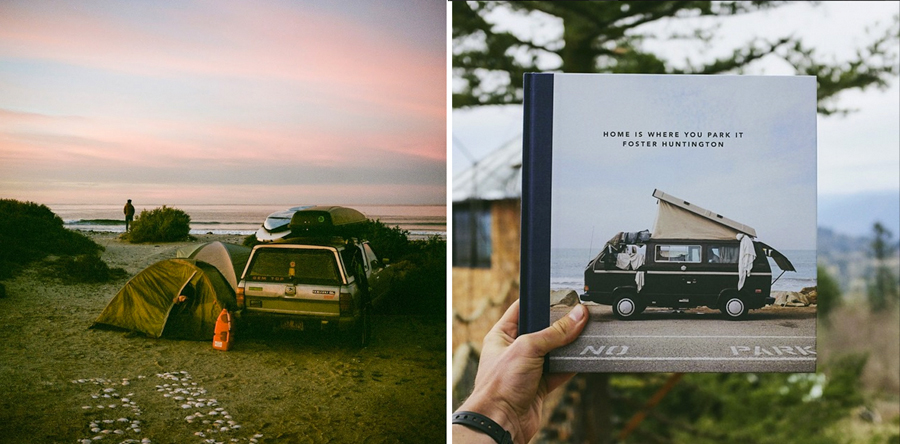 As you you will see in the video, dreams become reality as this is truly one of the most inspiring videos I have ever seen.
This weekend he was covered in The New York Times, which refered to The Cinder Cone a "Bro-topia" The story went into why he up and left his job for Ralph Lauren after a year-and-a-half at the company to chase his dreams:
Four years ago, Mr. Huntington was working as a men's wear designer at Ralph Lauren. He was part of a team that handled concept design, coming up with the stories, themes and presentations behind each collection: say, the bush pilots of Alaska and their ruggedly stylish world.

It was his first job out of college, and he initially found it fun and creatively challenging. But after a year and a half, he realized he didn't care that much about clothes.

"I remember looking at photos of bush pilots and thinking: 'I can take photos. I don't want to live my life in the city. I want to go do something else.'"
Tiny Home In The Trees
Despite creating and living in a "Bro-topia," Foster — who has a massive Instagram following — is still about getting work done to pay the bills. As he explains to the New York Times:
But the Cinder Cone is not a 24/7 fun park. Mr. Huntington may have left New York City behind, but he didn't forsake ambition, or the fashion world.

For a time he was paid to be a social media consultant for the outdoor apparel brand Patagonia, and he has collaborated with the German financial services company Allianz and the computer maker HP, starring in online ads that played up his off-the-grid lifestyle.

He also works as a freelance photographer and publishes A Restless Transplant, an adventure travel blog he began in 2008, while still a student at Colby.

He is an outdoorsman entrepreneur who has invented his own career. The treehouses serve as his home and as an alluring backdrop for advertisements for himself.
"You can build a sick tree house for 10 grand. Whether they're big or small, tree houses or cabins, there's something so rewarding that comes with making the place that you live in," says Huntington.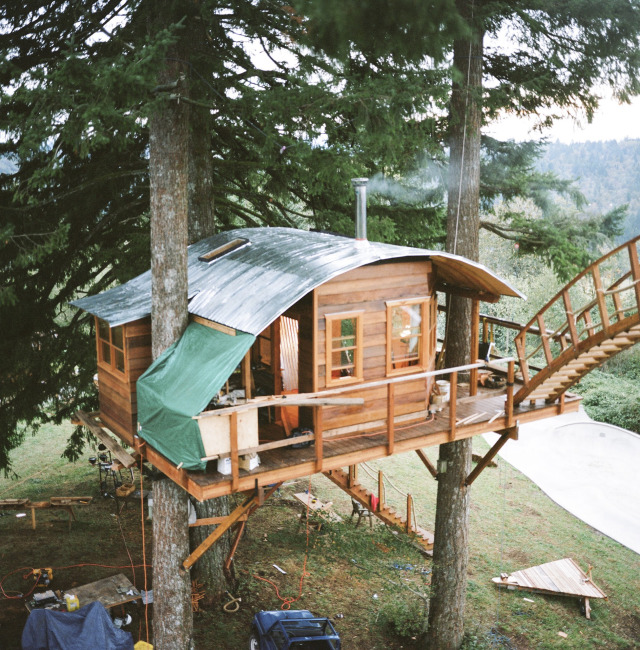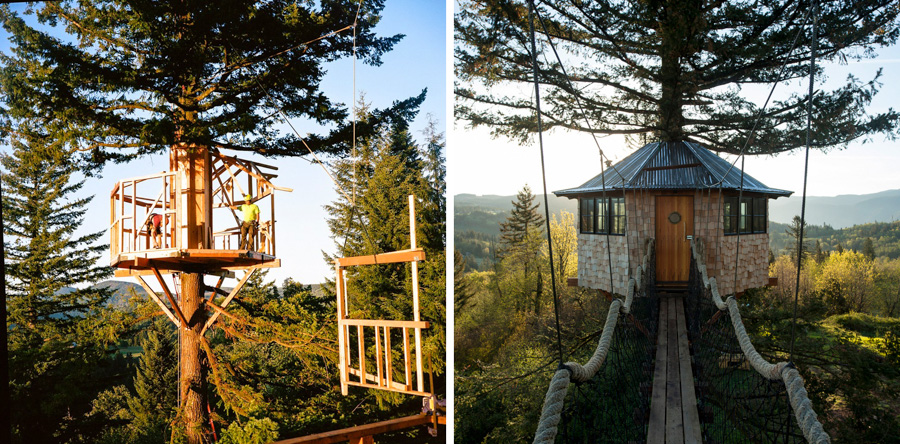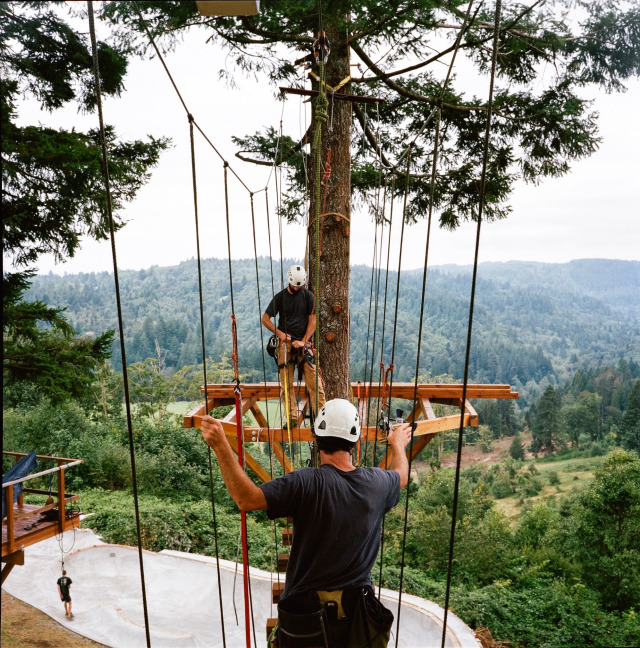 Ths man proves anything is possible if you just put your mind to it. Follow your dreams.
Sources: BroBible / The Plaid Zebra
Follow us on Facebook for more interesting news stories like this.