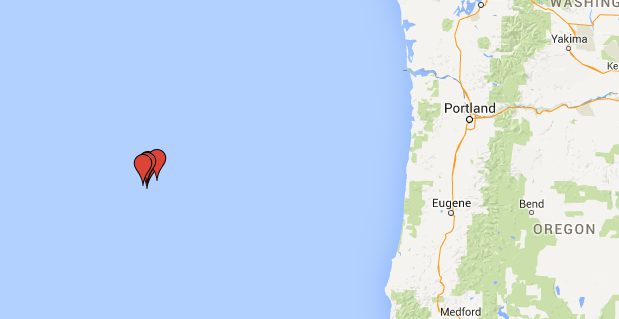 Last updated on February 21st, 2017 at 08:31 am
Beginning Sunday night and following into Monday, five earthquakes struck off the coast of Oregon. According to officials they were not large enough to create tsunamis.
The first magnitude 5.8 earthquake struck at 11:52 p.m. on Sunday, with a second quake measuring magnitude 4.3 quake at 12:01 a.m. The third magnitude 5.5 quake struck at 3:46 a.m., and then a fourth magnitude 4.4 earthquake struck at 7:46 a.m. Most recently, a 5.9 magnitude quake came at 1:11 p.m.
The four earthquakes were around 330 miles west of Salem, according to Paul Caruso who is with  U.S. Geological Survey. The quakes hit a fault that is west of the Oregon and Washington coast.  (A USGS map offers more specifics on the earthquakes).
The earthquakes were about 6 miles deep, which is fairly shallow. Caruso noted the magnitude 7.8 quake that recently hit Japan was 420 miles deep, but with little damage as the deeper the quake the less likely people will feel the impact.
Caruso says the Oregon coast quakes were not big enough to trigger tsunamis. He says it usually takes a magnitude 7 for that to happen.

H/T The Oregonian