Last updated on May 14th, 2018 at 07:59 am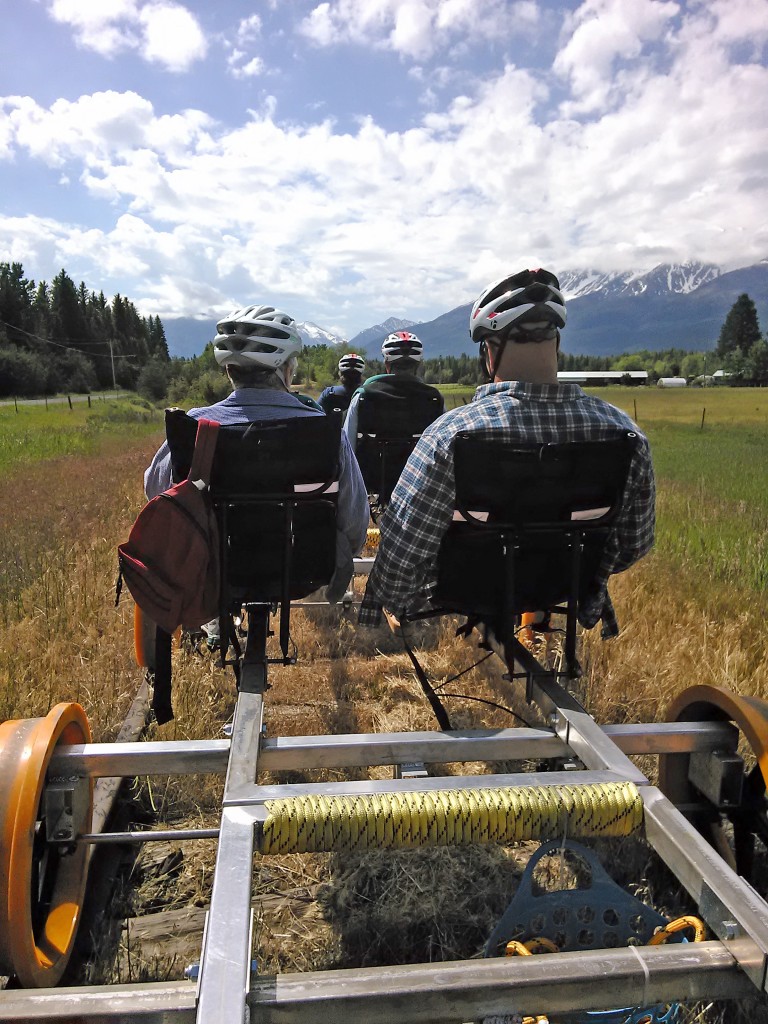 Looking for something new and fun to take the family to on nice day, and get some good exercise in? Come ride the rails along a decommissioned section of the Wallowa Union Railroad, through Wallowa Valley.
Joseph Branch Railriders (jbailriders.com) was founded in 2014. Two cycling enthusiasts, Anita and Kim Metlen of lmbler (near La Grande) are behind this awesome touring experience in Eastern Oregon.
The specially built recumbent bike has been modified and tested by Kim to slide on all four wheels along the rails. With 12 bike units available, up to 24 people can ride on each trip.
A woman and her 20-year-old grandson were one of the first customers who took the twelve-mile roundtrip between Joseph and Enterprise. Roberts' family members have said it was the most fun in six miles they'd ever had.
from jbrailriders.com:
Enjoy the novelty of pedaling down an inactive section of the Historic Joseph Branch Railway in Oregon's beautiful Wallowa Valley at the base of the Wallowa Mountains. Bicyclists, nature enthusiast, and rail fans are sure to relish the peace and tranquility of the 12-mile round trip from Joseph to Enterprise or 26 mile round trip day adventure that starts in Minam Town travels a gentle 1% grade to Wallowa and back for the hearty folk. Snow-capped peaks form the backdrop as you pedal past green pastures and red barns, through cottonwood and pine trees, and beside bubbling streams. Cattle and horses look up from their grazing. A pair of osprey call to you from their nest. Mule and white-tail deer bound through the grass and hide in the shade. You will be lulled by the sights, smells and silence of the countryside, while invigorated by the fresh air. For tickets, go to 304 North Main Street in Joseph, Oregon; call 541.910.0089 or 541.910.0981; or contact them via email to [email protected]
This place looks awesome, I'd love to take my kids here someday. Is this something you'd like to try anytime soon? Be sure to head to jbrailriders.com for more info.