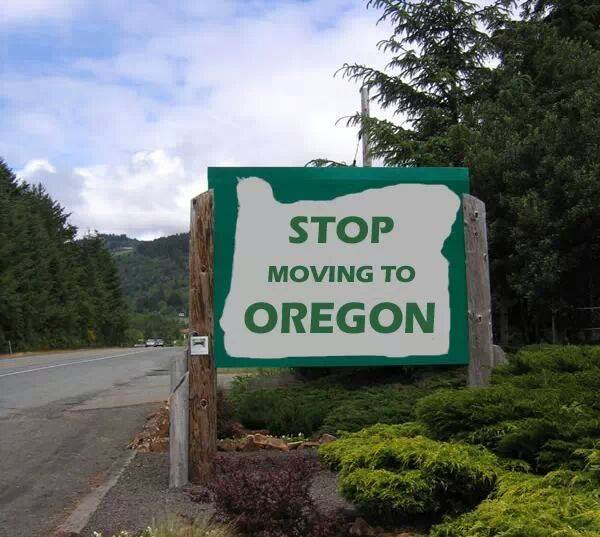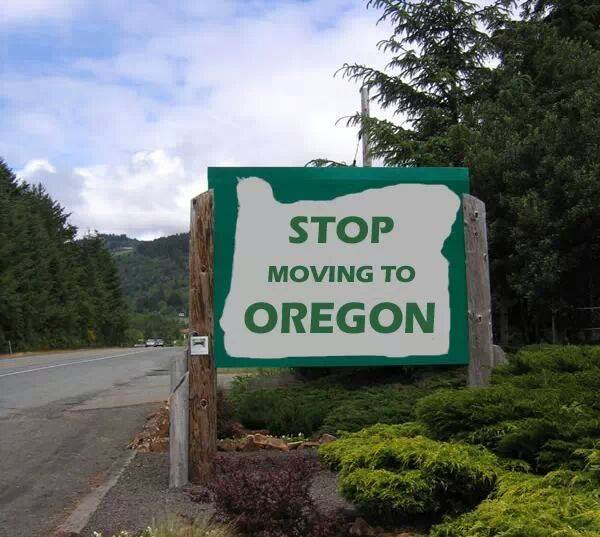 Hate it or love it, a recent United Van Lines' annual migration study from CNNMoney shows Oregon to be the destination where everyone is currently moving to. As a native Oregonian myself, I can't say I am too surprised. I guess it's not all about the warm California lifestyle these days.
Comparatively speaking, Oregon is a pretty damn awesome place to live. Sure, the weather isn't always the greatest, but it keeps Oregon beautiful, plush and green, right? Where else can you go 30 minutes in any direction and find some of the most beautiful places to explore? It's fairly inexpensive to live here, and for the most part it's a great place to raise a family.
In my opinion, people are much more layed back and generally friendlier here. Not to say I've met a few people who I wanted to put through a wall, a holes are everywhere, but travelling to other states I've realized Oregonians in general are pretty damn nice. Did I mention some of the most beautiful women live here? Starting That Oregon Life has validated this for me. 🙂
We recently asked all of you, our followers, what makes Oregon the number one place to move. Some of the answers were hilarious. While a lot of the responses we got were "stay the bleep away" and "eff you Californians", it seemed most of our answers were reflecting on some of the best weed being here in Oregon.
Here's 20 of the responses we got, sure to get a laugh:
1) Um, it's gorgeous here. There's something for everyone. Cities, farms, wide open spaces. Mountains, coastline. Fishing, hiking, camping. And rain! (Spent the last four years in Phoenix – wanna talk about hell). (From Jamie S)
2) No sales tax, higher minimum wage, don't pump your own gas, legal pot, clean air and water, the coast and our beautiful landscapes. 
 Reasons not to come to Oregon: hipsters and tweekers. (From Ashley W)
3) Oregon's full of shit stay away I just got beat up by a gang of 75 yr old women last nite at the bowling alley don't see it getting better any time soon (From Mark M)
4) We recently moved to Oregon from Hawaii and I'm amazed at the friendliness of the people here in Oregon (From Anne R)
5) Nature. Diversity. People are nice for the most part (go to another state then come back, makes you realize people are nicer here in comparison). Less populated in general. If you need get away from it all the coast or woods are literally a few hours away (if your from the valley or ptown) the beer, art, scenery…. damn… This list could go on forever… (From Mel A)
6) It's beautiful. I love Oregon. #Oregonian #for #life damn tree hugging hippies and opinionated liberals (From Rebekah W)
7) Don't move here, we don't wear shoes, we don't eat meat, we belive gluten free isn't good enough one must be dairy, soy, meat, and grain free.
Also…all those who don't shower, smoke weed all day, and don't drive due to the human cost of fuel consumption…they control the votes in Oregon.
Worst place to live ever! (From Saudade S)
8) Cuz were the greenest state (From ShyBoii G)
9) Oregon is absolutely an amazing state. From one corner to the other vastly different in appereince…but not one more beautiful then the other. Natural hot springs all over the state. The Oregon Coast is incredible. (From Melissa Jo M)
10) The culture. The land. The people. Its not just one thing that makes oregon number one. Its everything! To be number one you cant be the best in only one thing. You have to be best in all aspects. And that is why oregon is #1 (From Scott G)
11) There is to much to say really. But if u r comparing to another state we have it all. No other can really compare. We have the beauties the beaches the trees not all the bugs as in tics an mosquitoes. Clean waters of rivers an lakes. The smell of pines early in the morning. Fresh air don't always get snow but if u want it u can find it. There is jus to many remarkable reasons. (From Jessica H)
12) Its beautiful all year round. Many different cultures. I have more people smile at me there then i do here. My Soul and Spirit drawn to Oregon. Im happiest there. Every new day is a good day. I want to wake up. Here…not so much. (From Brenda R)
13) Beer and strip clubs (From Mike E)
14) that dank ass chronic everyone is growing now (From Jacob Z)
15) the people: ) I just moved to California from Oregon. lived in Oregon all my life and I already miss it. (From Lindsay L)
16) Good weather, hot chicks, nice people… (From Brian M)
17) Wow so much to say about our GREAT state of Oregon(Orygun) all four seasons, oceans, Mountain, rolling hills, deserts, hunting, fishing, hiking, skiing, rafting-all styles, Nike, Ducks, best state for self employment, Beer,food,wine, I mean seriously the list goes forever and ever Oregon has it all. (From Cornelius P)
18) The coast, the mountains, beautiful lakes, best camping. I just moved here 10months ago, after 38yrs in Fl. I've NEVER seen such BEAUTY. (From Shannon B)
19) Everything in Oregon is awesome love it Oregon is my number one home (From Christina E)
20) Best weed, outstanding beer, beautiful scenery, no tax, and someone else pumps your gas! Also, Oregon is so GREEN and i love how we recycle and take care of our awesome state! I lived in Texas for 2 years and couldn't wait to get back (From Ashley S)
So there you have it, 20 reasons why Oregon is the best place to live. It was difficult to choose these, as we did get over 200 responses. Please share this post with your friends if you enjoyed it!