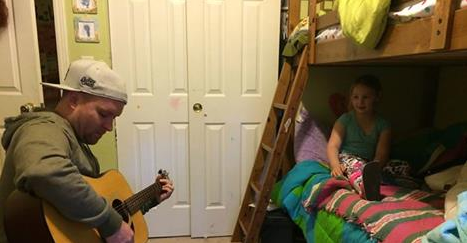 Last updated on February 21st, 2017 at 08:32 am

Keegan Smith, a friend and favorite local musician, made this sweet girl's dream come true.
You may remember Keegan from an amazing video that went viral recently, when he sang Bob Marley to a whale on a cruise. What he's done for this little girl was very special, as Mr. Smith is her favorite local artist.
8-year-old Bailey Sheehan has been fighting acute flaccid myelitis, which is a rare illness linked to enterovirus and can eventually lead to paralysis. She is one of three kids in the Portland area battling it. In the entire country, only 112 children have been diagnosed since August,  according to the Centers for Disease Control and Prevention.
If you've never had a chance to meet Keegan, he is not only one of the most talented guys I know, he is a great person all around. Don't miss the video after the break.
From KPTV:
On the way to and from all those appointments, they listen to Portland artist Keegan Smith.

So when Bailey's mother, Mikell, recently met Smith, she asked for an autograph. But he gave their family much more: a private concert at their home just for Bailey.

"I said, 'Bailey, who would you like – if anyone could come see you, who would you like to come see you?'" Mikell Sheehan said. "And she said, 'Well, Keegan Smith and Taylor Swift!'"

Little did she know, Keegan Smith was waiting around the corner.

"I popped my head in and [Mikell] said, 'Do you know who that is?'" Smith recalled. "She said, 'That's Keegan Smith!'"

Here is Smile, the song this little girl loves, which he wrote for his daughter.