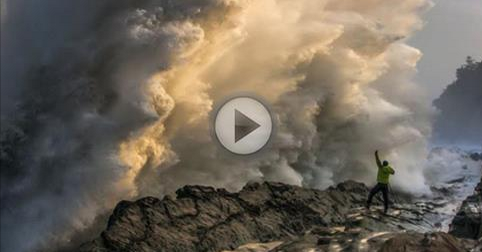 My best childhood memories are vacationing at the Oregon Coast. This remarkable place is truly one of my favorite places to visit. Eating delicious seafood platters, and stopping in at salt water taffy shops to fill that bag full of different flavors brought so much joy to me as a child – and now as a parent I can revisit and share that joy with my children. As I write this I can almost smell the salty ocean carrying in the crisp cool breeze, and feel the sand between my toes as I walk along the beautiful ocean.
Ben Canales, a now friend, and well known photographer, alongside his partner John Waller at Uncage The Soul Productions, have created a film that captures our unique Oregon Coast better than ever. In the breathtaking video below, you will watch the opening scene begin with a photographer seemingly cheating death as a massive wave breaks on the rocks in front of him. [For more on this story and more beautiful photos check out the article at Fstoppers]
Check out more from Ben Canales on his website, and watch more films from Uncage the Soul Productions on their website.