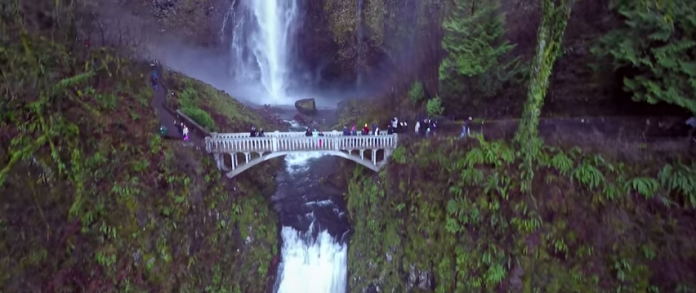 Last updated on February 21st, 2017 at 08:32 am
Not only is Multnomah the most visited and most popular in Oregon, it is also the tallest waterfall you can visit. It's been two years(where does the time go!?) since Michael Denise, a follower of That Oregon Life sent us this breathtaking video. Since we first shared this beautiful drone footage, the video has been seen countless times. This aerial footage was originally shot at Multnomah Falls in January of 2015, and as you will see for yourself is almost hypnotic.
Take a breath, relax and enjoy this video. Let us know what you think in the comments!
Multnomah Falls isl as magnificent and memorable as any in the country is a short 30-minute drive outside of Portland. Visiting Multnomah Falls, a 611-foot-tall roaring, awe-inspiring cascade of icy water, lets you experience the power and beauty of nature up close and with ease. From the parking area off of I-84, a 5-minute walk is all that separates you from the exhilarating spray at the base of the falls.
According to Native American lore, Multnomah Falls was created to win the heart of a young princess who wanted a hidden place to bathe. Although you can see the top portion of the falls from the highway, to view both tiers you have to walk to the viewing area located in a carved-out opening in the rock face. Tilting your head up in the narrow rocky confines of the steep cliffs, you get a mind-boggling perspective on the sheer magnitude of the falls.