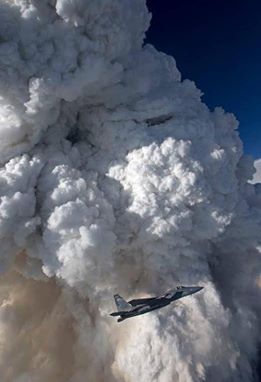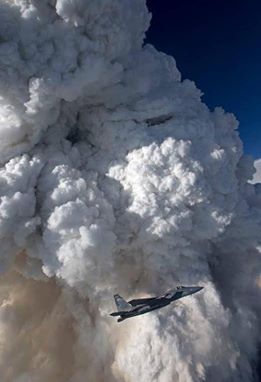 News
2014 was a terrible year for Oregon wildfires. People across the state were smoked out, habitats burned to the ground, haze hung in the air, and hundreds of firefighters were employed in dangerous situations resulting in 1 wildland firefighter's accidental death.
Staggering Numbers
Did you realize that in 2014 there were 1128 wildfires in Oregon?  415 were caused by lightning and 713 were caused by man.  That's sad if you think about how many were man made and how many could have been avoided.  By the time fire season ended, a total of 53282.99 acres were burned, or 83 and a quarter square miles.
83 Square Miles Burned
83 miles might not sound like a lot, but imagine a one mile wide path of destruction in a straight line from Portland, through Sweet Home and almost to Eugene.  Or imagine just over 1/2 of Portland razed to the ground and then you start to get a picture of just how large of an area 83 square miles is.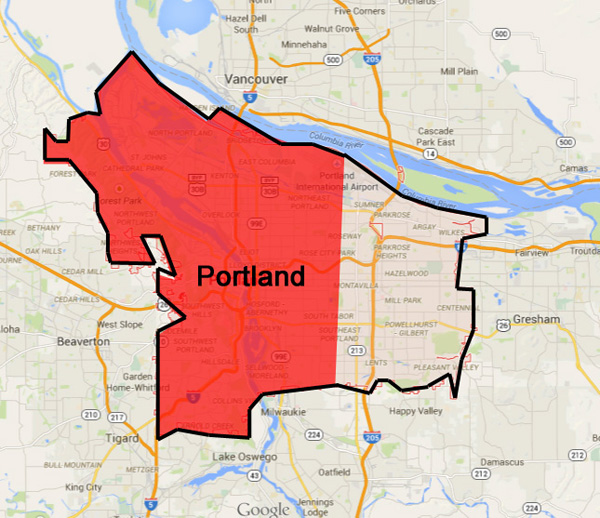 Fire Crews, The National Guard, And Inmates Worked Tirelessly
Thanks to fire crews across the state,  all of the wildfires were put out.  Something you might not have known is that some of those wildland firefighters were inmates from the Oregon Department of Corrections.  2,701 inmates received the same firefighter training as other wildland firefighters and served on supervised 10 person crews to fight 66 wildfires.  Sometimes they fought fires for up to 17 days at a time.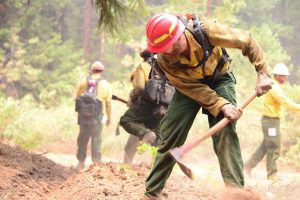 During fire season we always hope that fire fighters will stay safe, but tragically Matthew David Goodnature, a 21 year old from Phoenix Oregon died in an accident this summer while off duty at Four Mile Lake in Southern Oregon.  He was found by a fellow firefighter.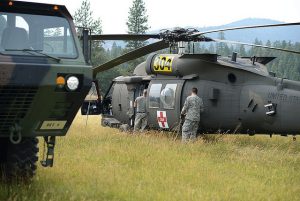 The Oregon National Guard was also brought in to help contain the wildfires.  Here a National Guard HH-60M Blackhawk helicopter refuels near the Beaver Fire Complex in Southern Oregon in August.  The National Guard provided two CH-47 Chinook Helicopters and two HH-60M Blackhawk Helicopters to help drop water on the fires.
Photos With A Story To Tell
There are too many wildfires to list here, but we have some stunning photos of a few of them thanks to talented Oregon Photographers, some of whom are volunteer firefighters themselves.
Two Bulls Fire by Extreme Oregon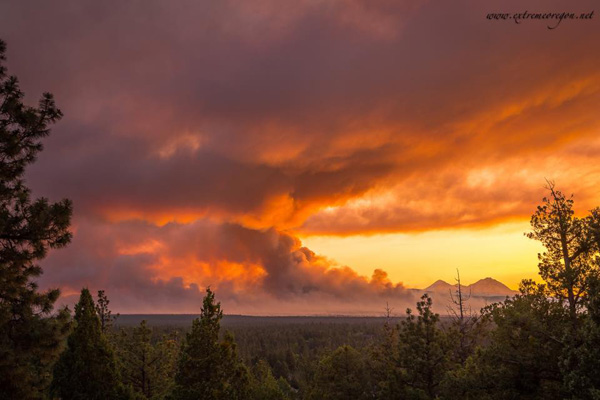 James Parsons of Extreme Oregon took this photo of the Two Bulls fire that happened in June of 2014 near Bend.  "It was very near Bend but thankfully the wind direction held south throughout, and it never headed into town," Parsons said.  James didn't just take photos of the fire in action though, he was also able to capture the aftermath as seen below: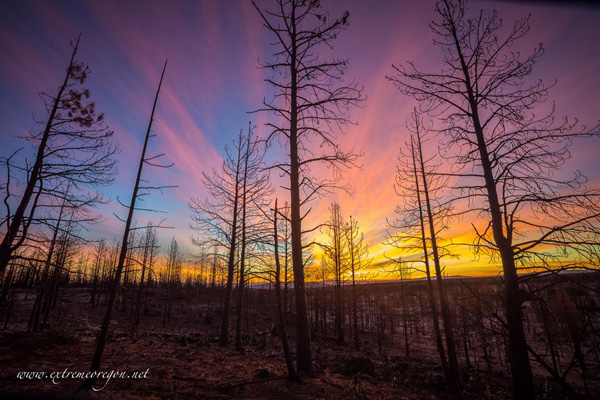 According to Parsons, "The fire came so early in the season that many seasonal firefighters were not on duty yet, undoubtedly leading to the severity of the fire."  If you want to see more of Jame's Parsons work check out his Facebook page where he posts Oregon photos daily or his website.
Rowena Fire by Starlisa Black Photography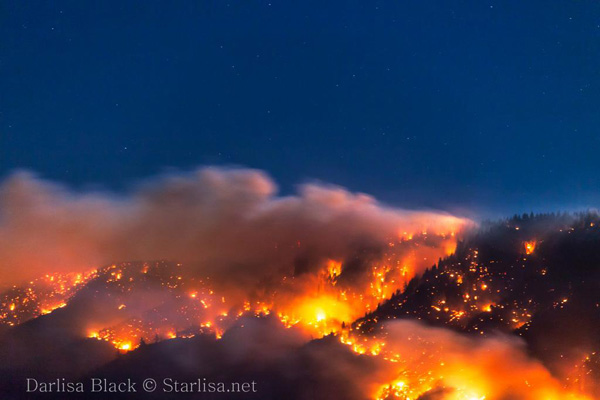 The Rowena Fire broke out in August 2014 West of the Dalles and was captured by Darlisa Black of Starlisa Black Photography.  "I was totally engrossed in capturing [these photos].  [I was] in awe and trepidation and feeling an obligation to capture the moment for my firefighting contacts for whom I have so much respect," said Black.  She captured an amazing series of photos of the Rowena fire and you can see more of them on her Facebook page or her website.  "With fire photos I do this out of love and appreciation for the firefighters and homeowners," Black said.  "[It was] trepidation tinged with fear.  [I was] praying no one was harmed or homes burned."
Rowena Fire by Michael Cary Photography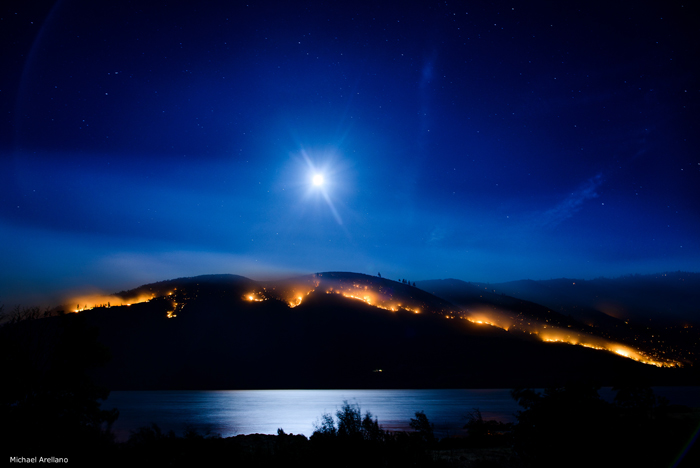 Michael Arellano of Michael Cary Photography also captured the Rowena Fire as it burned towards the Columbia Gorge.  This photo was taken at midnight from bluffs overlooking the waters of the Columbia in Lyle, Washington.  "The long exposure for this photo allowed me to bring out the stars that were visible to the naked eye that evening," said Arellano.  You can check out more of Michael's amazing work at his website.
36 Pit Fire by Platz Photography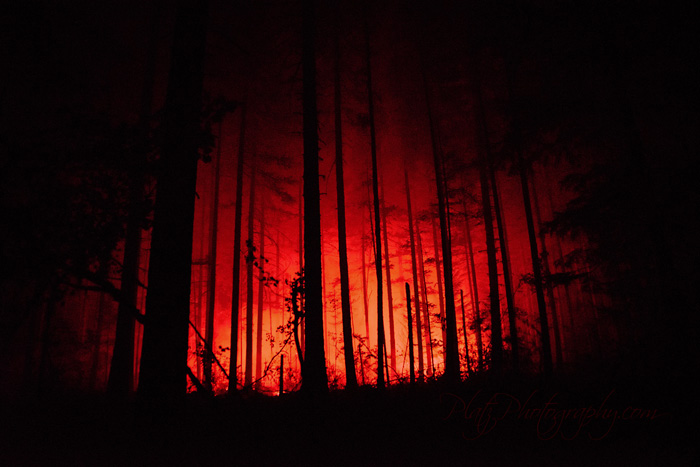 Jami Platz of Platz Photography captured this photo of the 36 Pit Fire near Estacada in September 2014 in conjunction with Estacada Rural Fire District #69.  "I'm a volunteer with Estacada Fire Department in their fire corps," said Platz.  Like all wildfire areas, the forest was closed to the public but Platz was able to go in as a volunteer.  "[I] was able to accompany some of the firefighters on scene."  While it was dangerous to be there, Platz said, "Being able to be up there to take those pictures was really exhilarating.  We had to be very careful where we went but it was really quite beautiful."  To see more of Jami's work head to her Facebook page or website.
Bryant Mountain Fire By Larry Turner Photography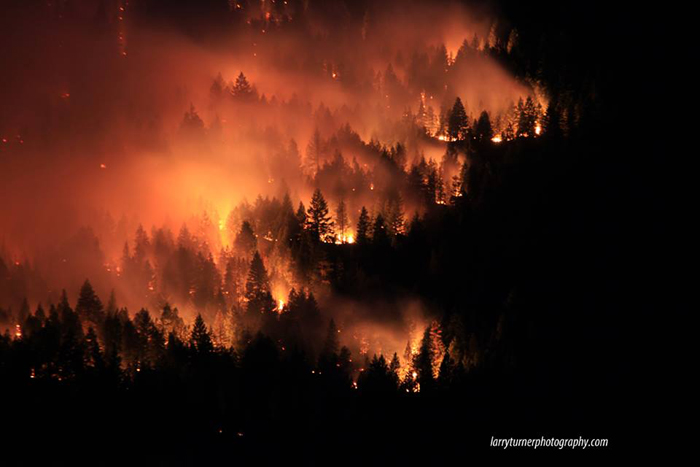 In June 2014 the Bryant Mountain Fire in Klamath County burned 800 acres in less than 24 hours, and Larry Turner of Larry Turner Photography was there to capture it.  "It was quite fascinating because this is in my backyard, the mountain near my hometown of Malin," Turner said.  "I was doing a family portrait shoot when I first saw the smoke bellowing in the sky above Bryant. After the shoot, i made my way [there] and did the shooting.  I was able to document many phases of the fire."  Turner was able to keep his distance from the fire and stay safe by shooting using a 100-400mm lens.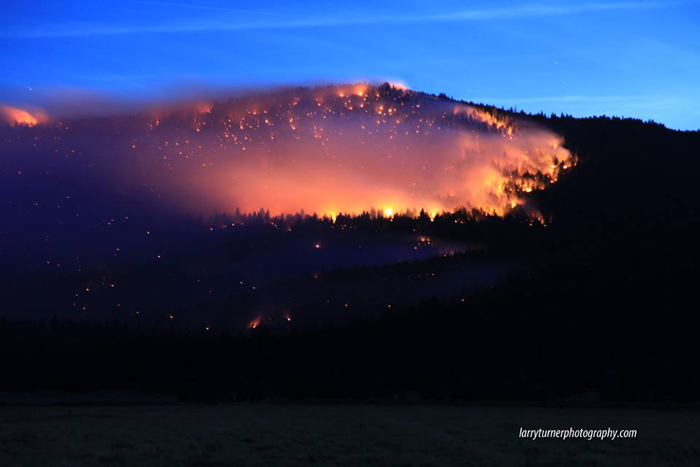 To see more of Larry's work, check out his Facebook page or his Website.
With so many wildfires in 2014, we can only wonder what 2015 will hold for our forests and other wild areas of our state.  What do you think?  Will 2015 bring more drought and fires or will we get some relief this year from the smoke and blazes?  Let us know in a comment.