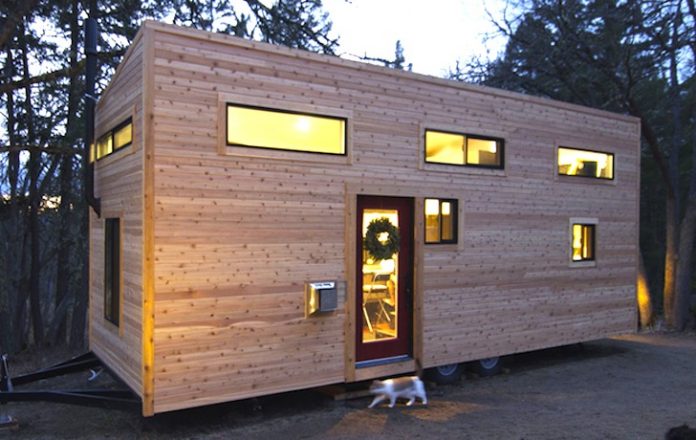 [tribulant_slideshow gallery_id="1″]
Have you ever imagined what it'd be like to have a home on wheels? We're not talking about a fancy RV — this is an actual 221-square foot home, known as The hOMe design.
Normally when building a tiny home, there are all sorts of building codes and regulations you must comply with. The Morrison family resides in Ashland, Oregon, and was able to avoid all of that hassle when they put their dream home on wheels. hOMe was built and furnished for only $33,000 — and it took just four months to complete.
They enjoy the luxury of running their business from their home, and can do pretty much anything they want. The Morrisons, to their surprise, have not had to make any compromises or sacrifices. The things they enjoy, such as playing guitar, wrestling with the dog, cooking, and watching movies are all easily done within their hOMe.
The hOMe is only 8.5 feet wide, and has tall slanted ceilings complete with white walls which give the very narrow home the illusion of space. The home was built complete with a fully equipped kitchen and bathroom which are at opposite ends of the house, maximizing the full width of the gallery style trailer.
The strategically placed windows give the house a more spacious feeling with natural light beaming in and a beautiful view to the couple's forested five-acre property. Sleek black cabinets for storage space and physical dividers frame the different rooms of the home. Even the black staircase, leading up to the large loft master bedroom, has built in storage space.
On the opposite end of a home is a ladder which accesses the second loft bedroom, and even has a small fireplace tucked into the corner next to the ladder. A nice size kitchen is complete a an 18 cubic foot fridge, full size gas stove and oven, nearly 12 feet of counter space, and a wine rack.
With hOMe being off grid, the bathroom includes a large Sun-Mar composting toilet.
"Because we chose to build tiny rather than a larger house, we were able to pay for the materials in cash and now have the security of knowing that we will always have a place on this planet that we can live for free," writes Gabriella on the Tiny House Blog. "And being that it's off grid, we aren't bound to utility bills and the system."
Via Tiny House Swoon / Inhabitat
Images via Tiny House Build