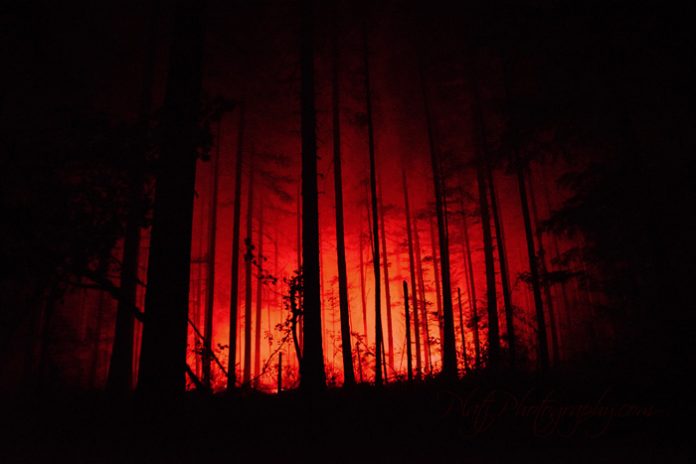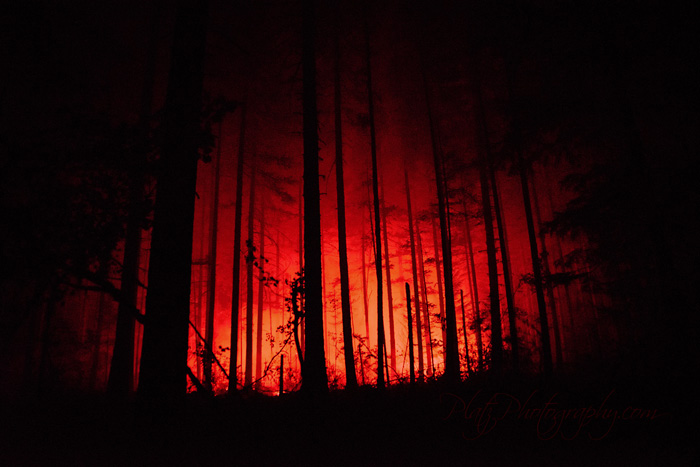 2014 brought to Oregon drought and fires, the legalization of Marijuana, and some big changes to That Oregon Life.  It also brought a host of stunning photos from Oregon's large community of talented amateur and professional photographers.  We wanted to brighten your day by sharing with you 10 of these amazing photos to remind you of what an awesome state we live in, and to showcase some of the talent our state is privileged to have.
1) Sparks Lake By Kathy Lowery Photography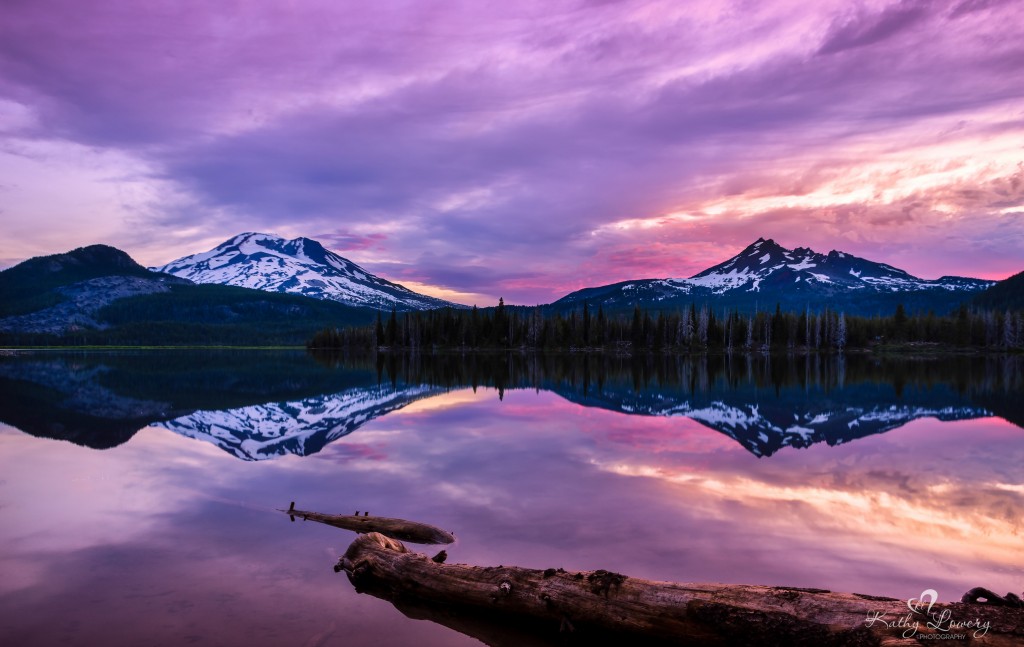 "[This is] Sparks Lake, in Central Oregon, with South Sister and Broken Top Mountains.  This photo was taken on a stormy morning in July, providing a dramatic and colorful sunrise.  Sparks Lake is one of my favorite locations to photograph with its beautiful reflections and mountain views," said Kathy Lowery, the talented photographer responsible for this masterpiece.
If you'd like to see more of Kathy's work you can check out her facebook photography page here: https://www.facebook.com/KathyLoweryPhotography or her website here: www.kathyloweryphotography.com.
2) 36 Pit Fire Outside of Estacata Oregon by Platz Photography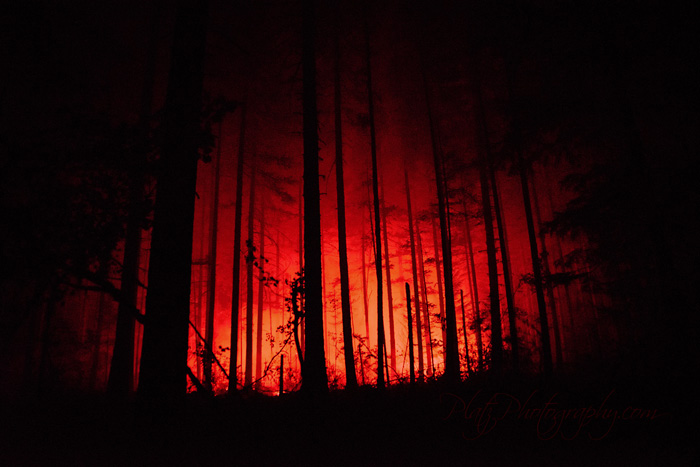 This photo was created in conjunction with Estacada Rural Fire District #69 in September of 2014.  "It was taken in the Mount Hood national Forest outside of Estacata Oregon.  I'm a volunteer with Estacada Fire department in their fire corps and was able to accompany some of the firefighters on scene," said Photographer Jami Platz.  According to Platz, the 36 Pit fire started near the 36 gravel pit from a target shooting accident.  Even though it was dangerous, Platz said, "Being able to be up there to take those pictures was really exhilarating.  The forest was closed to the public. we had to be very careful where we went but it was really quite beautiful."
To see more of Jami's photography, check out her Facebook page: www.facebook.com/PlatzPhotography or her website: www.PlatzPhotography.com.
3)  Sunset In The Three Sisters Wilderness by Extreme Oregon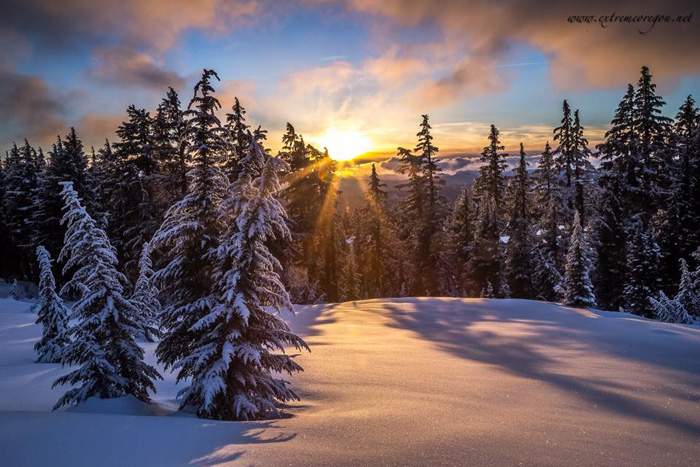 James Parsons of Extreme Oregon has become well known in the last year for his willingness to trek to Oregon's remote places to showcase its beauty.  "[This] was taken last weekend," said Parsons.  "[It's the] sunset looking west from near Broken Top in the Three Sisters wilderness. We set up camp for the night with a great view of Broken Top but ironically, the best shots I got on the trip did not include Broken Top."
James shares photos of Oregon's raw beauty daily on his Facebook page: https://www.facebook.com/Extremeoregon.  You can also check out his work on his website: http://www.extremeoregon.net/.
4) Haystack Rock at Pacific City October 2014 by Lydia Emily Bashaw
"There's a little bit of magic in every moment," said Photographer Lydia Bashaw.  Bashaw certainly captured that magic this October at Haystack Rock at sunset in Pacific City, and we're glad she did.
To see more of Lydia's work, check out her Facebook photography page: www.facebook.com/LydiaEmilyPhotography.
5) "Around The Bend" Union Creek Oregon by JATomlinson Photography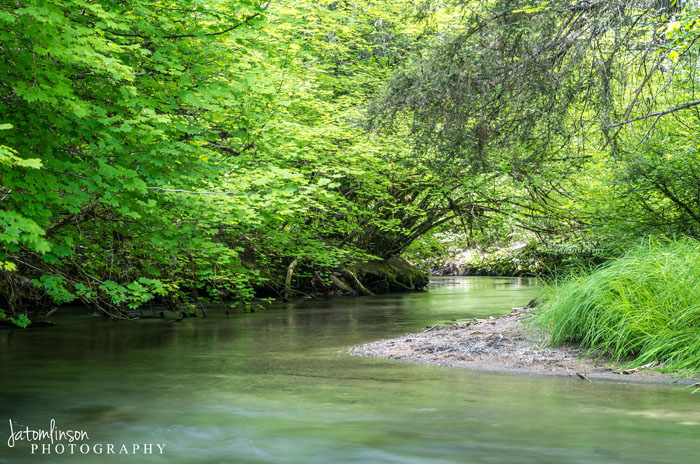 Union Creek is located on Highway 62, not far from Crater Lake.  It runs into the Rogue River near Rogue River Gorge.  "It's my favorite place in Oregon," said Photographer Jessica Tomlinson.  "Around every bend… at every little waterfall there's a special place that feels secret, like you're the first person to discover it."
To see more of Jessica's photographs, check out her Facebook photography page: www.facebook.com/jatomlinsonphotography.
6) Mt Hood In The Fog From Jonsrud Viewpoint by Forever Design Photography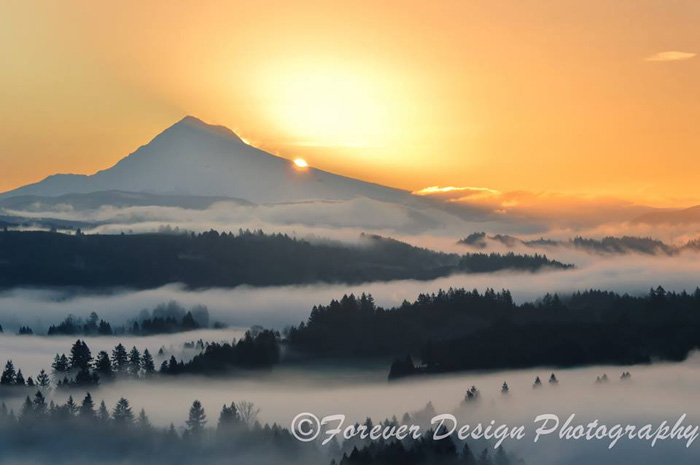 "[I took this] photo of Mt. Hood in March of 2014 from Jonsrud Viewpoint in Sandy. The fog was thick on my drive there," photographer Cherie White recalls.  "I thought about heading back home. I am so glad I didn't because I would have missed this spectacular scene."  We're glad she didn't turn around too, because the view is spectacular.
To see more of Cherie's amazing work, head over to her Facebook page: Facebook.com/ForeverDesignPhotography, or check her out at fineartamerica.com/profiles/cherie-white.html.
7) Upper Klamath Lake At Sunset by Jason McMurry Films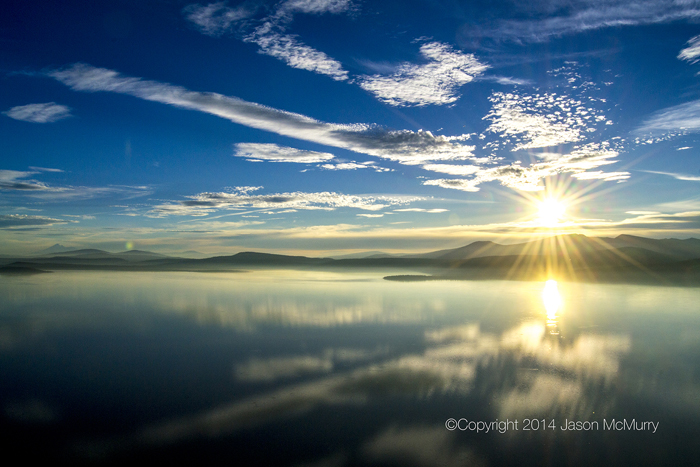 Located in Southern Central Oregon near the California border, Klamath Lake is the largest freshwater body of water by surface in Oregon.  "[I took this on] November 5th, 2014 from a ridge above Haglestein Park.  In the distance you can see the ever-impressive Mt. Shasta.  Upper Klamath Lake on this day had an amazingly calm surface creating fantastic reflections!" said Jason McMurry, the photographer who took this breathtaking photo.
To see more of Jason's work, visit his Facebook photography page: https://www.facebook.com/jasonmcmurryfilms, his website: http://www.JasonMcMurry.com, or his 500px profile: https://500px.com/rubiks015.
8) Multnomah Falls In October by Erick Claytor Photography
As Oregonians and as Facebook users, we're used to seeing pictures of Multnomah Falls, but this photo by Erick Claytor stands out amongst all the others.  "It truly is a breathtaking waterfall," said Claytor.  "The sheer size is awesome, either standing at the viewing center or from the parking lot. Definitely a must see when you visit Oregon!" Multnomah falls is the tallest waterfall in the state at 620 feet.
Erick has a Facebook photography page you can check out to see more of his work: www.facebook.com/erickclaytorphotography as well as a website: www.erickclaytorphotography.com.
9) Mt Hood In The Fall From Jonsrud Viewpoint By Clifford Paguio Photography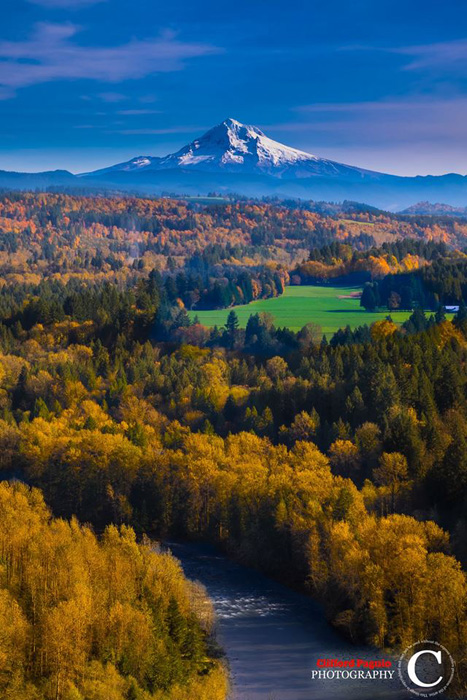 We can't help but be struck by the fall colors surrounding Mt Hood and superb composition of this photo by Clifford Paguio.  "[You can see] the Sandy River and Mt Hood with the fall foliage," said Paguio.  "I'm lucky because this was the last day where [I could] see the colors of fall."
To see more of Clifford's photography head to his Facebook page: https://www.facebook.com/PortlandOregonPhotos.
10) Thor's Well by Earshel Hogan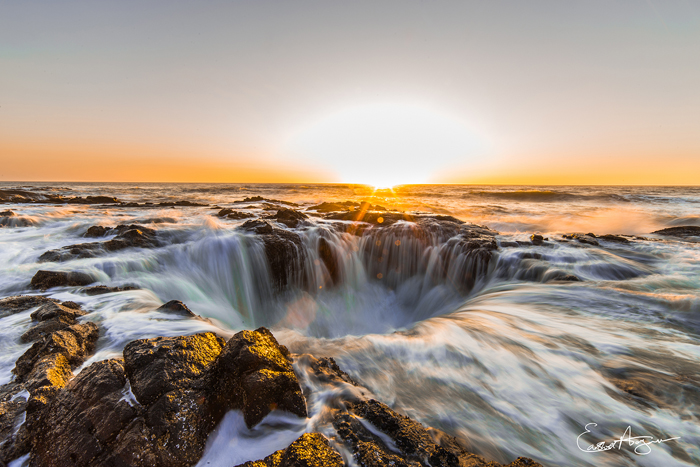 Thor's Well is located along Cape Perpetua, and is a salt water fountain that is driven by the power of the ocean tide.  "What was a thunderous wave decends quietly into Thor's Well," said Earshel Hogan, the photographer who took this stunning photo. "So serene, this photo does no justice to the torrential nature of the sea."
Earshel has a lot of stunning work to look at, and you can check out his Facebook page here: https://www.facebook.com/earshel.hogan or his website here: http://www.earshel.com.