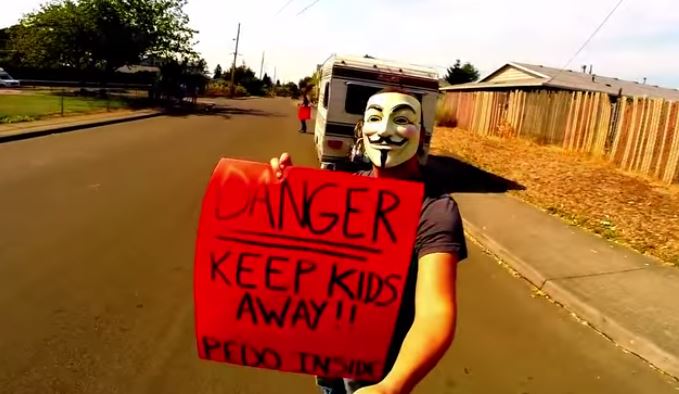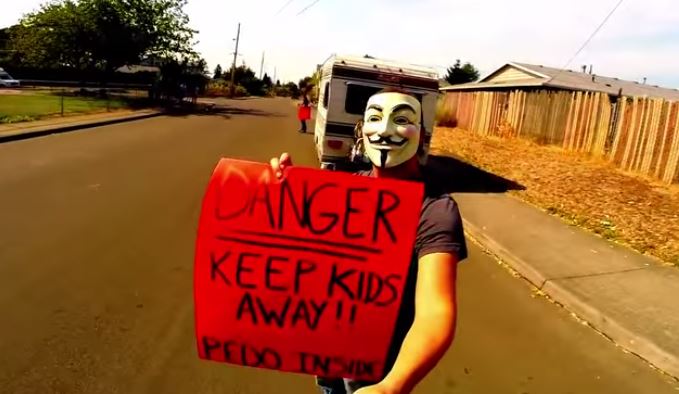 This film documents the events on Monday, September 15, 2014 in Southeast Portland, otherwise known as Felony Flatts.
The accused, Lindel Jerry Young, according to a father of a 6 year old girl and neighbors had attempted to lure 3 different young girls into his parked van. The next day Evolve PDX, KATU News and concerned neighbors gathered around his van demanding Young come out.
According to the report at KATU, the man did not come out of his van for hours.
Reading through comments where this video was shared at Portland Memes on Facebook, I came across the following statement from the father of one of the little girls in the comments:
Dave Barrett: Thank you everyone for your concern of what did or didn't happen. As the father of one of the 3 little girls that this guy tried getting in to his RV, I was beside myself with anger, and couldn't imagine what could have happened if my 11yr old son wouldn't have been in the yard and got the girls to go inside. But the truth is, from all 3 girls, who separately told the officer the exact same thing. That this guy asked them to come see his RV with him. Then after going down to his RV, looked back and waved for them to come to him and pointed at his RV. My son saw this and told the officer the same thing also separately than the girls. I'm pretty sure you did walk by with your dog, my son remembers someone walking with a dog. One thing that hasn't been made public is he attempted to this again Monday evening at Cartlandia where the owner of Cartlandia and 2 of my neighbors who saw this chased him out of there. He is a predator! He was trying to get 2 more little kids to come with him. He is still in the neighborhood even though his RV is not. He has family and friends who live close by. They are aware of his actions, and have expressed concern about it to me yesterday at Harney Park while we waited for it to be towed. Bash, troll, deny he did anything wrong. I don't care!!! What I do care about is the fact my little girl is afraid to be outside now. Even today, she was inside looking out the window, saw someone walking by who looked similar, and freaked out. So yeah, pretty sure the guy wasn't just waving and saying hi to the little girls!!!
Someone's got to handle this shit right? What blows my mind is the fact this guy was even allowed back on the streets. Evolve PDX invites anyone who is interested to participate in what they do to follow their Facebook page at www.facebook.com/evolvepdx, where you can find more information.
We are anonymous, We are legion
We do not forgive, We do not forget
Expect us.
Young was arrested for "disorderly conduct" but released the next morning. He then return to his van.