In his most recent campaign speech in Roseburg, Art Robinson went on the offensive, saying if elected to Congress, he would sponsor a bill banning trick-or-treating nationwide.
First, he addressed a campaign event planned by the Democratic Party of Lane County. His opponent, Peter DeFazio, and his supporters will be out knocking on doors Halloween night encouraging people to vote. Art Robinson told a crowd of about 60 Tea Party enthusiasts he, along with Rep. John Boehner (R-Ohio), will introduce legislation to gradually phase out trick-or-treating over the next four years. The proposal allows children to trick-or-treat between the hours of 5:00-9:00 p.m. on Oct. 31, 2015, and shortening it by one hour each year until it is phased out in 2019.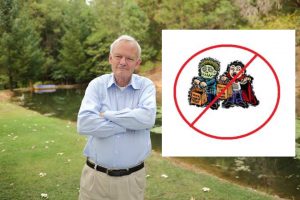 "Years of children going door to door, dressed as devils, vampires and superheroes and collecting candy have led to this entitlement mentality the younger generations have," said Robinson. He added, "We must utilize every possible means to bring a halt to the liberal agenda of free handouts. You know, we have millions of hard working, minimum-wage earning Americans collecting food stamps; millions more on Obamacare. The free rides have to stop!"
ThIs strategy may have backfired on Art Robinson, however. Peter DeFazio's campaign responded to a public records request from That Oregon Life, and we are the first to report the Hershey Corporation contributed $1.2 million to his campaign, followed by American Pumpkin Growers PAC with $750,000. Even mobile game developer King, creators of Candy Crush Saga, contributed $250,000 to DeFazio.
DeFazio was unavailable for comment at press time, but we'll keep you updated on the latest campaign developers as they happen.