Autumn's attenuated temperatures have once again proved to be harbingers of cooling home prices around the Portland metro area. And, as a real estate agent who helps buyers find good deals on great places to live, I'm happy to report that inventory of available homes for sale has improved noticeably. If you're a seller, you may take comfort in the fact that home sales in Portland, Oregon are still very strong and we are still solidly in a "seller's market". Hopefully, this recent seasonal cooling will bring the market into a healthy balance where sellers can easily sell their home at market price while at the same time buyers can get a fair value as well. Although sellers or buyers may be tempted to root exclusively for their own team, as it were, such shortsighted thinking may lead us back into the dark territory of boom/bust of housing. Also worth considering is the fact that today's home buyers become tomorrow's sellers and sellers either have to buy or become renters as well.

During Portland real estate's spectacular rise over the last few years, the market was so strongly in favor of sellers that many hardworking Portlanders had been unable to afford housing. Over the past few years, stories of buyers offering thousands of dollars over list price only to be outbid by an even higher offer have circulated far and wide. In the face of strongly-contested battles wherein even a mediocre property fetched a premium where multiple buyers fought for the deal, jokes among Portland real estate agents about finding a place to live in our city have become increasingly cynical. So, with all that said, where's the market right now? The answer, at least for the time being, is that homes are still selling well if the value is there, but buyers have more listings to choose from and competition among buyers has slowed down a bit.
Be sure to check out my other Fall 2017 Portland Real Estate Article for more info.
Portland Real Estate Market: Seasonal Slowing + More Inventory
Currently, the Portland real estate market appears to be in a period of normal seasonal slowing combined with a noticeable bump in available "inventory-in-months". Inventory-in-months is a concept used by real estate agents to measure the strength of the housing market and is defined by the current total number of listings divided by the current rate of home sales. So, suppose there were a total of 2,700 homes for sale in Portland and 900 of those homes were sold every month. At that rate of 900 homes per month it would take 3 months to sell every one of the 2,700 homes on the market which equals 3 months of current inventory. As of September of 2017, Portland is at 2.3 months of inventory of available homes for sale. To put this figure in perspective, we haven't been above 2.1 months of inventory since February, 2015. This means that, on average, buyers now have more homes to choose from than they have had for the last 2.5 years. Of course, if you're a buyer and you'd like to take advantage of this, I can recommend a few good Portland real estate agents (hint: I'm one of them).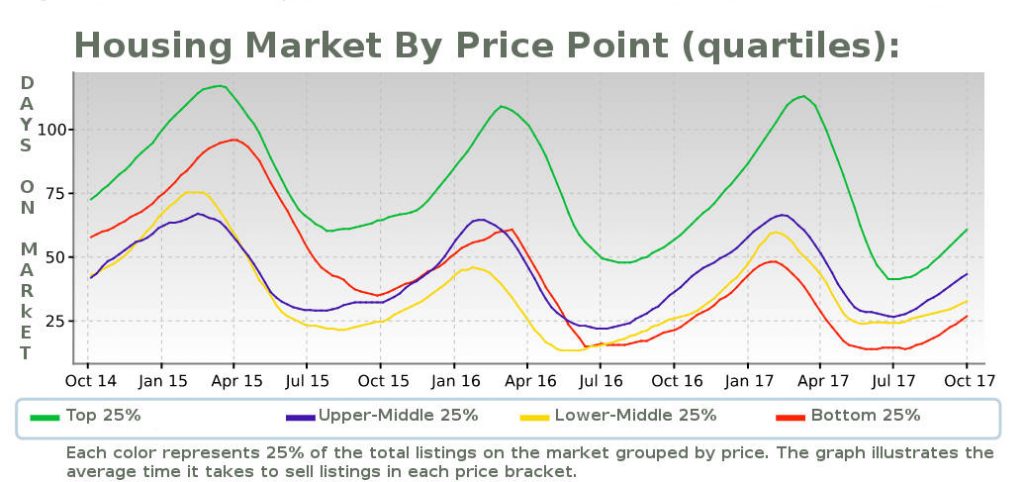 More Listings & Less Activity, Means Buyers Have a Chance
With fall weather and seasonal slowing upon us, buyers in the Portland area now have less competition and more properties to choose from. It has been about 2.5 years since we real estate agents have witnessed this much inventory-in-months available. And, while this is certainly good news, it's still important to keep in mind that homes are still selling fast, just not quite as fast. Furthermore, buyers should also be aware that affordable homes face are still selling faster than larger, more expensive homes so be prepared for some competition on entry-level homes for sale that are priced right. What does this mean? It means that you still may have to compete with some other buyers for a place to live but with persistence and realistic expectations you have a good chance.
It May Be A Good Time To Upgrade
For people who already own a home and want something fancier, now might be a good time to upgrade. Affordable/starter-homes are selling about twice as fast as larger top-of-market homes. Which is to say, that the market for starter houses is much hotter than for top-of-market homes. Current home owners may be able to take advantage of this fact by selling their existing home fast and for a very good price while also being able to have a bit of negotiating power to get a better deal on a more expensive or luxury property. The most expensive housing market quartile is currently taking about 99 days to sell on average whereas the most affordable housing quartile is selling in an average of about 55 days on market. Furthermore, there are slightly more new listings as compared to sold listings in the top price bracket while affordable homes are selling much faster than new affordable listings are coming on the market.
In summary, today's buyers have LESS competition from other buyers while having MORE real estate to choose from. Homes are still selling and the Portland housing market is still hot, just not as hot. Due to these conditions, buyers still face competition and it's still a seller's market, but right now seasonal slowing and prices relaxing a little means that buyers have a chance.
Please, don't hesitate to contact me if you're a buyer in Portland looking for a real estate agent.
Sincerely,
Richard Lockwood | Real Estate Broker
Licensed in the State of Oregon
Oregon Realty CO
12901 SE 97th Ave. Ste. 220
Clackamas, OR 97015
Direct: 503.467.6718
Office: 503.652.2260
NOTE: This article is solely the opinion of the author, Richard Lockwood, a real estate broker licensed in Oregon who practices in the Portland metro area. The author's opinions are not legal or financial advice and the author makes no prediction/estimate on future profits or losses from real estate sales or purchases.