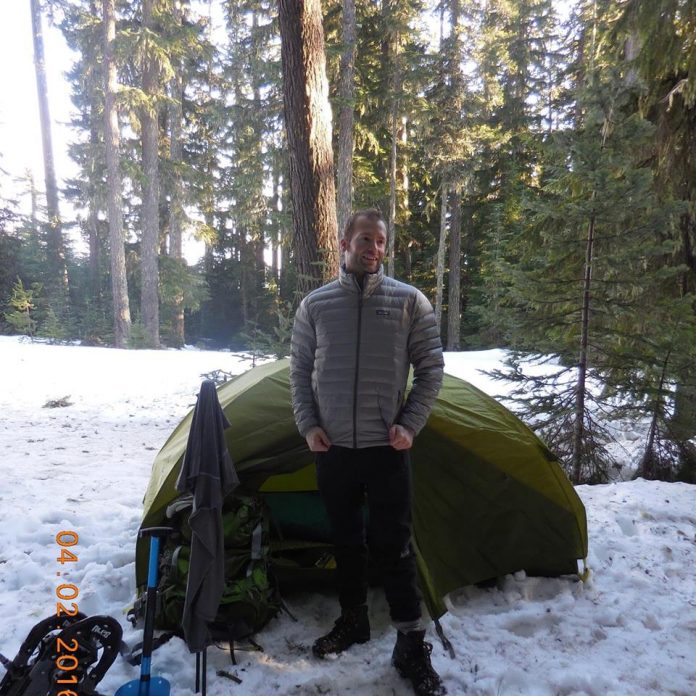 One thing you'll notice when flying into PDX (a top-rated airport, by the way) is how green the city is. With much of Portland, Oregon's urban landscape of fine homes and eclectic buildings mingled within a patchwork canopy of deciduous and coniferous trees, the experience can be a bit like descending into a real-life FernGully, the OG Avatar.
As a lifelong Oregon native, I sometimes lose perspective on what Oregon represents to me. Growing up in somewhat rural Oregon underneath the shadow of Mt Hood led me to define the state by anything you could purchase at Bi-Mart: fishing/hunting supplies, medicine, hardware, camping gear, canned food and poorly fitting flannel shirts.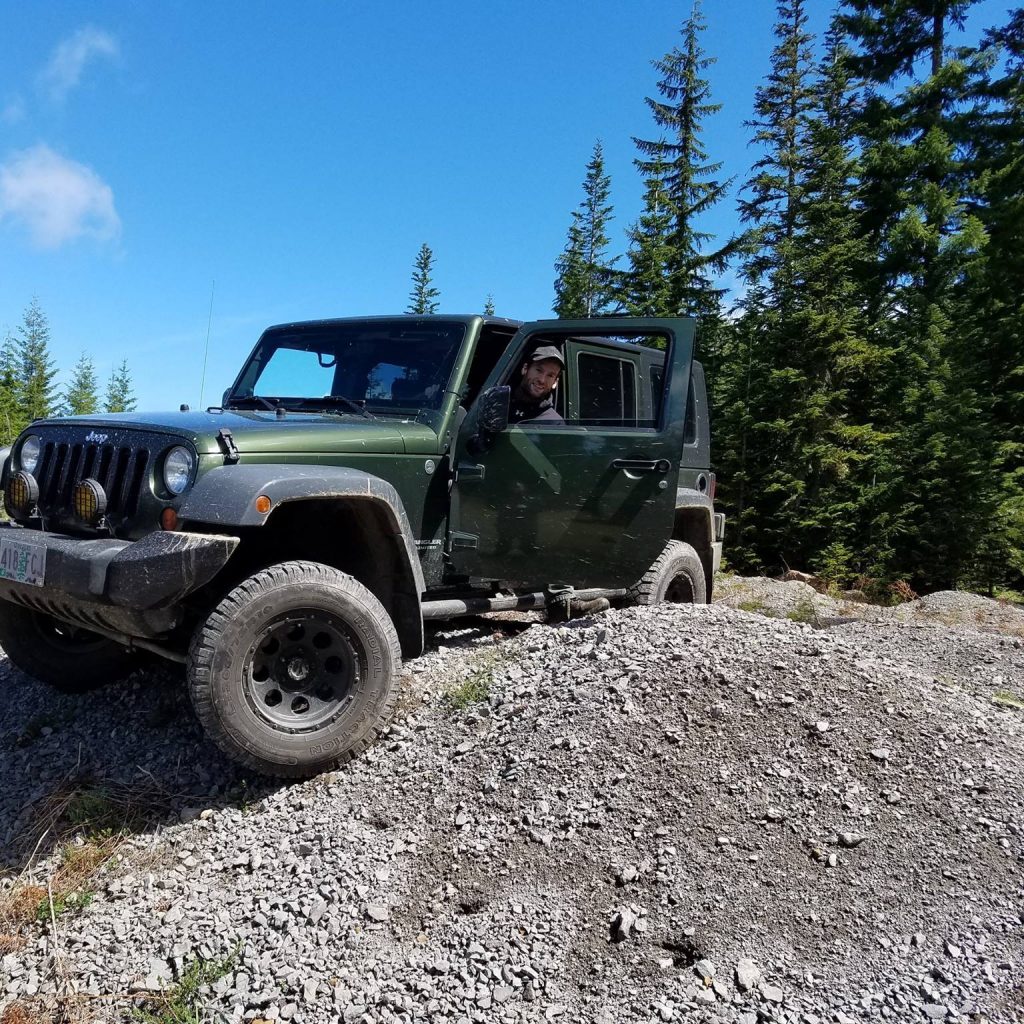 In contrast to the modern spectacle that is the Hipster Loggersexual, I recall riding shotgun in my grandfather's log truck and playing in the forest. Oregon's affinity for alternative lifestyle and sustainable living were definitely still present in the 1980's-90's, but instead of expensive organic grocery stores, we had hippie friends who lived sustainably by residing out in the country and producing most/all of their own food.
In the 80's and 90's, we definitely still kept "Portland Weird," and if anything it may have been EVEN WEIRDER: ask me about the time in 1998 that I loaded hundreds of pounds of hay and livestock feed into someone's waiting RV at Burn's Feed Store. An RV poised for a tour of the countryside with a full-sized Nubian goat living in the motor-home's master bedroom for the journey for very unclear reasons (they were also towing a horse trailer with more goats).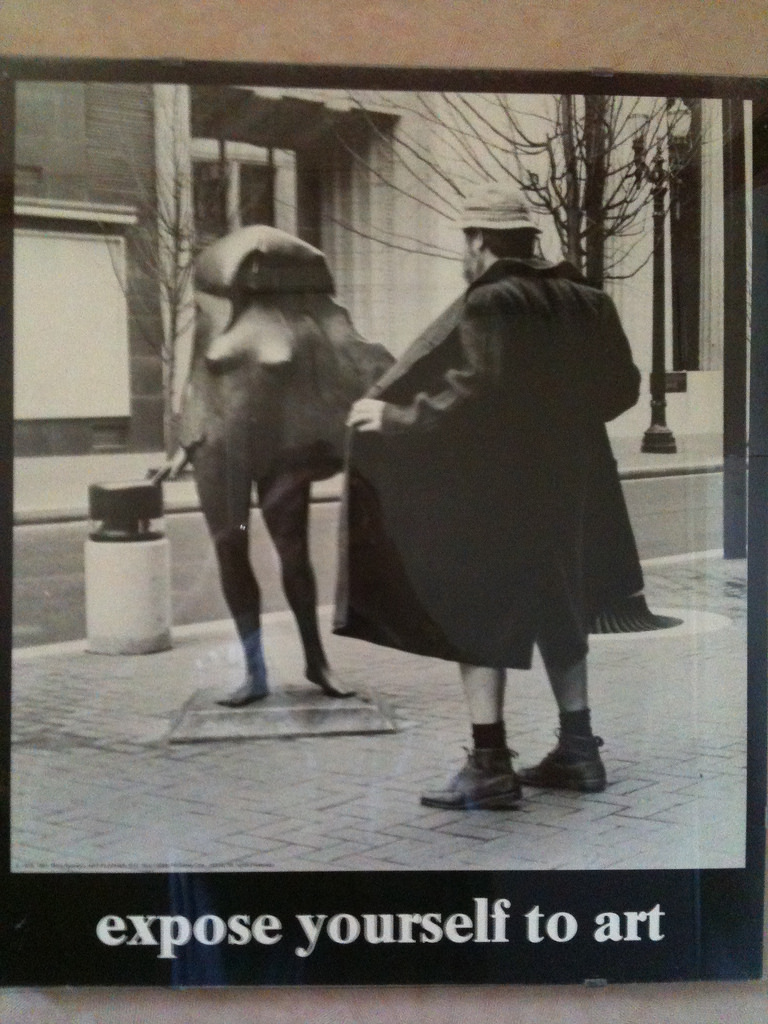 To me, the Oregon of the 80's and 90's is what would happen if you released roving bands of loggers, hippies, weirdsmobiles, and Ken Kesey fans, and then let them run off and hide in the woods. Perhaps ironically, certainly predictably, this unlikely group of misfits living in natural beauty came to define one of the United States' most desirable places to live.
At times when wanderlust kicks in and I travel (and by wanderlust, I mean my girlfriend dragging me somewhere), I catch myself reminiscing about the scenic serenity and unique culture that always defined Oregon and the Portland metro area for me.
As Oregon's largest city has evolved into the "Portlandia" scene, I've found myself searching at times, thirsty for a draft of that ephemeral elixir that is the historical Oregon Spirit of my youth. To that end, over the years I've ventured out in search of "Oregon", but maybe what I really found was myself.
What follows are two of my favorite Oregon experiences: one was a physically demanding adventure and the other was a restful escape. Perhaps you should try one (or both) this year.
Breitenbush Hot Spring
Summary: The Breitenbush Hot Spring features natural lithium salts that are profoundly relaxing (I slept for 16 hrs in a 24 hr period). Clothing is optional but it didn't feel weird or sexual. The facilities are surrounded by miles of hiking trails if you do manage to wake up from your nap. Imagine summer-camp meets New-Age relaxation retreat.
Details: This hot springs resort is located a few hours from Portland, Oregon and is known for its counterculture and New Age vibe that's perfect for letting go and unplugging from a fast-paced bustle of living in Portland, Oregon. More than just a soak in a hot tub, Breitenbush's natural geothermal hot springs contain many dissolved minerals including lithium, which is used in modern medicine to treat depression and anxiety. For me, soaking in the tubs and relaxing in the sauna produced a profoundly calming experience where I ended up alternately soaking in the tubs, enjoying the vegetarian cuisine and sleeping. On a recent trip to Breitenbush, I ended up taking two naps (three hours each) in the daytime and still slept for ten hours that night. The experience was relaxing to the point of almost feeling like a little bear hibernating; after which I consulted with my girlfriend (a naturopathic physician in Portland) to make sure that the mineral waters were safe for me.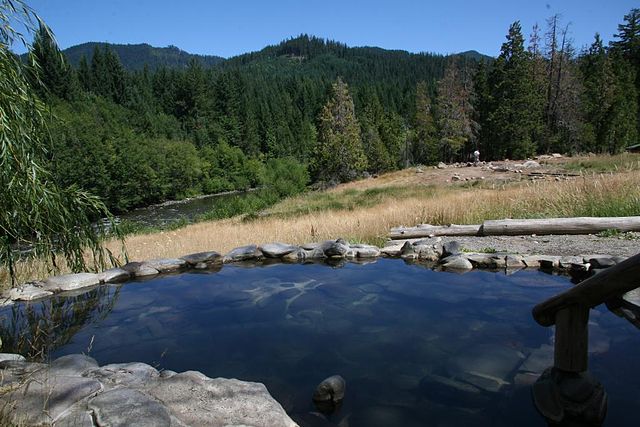 The resort has high-class features like NO CELLPHONE SERVICE, a floppy summer-camp mattress and if you pay extra your cabin will even have a half bathroom. If you do travel there alone you may share a cabin with another guest, who might be named Treebeard. Meals are vegetarian and served cafeteria style and the food may not suit everyone but I was able to sneak in some meat snacks hidden in my cabin. Events include activities like specialty massage, holistic health, meditation retreats and yoga. Think of the amenities as being similar to a summer camp for grownups: weird thin mattress, wood plank floors and walls, and a sleeping bag on top of the mattress.
In the end, I left Breitenbush in a feeling of blissful, well-rested quietude. I was so well-rested that I ended up needing a day or two for getting back up to my normal pace of work as a real estate agent in Portland, Oregon. I'd recommend Breitenbush for anyone seeking a personal retreat to catch up on rest and time for personal reflection. Be sure to book far in advance and check the calendar to see if there are any workshops or classes that you may need to sign up for separately.
The Timberline Trail:
Summary: For those seeking a physical challenge, this difficult backpacking trip features world-class scenic beauty (39-40 miles with 8,000 feet of elevation change). The physical demands of the steep terrain will challenge your body while the beautiful scenery will captivate your mind.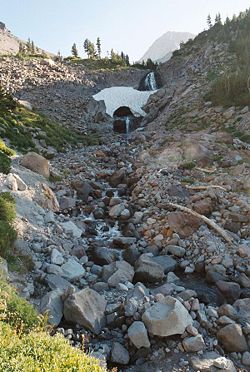 Details: I began and ended this 40 mile loop at Mount Hood's iconic Timberline Lodge and completed the trek in 3 nights, 4 days. This backpacking trip is aptly described as "difficult" but you can access sections of the Timberline Trail at a number of side trails for simpler/easier overnighters or even day-hikes. On the way you'll transition from the flower-laden alpine meadows of the Paradise Loop to the Zen-like experience of walking through ancient old-growth fir trees to Ramona Falls; and this is only on the first day.
The next day you'll be awed by the craggy majesty of Mount Hood sitting cloaked in glaciers snow while the intoxicating fragrance of nectar-rich flowers attracts the buzzing of bees in the spiritual quietude that defines Elk Cove. On the third day you'll likely enjoy the ease of the newly rebuilt Eliot Crossing which I personally have not seen because I completed the Timberline Loop when the Eliot Crossing was washed out. *For my trek, I went around the washed out Eliot Crossing by scrambling up the West Moraine onto the actual glacier proper and connected with the Cooper Spur Climbing Route. Crossing on Eliot Glacier may have been a little risky because I was solo on this trip.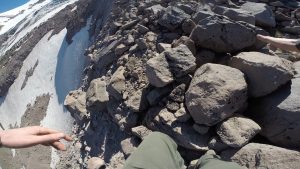 On the fourth day, you may encounter snow fields as you head south. Follow the piled rock cairns with their tall wooden marking poles that guide the way that flanks around the eastern side of Mt Hood. You may want to stop and breathe at Gnarl Ridge and meditate on the sere yet captivating landscape. Your results may vary, but for me, gazing off of Gnarl Ridge into a canyon filled with thousands of feet of empty air (eagles/hawks were circling below me), I felt a mix of pride and humility in that I felt so small and exposed on the enormous rocky outcropping but also proud of myself for the accomplishment. And, in that moment I felt amazing.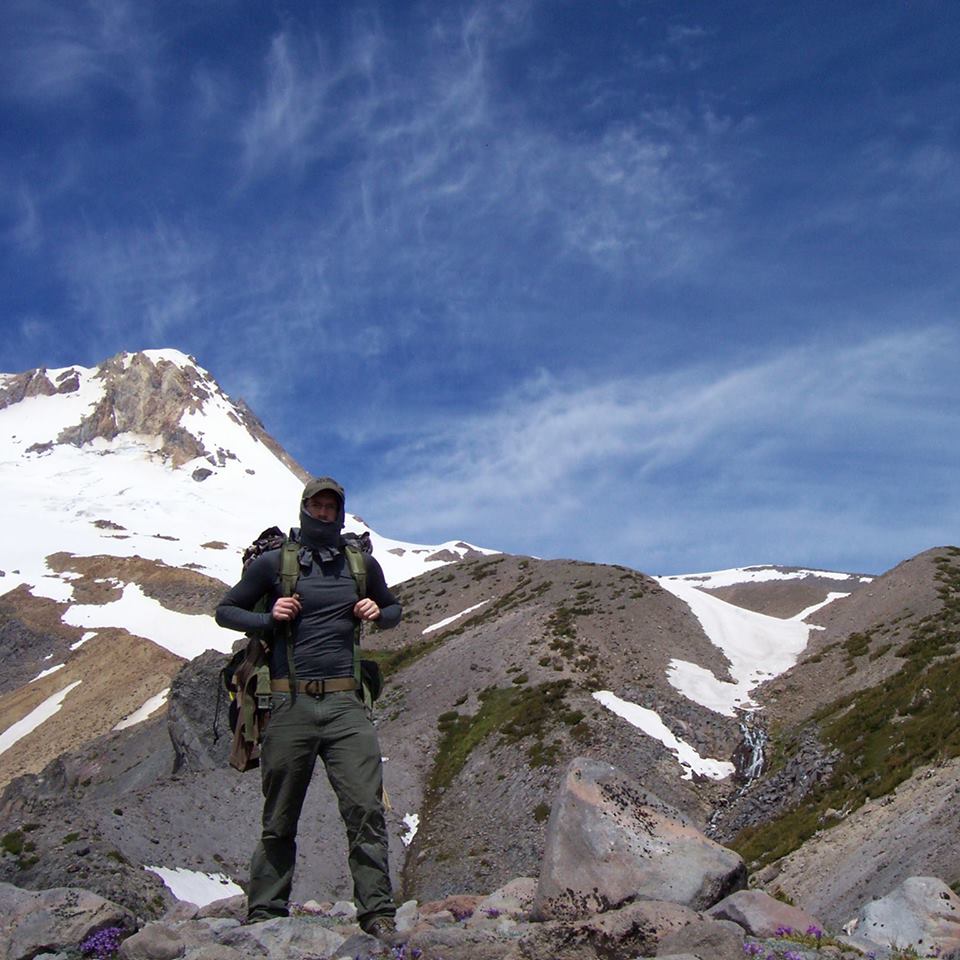 The rest of the trip took me through more pretty alpine meadows broken up by woodlands punctuated by scenic Heather Canyon and White River. Looking up White River toward Mt Hood, you might notice that the river and snowpack have cut a large sand moraine into a shape resembling a gigantic pyramid. Another few miles and a steep trail up and out of White River Canyon lead back to where the backpacking adventure. I can't promise what you will feel, but for myself, seeing Timberline Lodge framed in early summer dusk filled me with a sense of joy at my accomplishment and also did quite a bit to temporarily push my trail-weariness almost out of consciousness.
As one who is afraid of heights, this trail challenged me in many ways but the spectacular views, beautiful scenes and the lasting sense of accomplishment at succeeding have made the journey well worth the effort. I'd strongly recommend this backpacking trip to just about anyone who is physically fit enough for a multiday hike with some steep elevation changes. If you're unsure about it, you can try taking the Mazama Trail (formerly Cathedral Ridge) up to the Timberline Trail and stay overnight in Cairn Basin, the Eden Park Loop or Elk Cove.
Both of these experiences certainly broadened my horizons and connected me with a part of what makes Oregon. My hope is that your own experiences of our State's rugged terrain, rugged individualism and weird-hippie vibe will leave you with a refreshing connection to nature and a deep sense of inner peace.
Namaste,
Richard E Lockwood