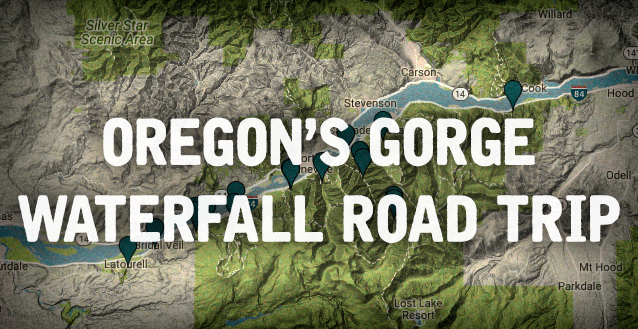 With at least 238 waterfalls to choose from in Oregon, you probably couldn't pick a better place to live if you love hiking in the great outdoors. The number of notable waterfalls in the Columbia River Gorge is close to 50, so it's obviously a bit of a challenge to whittle them down to a single road trip.
With the warmer weather here finally, this road trip makes for the perfect getaway when you have some time off to enjoy with friends or loved ones. We have broken down all the waterfalls into two categories — everything under less than a mile will obviously be much easier to hike in, while every other waterfall is considered further than a mile to get to.
Less than a mile
Latourell Falls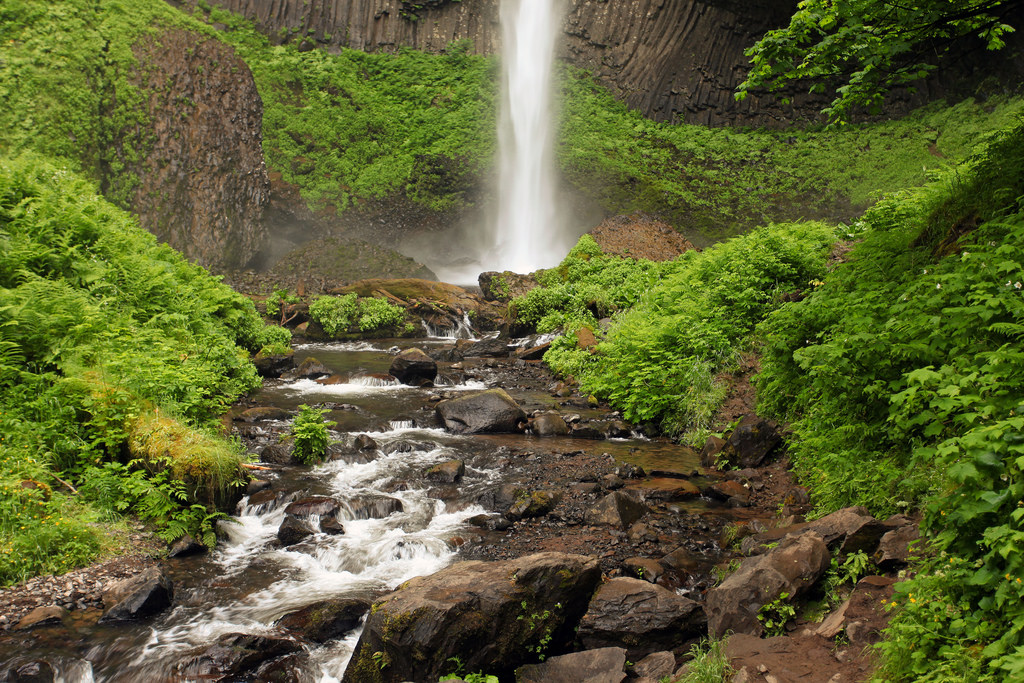 Latourell Falls, plunging 224 feet over a massive wall, is most commonly the first waterfall many people see along the Columbia River Gorge. This gorgeous spot is easily accessed from a short trail.
Bridal Veil Falls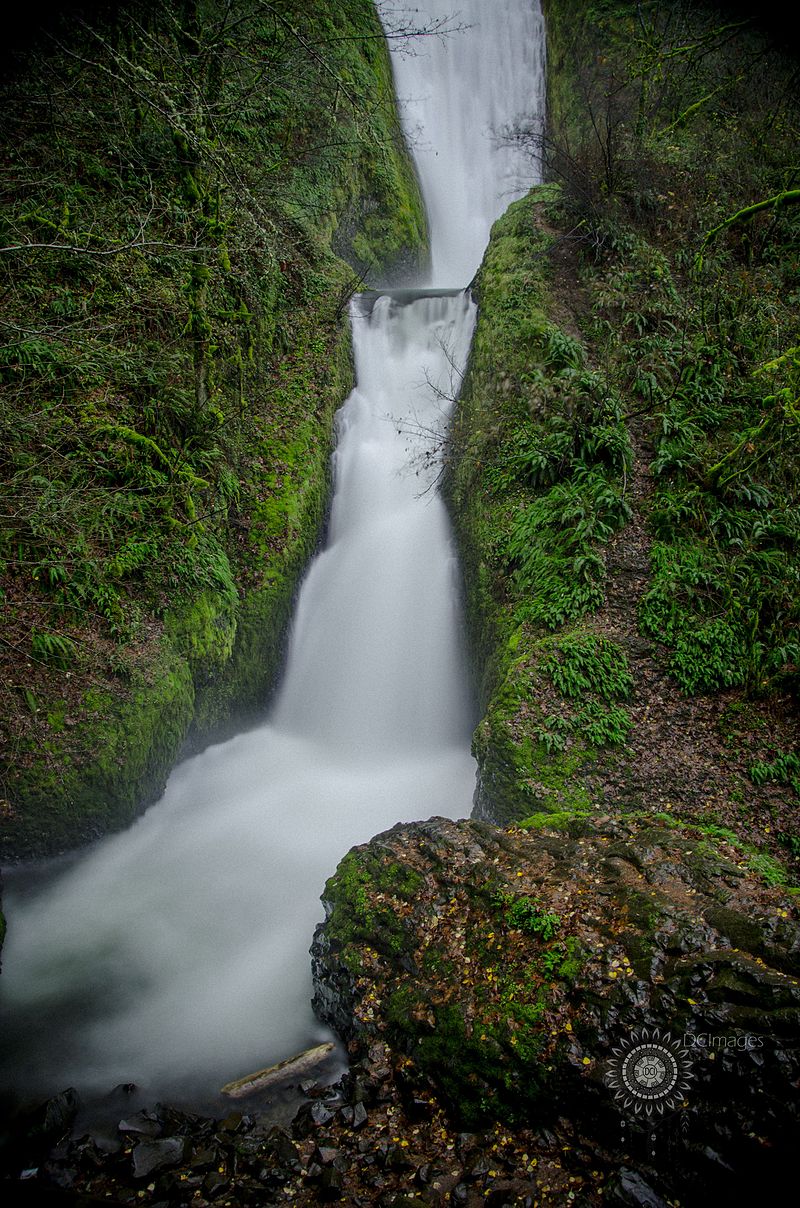 Keep going east on the Historic Columbia River Highway and you will discover this serene waterfall dropping 118 feet in two teers. The hike here is short, at just a third-mile pathway leading to it.
Wahkeena Falls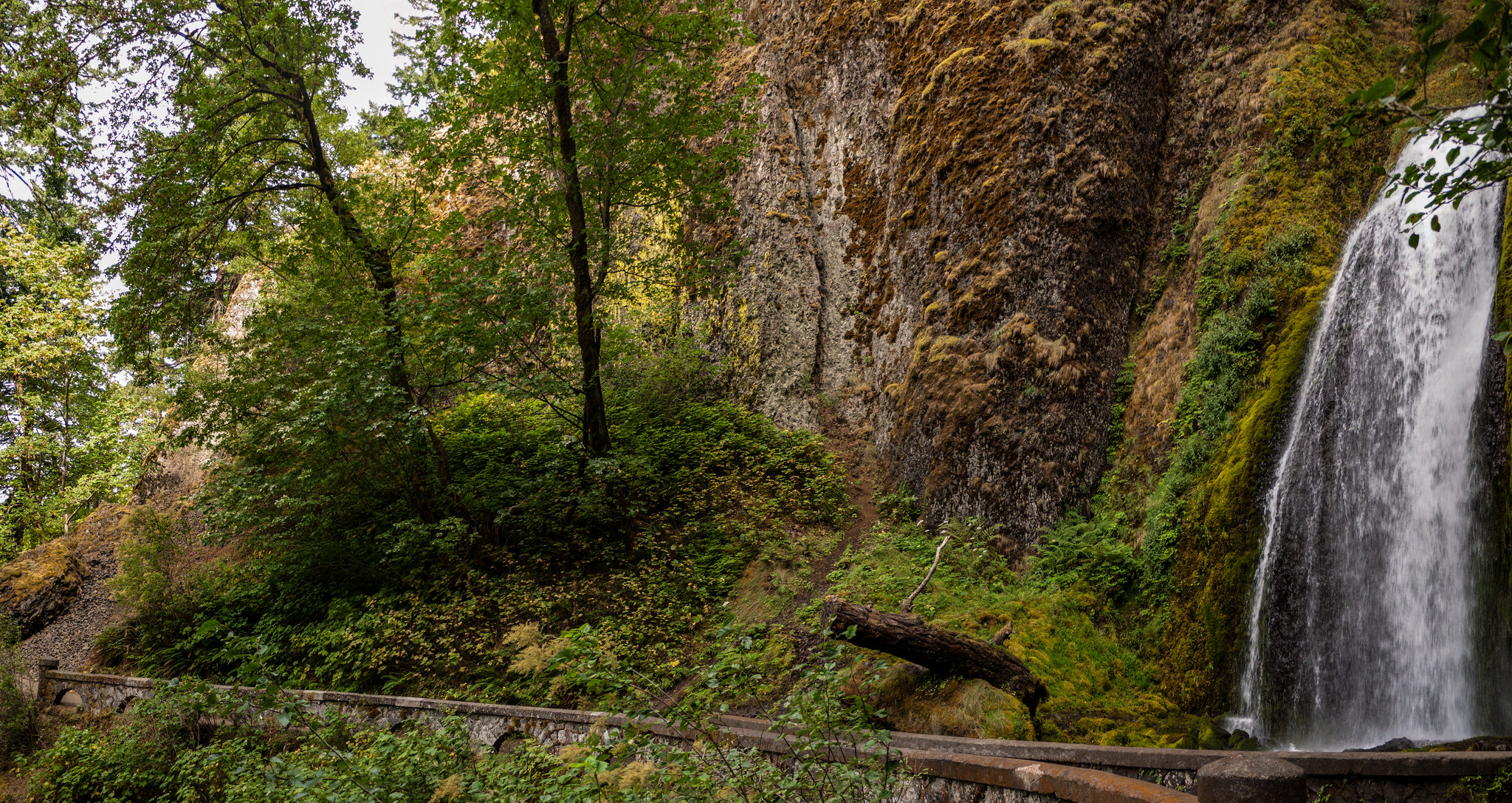 Along the Multnomah-Wahkeena Loop trail, you can get to Wahkeena Falls on a short walk up a paved trail. Wahkeena Falls is unique among the major waterfalls in this section of the Gorge in that it possesses a significant alluvial fan in both size and elevation. Wahkeena Falls was originally known as Gordon Falls and was renamed in 1995 after the completion of the original highway. Wahkeena is a Yakima Indian word meaning "most beautiful".
Multnomah Falls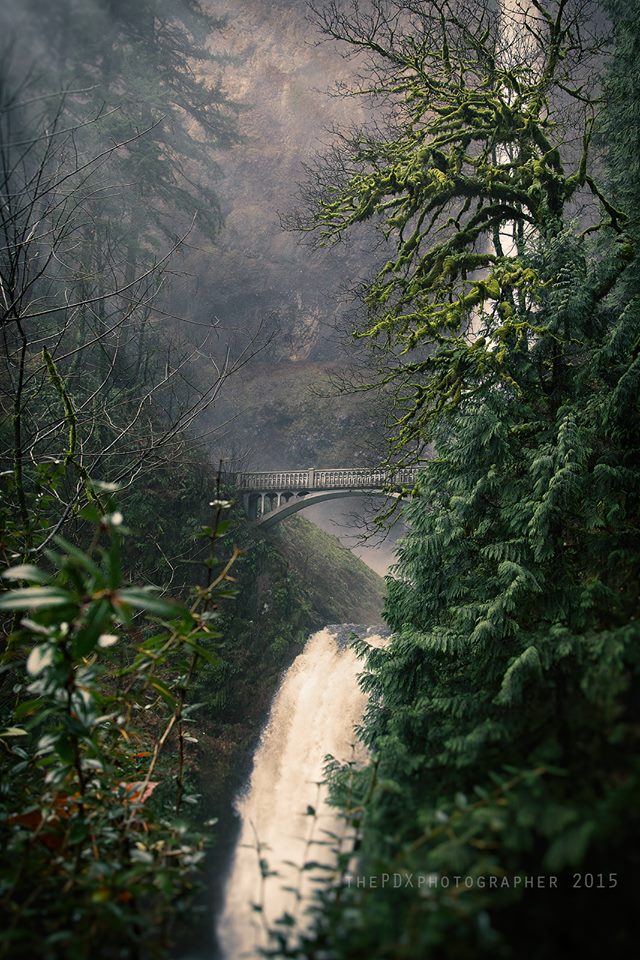 Oregon is most known for Multnomah Falls, and is found in virtually every World Book and Almanac under the "tallest waterfalls of the world" section. Multnomah Falls plunges an impressive 635 feet in two tiers, crossing beneath the gorgeous Benson Bridge on its way. The origins of its name aren't known, but the name has been in use since at least 1860. The theory goes that one  S.G. Reed may have named the falls to popularize it as an attraction on Steamboat tours of the Columbia Gorge.
Horsetail Falls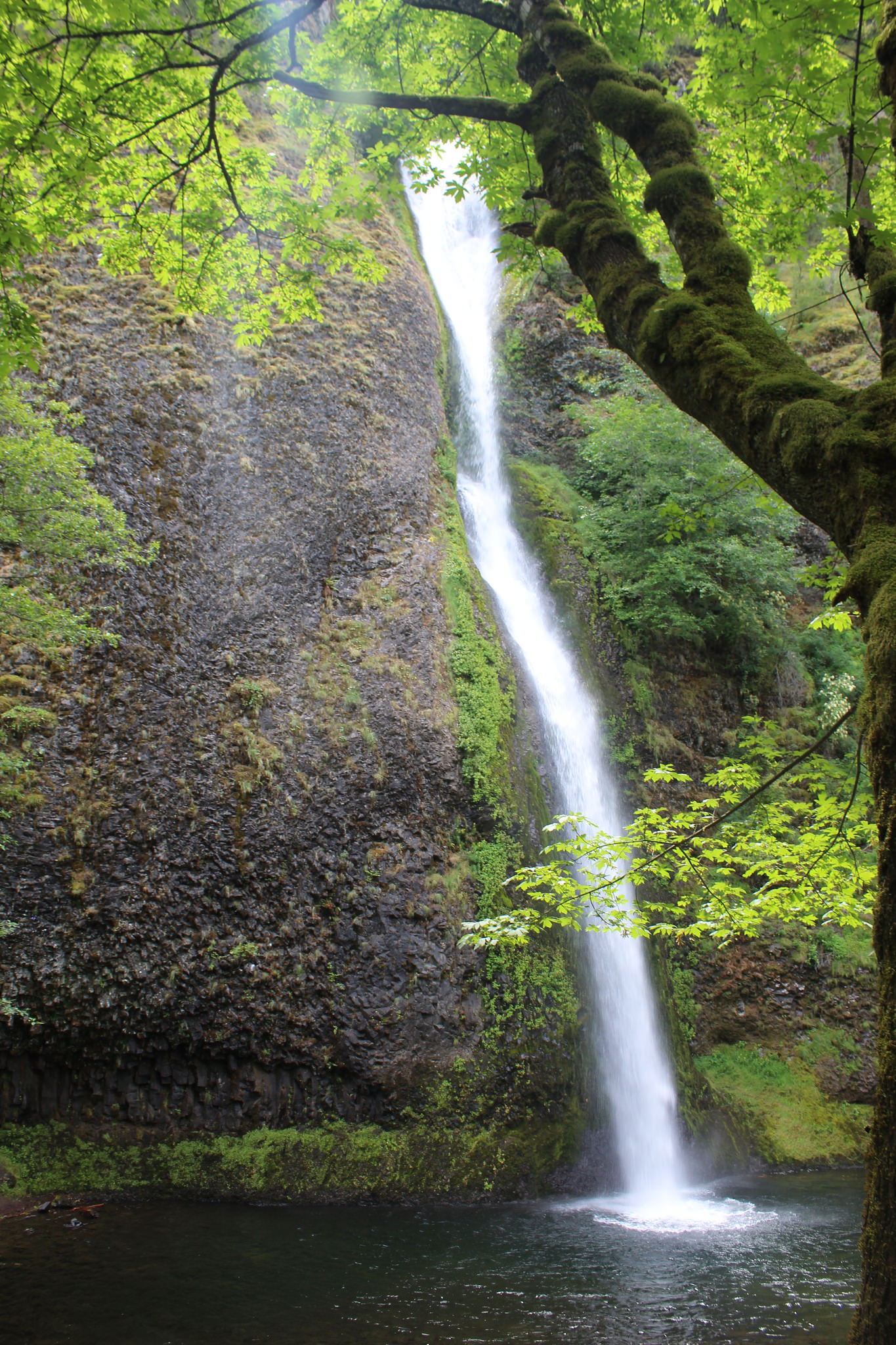 An absolute must stop on your Oregon Waterfall Road Trip, the Horsetail Falls will stick in your mind forever. If you stick around, you may even see one of the several freight trains that grace this area so often. Some sources place this waterfalls height at 208 feet. As you can see, it's pretty clear how Horsetail Falls got its name.
Starvation Creek Falls
Starvation was named after a pioneer crisis in 1884, where two trains were marooned in a blizzard for two weeks near this site. While no one actually starved, you won't feel too bad about taking a break here for lunch.
Hikes more than a mile
Fairy Falls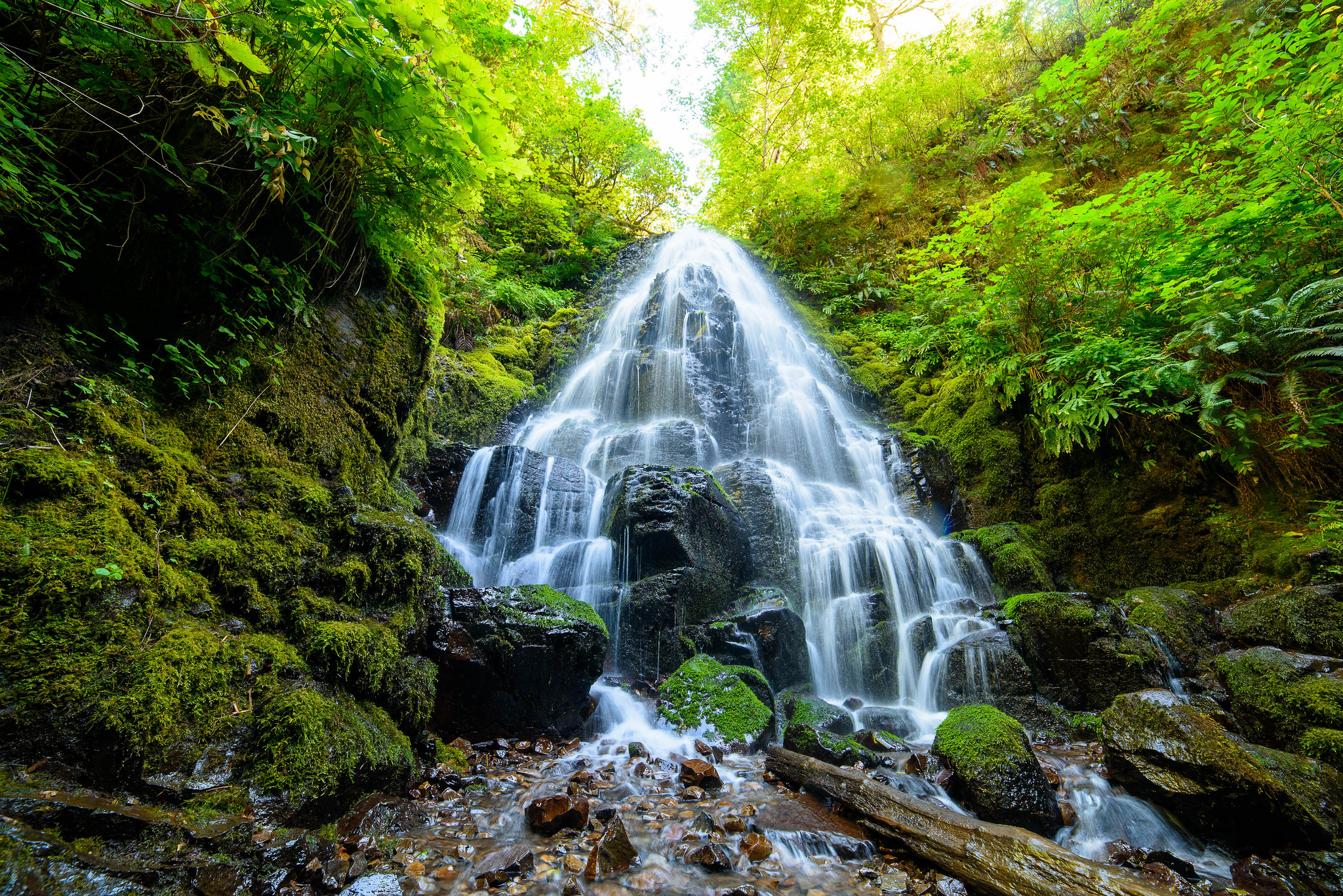 While Fairy Falls may not be the tallest at only 20 feet, this waterfall cascading off the side of Wahkeena Canyon upstream from Wahkeena Falls is absolutely gorgeous. Fairy Falls is one of the most frequently photographed locations in Oregon, and for good reason.
Wiesendanger Falls
One of the first two major upper waterfalls along Multnomah Creek, you will find Wiesendanger Falls just downstream from the impressive Ecola Falls. The waterfall is popular for hikers coming from Multnomah Falls, around 1.4 miles up the Larch Mountain Trail. Wiesendager Falls was named in 1997, after Albert Weisendanger. Weisendager was a Forest Service Ranger stationed for many years at Eagle Creek, and later as a private citizen, the driving force behind the Keep Oregon Green initiative. Until 97, it had been known as Upper Multnomah Falls.
Triple Falls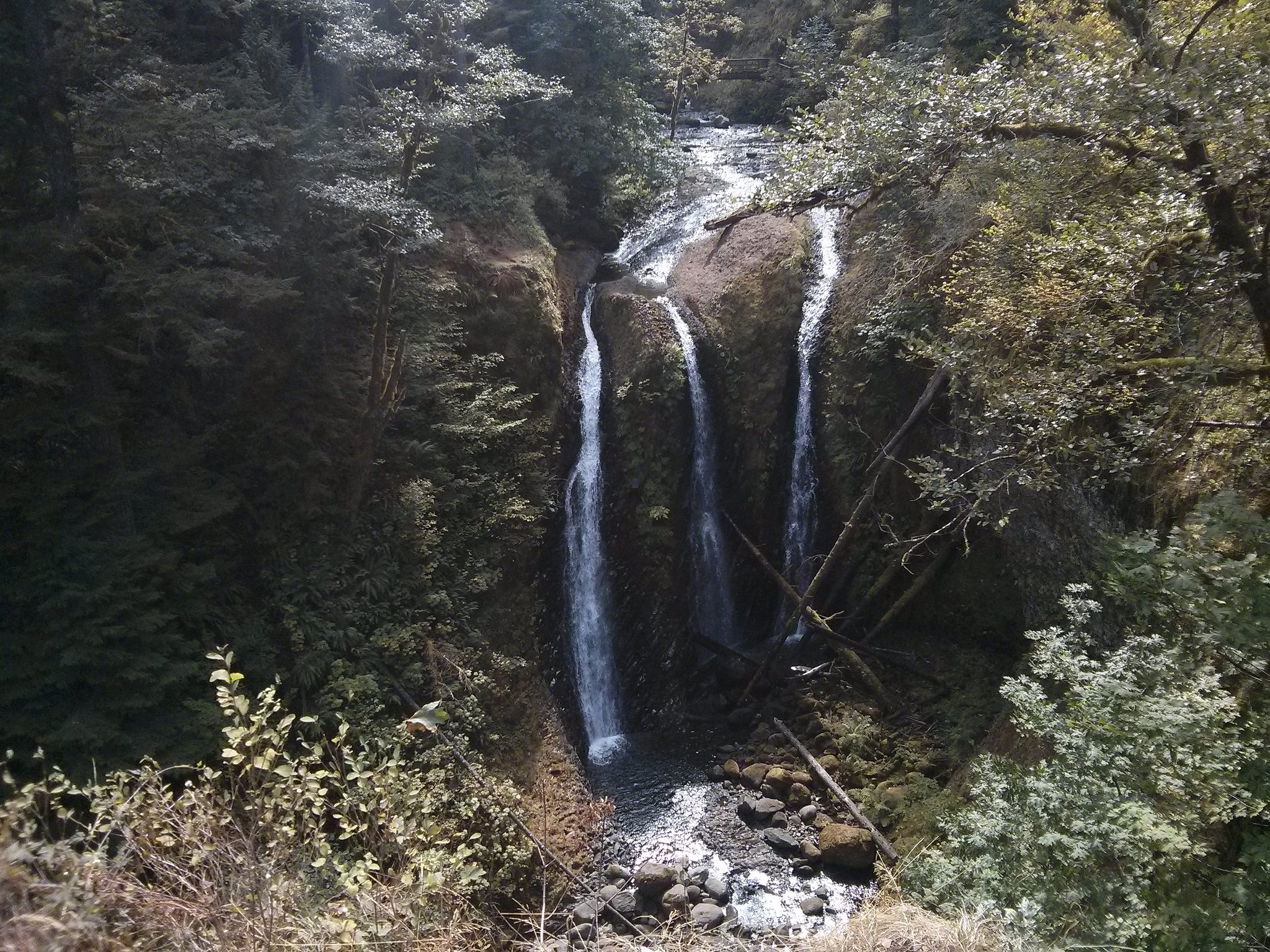 Triple Falls is split into a trio of 64-foot waterfalls dropping into a large sheer-walled amphitheater and is found about 1.6 miles along the Oneonta Trail. The hike to Triple Falls is well worth the effort should not be missed.
Elowah Falls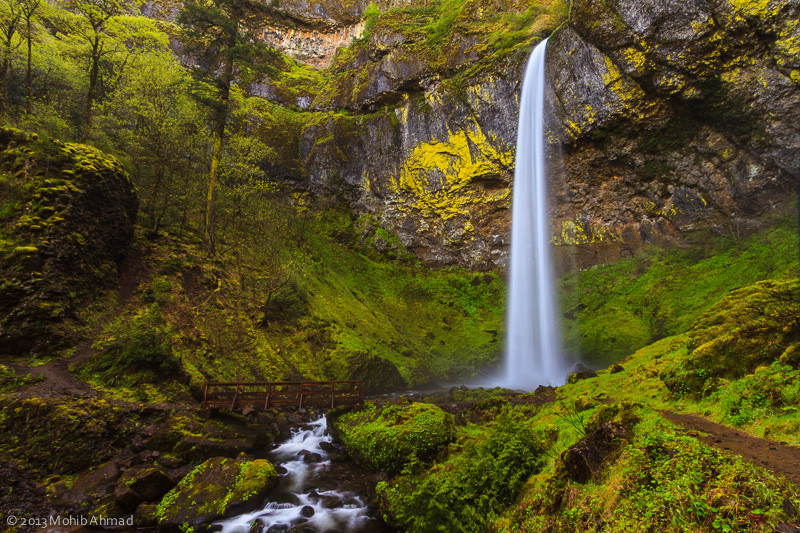 At 213 feet, Elowah is a must stop for anyone and probably one of the Gorge's most underrated waterfalls. You can get here in under a mile from the parking lot at the John B. Yeon Trailhead.
Upper McCord Creek Falls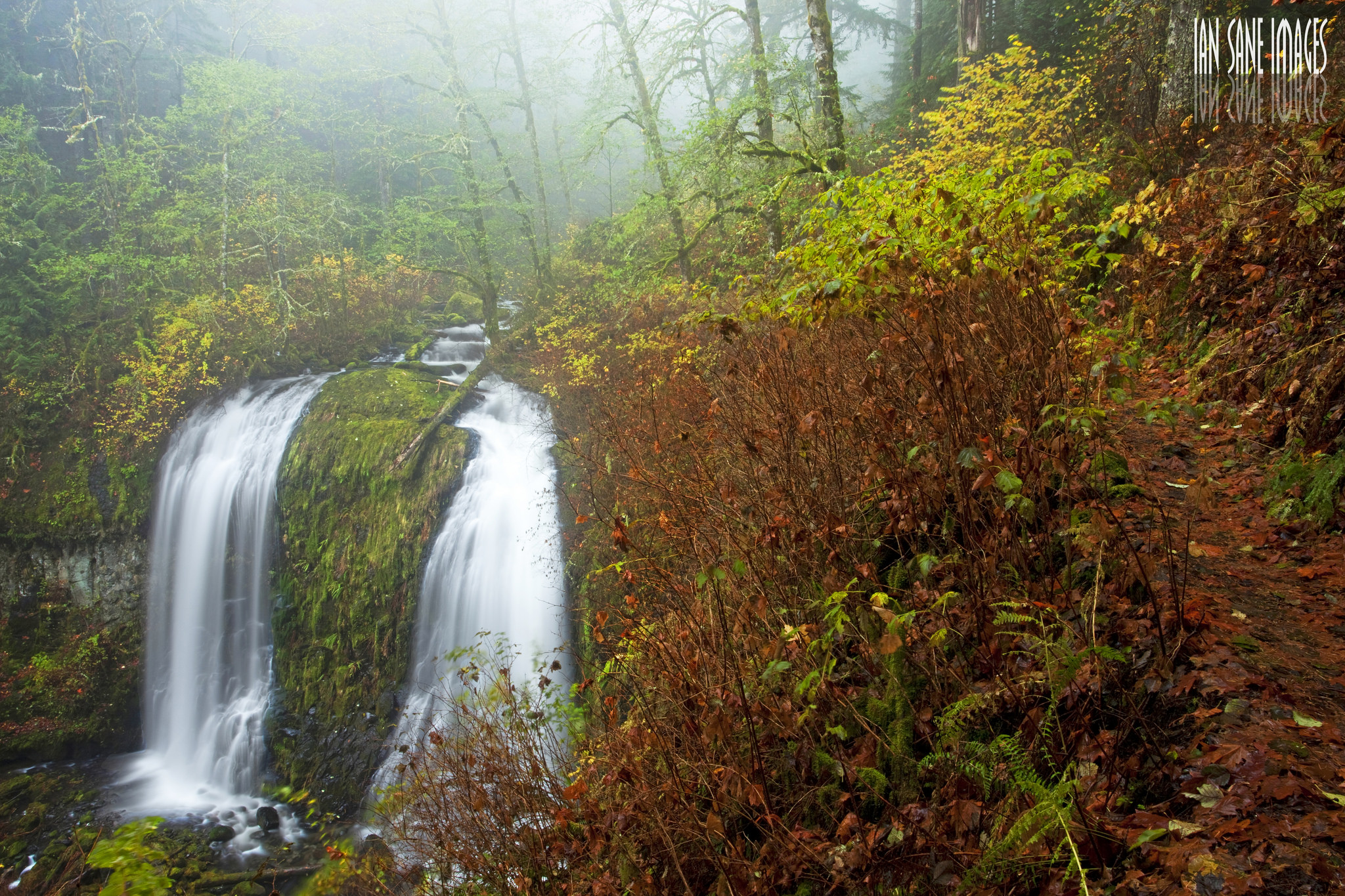 Just above Elowa Falls you will find Upper McCord Creek Falls, anot this trail is not for those who are easily scared of heights, as a pipe railing is the only thing keeping you from falling along the narrow path.
Wahclella Falls
Wahclella Falls is said to be one of the most powerful waterfalls in the Gorge, plunging 300 feet of water per second into a large pool below. A 2-mile round-trip hike will take you to the base of this beautiful spot.
Metlako Falls
You will find this gorgeous waterfall first on the popular Eagle Creek Trail. While it's not easy to get to, a side trail leads to a great viewpoint of the falls around 1.4 miles in. Nobody seems to have a clear answer as far as the height for Metlako, while some kayakers who ran the falls measured it at 101 feet another group of boaters showed it to be only 82 feet tall.  No matter how tall it is, Metlako is definitely worth a stop.
Punch Bowl Falls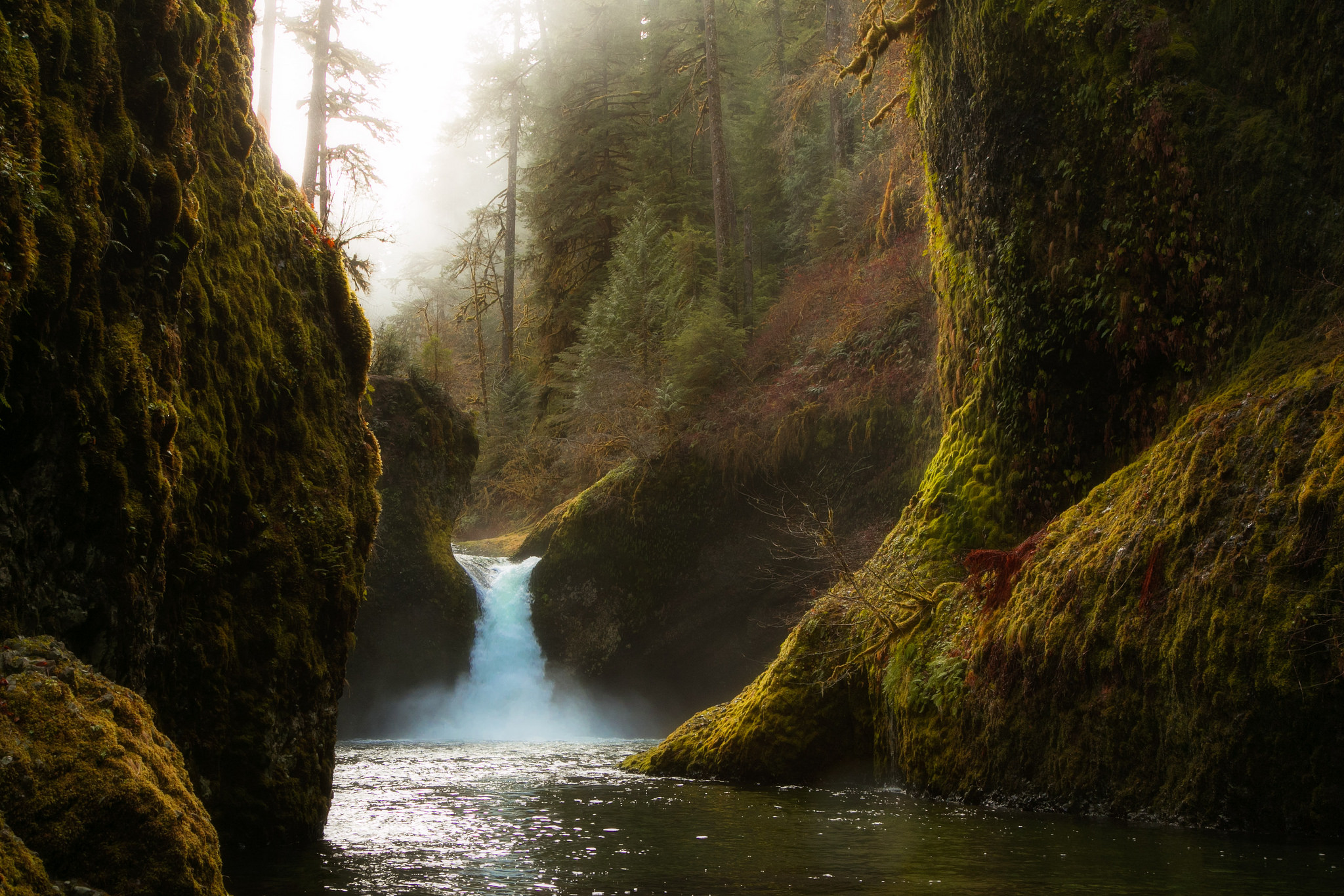 Easily one of the most popular waterfalls in Oregon, and definitely one the most photographed in the entire Pacific Northwest, this waterfall shoots powerfully into a large "punch bowl" below and is absolutely stunning. You can get to the top viewpoint on Eagle Creek Trail, but it's also accessible when the creek is low through the rocky beach above Lower Punch Bowl Falls.
Tunnel Falls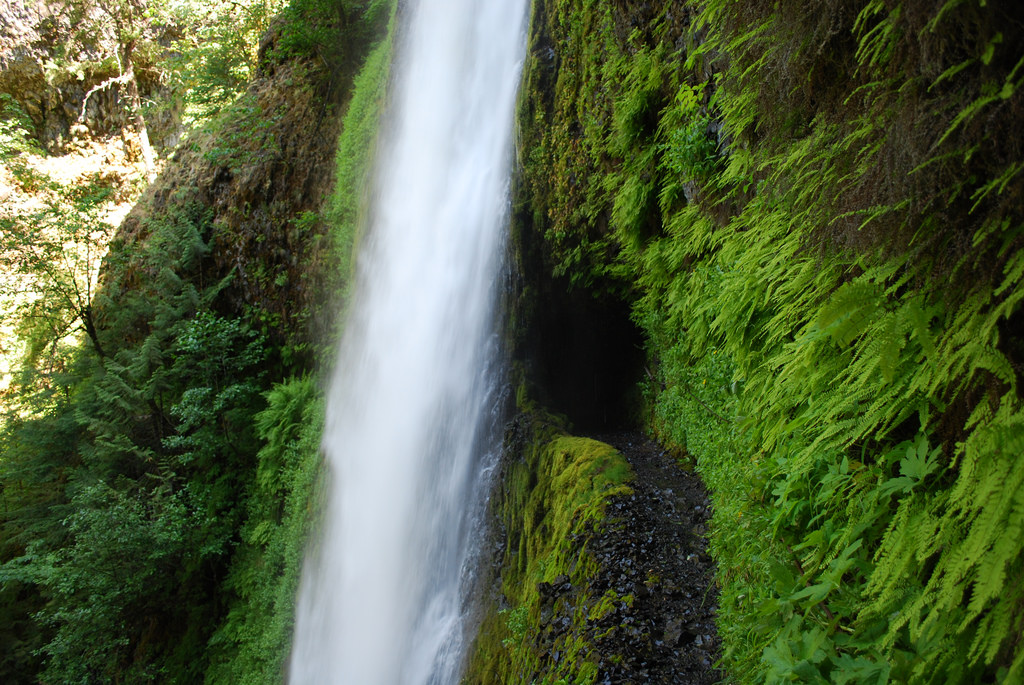 Tunnel Falls is an impressive 165 feet tall plunging into a bowl sculpted out of a controrted protrusion of columnar basalt, and most known for the tunnel blasting out of the rock behind the gorgeous waterfall. The tunnel is obviously really cool part of this hike, as you can reach out and touch the waterfall after coming out. Hikers should be cautious here as the trail passes behind the falls there is no handrail to protect one from falling 60 feet to the rocks below, just a narrow cable bolted to the cliff on the other side of the trail.
NOTE: The trail to Tunnel Falls is currently cut off by a downed bridge. Officials hope to have it replaced by spring, 2017.
Twister Falls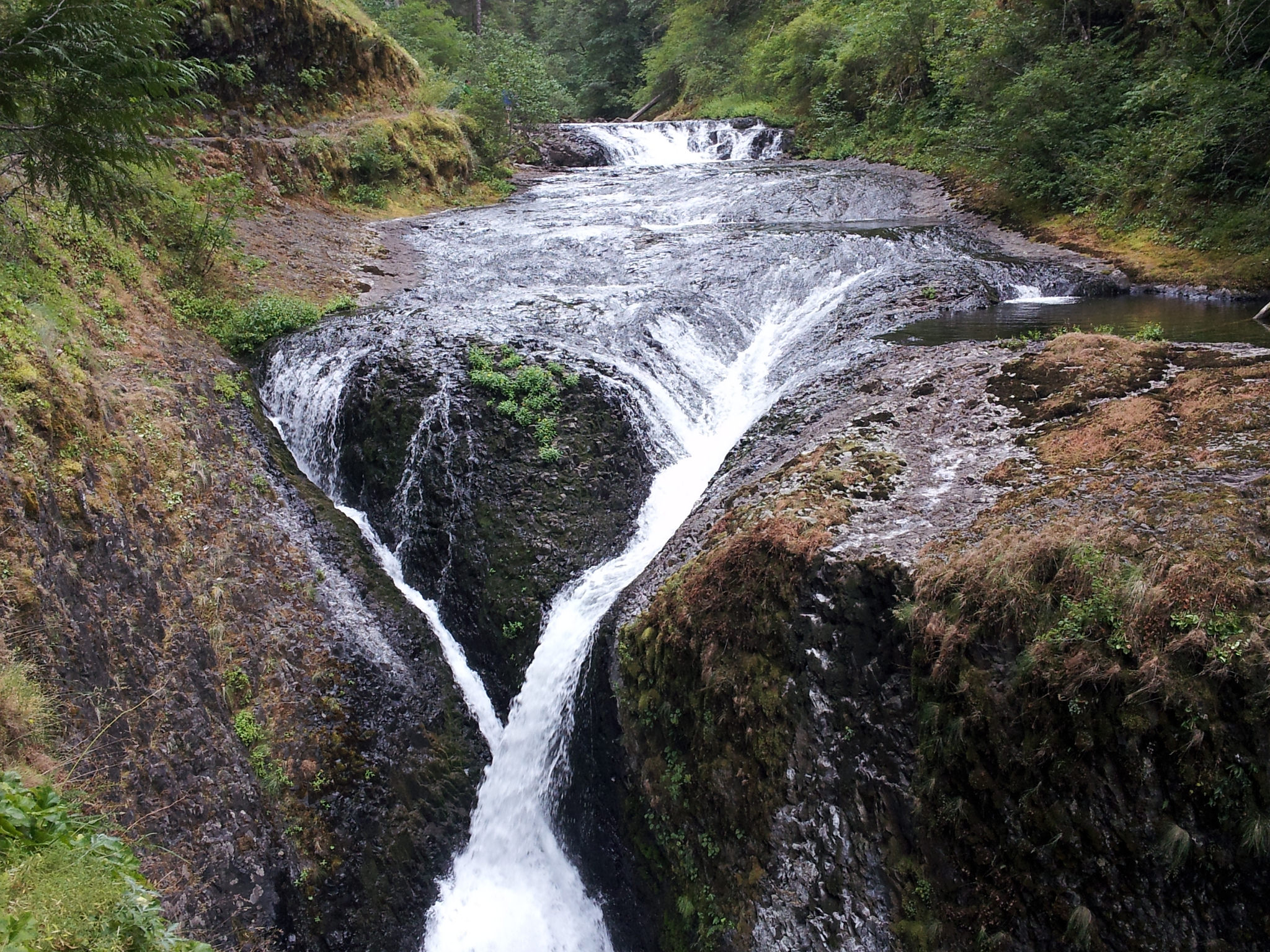 –
As you can see in the photo, Twister Falls is named appropriately for the water twisting as it plunges 130 feet beside the Eagle Creek Trail.
NOTE: According to the Oregonian, the trail to Twister Falls is currently cut off by a downed bridge. The trail should be accessible again by spring, 2017.
Ruckel Creek Falls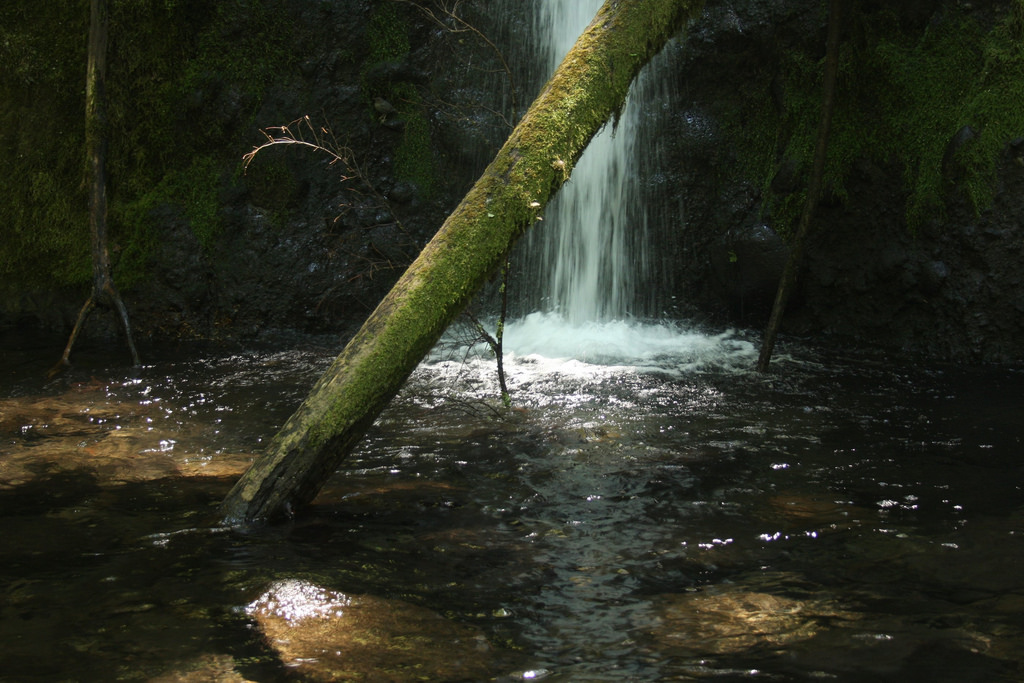 Beautiful Ruckel Creek Falls is quite possibly the most underrated waterfall in the Gorge, due in part to its secluded location and the proximity of the popular Eagle Creek Trail. You can find it about a half-mile east of the Eagle Creek Fish Hatchery, a short walk off the paved Historic Columbia River Highway State Trail.
Dry Creek Falls
The serene waterfall can only be reached by rappeling into the canyon from above and climbing down the gorge. With that said, Dry Creek Falls is an activity only for those who are very experienced in using ropes to climb down. You can find this beautiful spot just over 2 miles from the Bridge of the Gods Trailhead.  You can find this spot just over 2 miles from the Bridge of the Gods Trailhead.
Not enough waterfalls for you? Make sure and check out our Southern Oregon Waterfall Road Trip — a must-do for anyone living in or visiting Oregon.
Source: The Oregonian