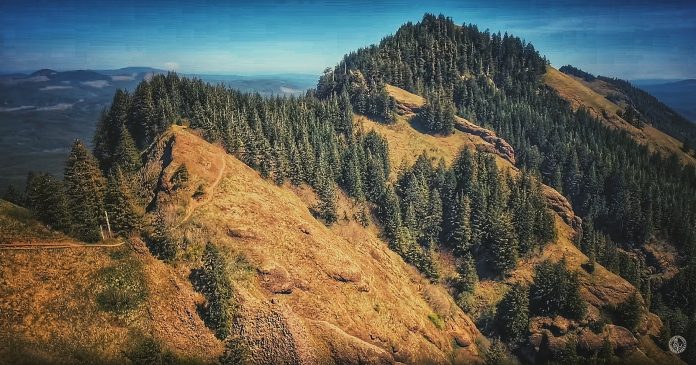 Pros:

Easy to get to family friendly hike with beautiful views of Mount Rainier, Mount St. Helens, and the majestic Columbia River Gorge.

Cons:

Lots of bugs "I hear", steep climb, not a lot of shade.

Adventure Details:

Use:

Hikers

Length of Hike:

5.2 miles round trip

Difficulty:

Moderate

Distance from Portland:

1.5 hours

Seasons:

April-November, but accessible year-round.

Preferable Season(s):

Spring, Summer

Day-Use/Parking Pass Required:

No, UNLESS Camping

Bathroom:

Yes, at parking lot.

Trash Cans:

Yes, at parking lot.

Things to Note: Bring plenty of water.
Overnight Camping:

Yes

Region:

Northwest, OR

Elevation Gain: 1600 feet
Congestion:

High on Summer Weekends

Dogs Allowed:

Yes

Copy & Paste

Saddle Mountain into GPS for

directions

.
You can find a nice trail guide HERE
This is a challenging but beautiful 5 mile round trip day hike with views that will melt your face off! Perfect for the whole family. I think it's one of the best short hikes in Northwest Oregon. It's only an hour and 30 outside of Portland, just 6 miles off of HWY 26, and only 25 minutes from Seaside! So make it a day long trip and go early so you can head to the coast after.
It's 1600 feet elevation gain, and elevation is what makes the spectacular views — 360 degrees — possible at 3,283′. Well, that and clear weather. You can see the ocean, Columbia River, Mount Rainier and Mount St. Helens but not so much east and south. The final mile ascent is the toughest and has little to no shade so bring sun screen. It is tough and steep. The good news is that some cyclone fence type meshing has been installed in a lot of places on the trail up top that holds the loose rock together and provides footing. This is very helpful on the descent, especially if it's rained at all in the past few days because the path becomes slick.
Take your time and take breaks at the picnic tables along the way. They make a great lunch spot. The summit can get VERY windy so bring layers. Maybe bring bug spray as well as there are a bit along the way. Saddle Mountain has a small, seasonal campground, usually open March-October. Ten primitive campsites are available first-come, first-serve. Recreational vehicles must park in the parking area. Visit www.oregonstateparks.org for rate information.
Map of Saddle Mountain, Columbia River Gorge, Oregon