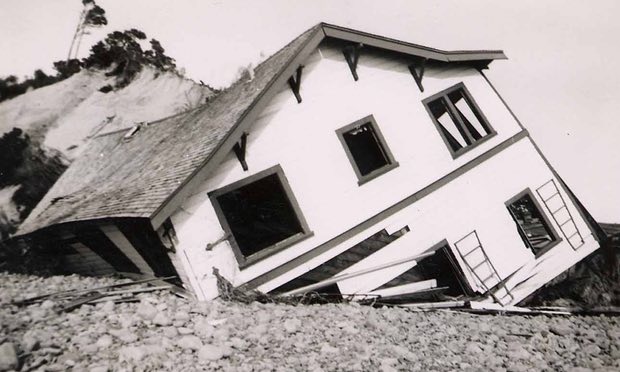 Between Tillamook Bay and the sea there's a narrow, sandy peninsula where, 100 years ago, a town stood. Not just any town – one of the biggest ones on the Oregon Coast. With a municipal swimming hall full of warm saltwater and a surf generator.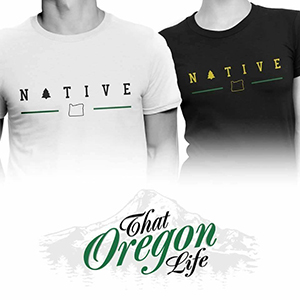 The reason it's gone today? Because the residents paid to build a jetty to make their steamship journey smoother. The jetty changed the ocean currents, and the ocean washed the town away. The residents had paid for their own destruction.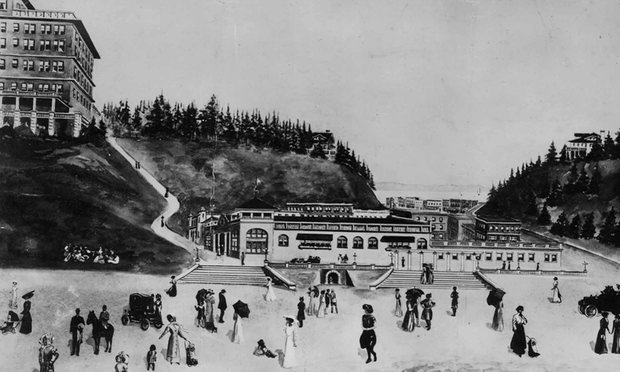 Bayocean got its start in 1906 when a real estate developer named T.B. Potter got hold of it and platted the town. Potter thought big. Over the next few years, he sold off 1,600 lots and built a large hotel, a dance hall and that swimming hall – a mammoth structure right by the beach, so residents could choose between cold surf and warm.
Potter thought big, but his actual execution was more of a mid-size. He promptly installed a telephone network in Bayocean, which worked great for local calls across town – but wasn't linked to the outside world. Getting fresh water was a hassle, too; Potter built a pipeline, but didn't put a booster pump on it, so the water pressure was actually so low that sometimes water would not reach some of the lots. He also installed streets made of concrete rather than dirt or sand, but it didn't matter much; no road was built to the "mainland" until the 1920s, so most residents didn't bother with cars. Most folks arrived on Potter's steamship, the S.S. Bayocean, which made a three-day journey from the town to Portland and a three-day trip back, once a week.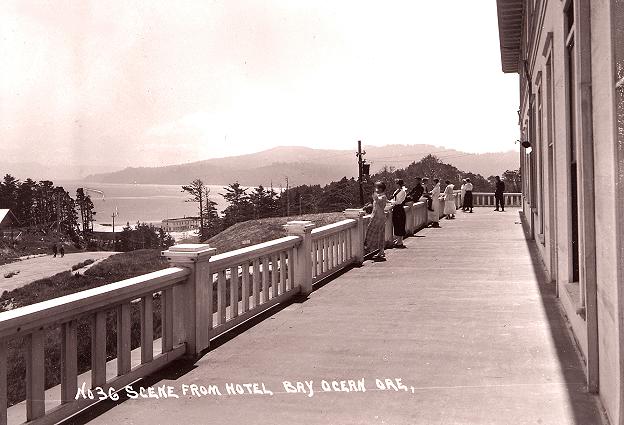 The steamer trip was a terrifying ordeal sometimes, though. Of course, it would have to cross the Columbia River bar up at Astoria – the bar's dangers are still legendary – and thread the needle into the unprotected mouth of Tillamook Bay. This last could be more scary than the bar crossing, which at least could be kept reasonably smooth by not crossing when the tide was coming in.
Residents started clamoring for a protective jetty. The Army Corps of Engineers studied the place and told them they needed two jetties, one on each side of the mouth of the bay, and it would cost $2.2 million – half of which would have to come from local residents.
The residents couldn't afford to do that, so they proposed a single jetty. A little over $800,000 later, it was done, and Bayocean's soon-to-be-ex-homeowners paid half.
Each household had ponied up roughly $450 – which, in 1917, was enough to buy one and a half brand-new Ford Model Ts.  And for a while, things were great. The steamship ride was much more pleasant without coming across the open ocean.
But then something odd started happening. Bayocean's broad sandy beach started getting a little less broad. Then it started getting a lot less broad.
Finally, in 1932, waves from a massive storm crossed the beach and destroyed the massive seaside swimming hall.
From there, it got worse and worse. The hotel started falling, room by room, into the sea. Each winter, the sea got further in. By 1938, 59 homes were gone.
Finally, in the early 1950s, the sea breached the spit and rushed into Tillamook Bay, turning Bayocean into an island. Instantly, a multi-million-dollar oyster fishery was ruined, a thousand acres of oyster beds buried in sand. Salinity in the bay surged. The estuary's fisheries started to collapse.
The government sprang into action, building a riprap seawall across the gap to keep the sea out. Some time after that, in the early 1970s, the second jetty was added; it solved the problem with the currents, and the sand started building itself back up on the spit.
But it was too late for Bayocean. By then, the entire town was gone.

Video by Rick Dancer
(Sources: Webber, Bert & al. Bayocean: The Oregon Town that Fell into the Sea. Central Point, OR: Webb Research Group, 1989; Sullivan, William L. Hiking Oregon's History. Eugene, OR: Navillus, 2006)
This article was originally posted at offbeatoregon.com and used with permission, covered under creative commons.
Oregon Coast Clean Up with Patagonia
The Oregon Coast Clean Up with Patagonia & Ocean Blue Project on Sunday, April 23, 2017 – 12:30 pm to 4:30 pm.
Come help make world's 1st recycled shampoo bottle with That Oregon Life, Ocean Blue Project, Patagonia, Starkwood Chiropractic, P&G's Head & Shoulders. Together with your help, and the support of all the great Oregon-Minded volunteers, sponsors, and NGOs, we can make the global impact required to keep our oceans blue.