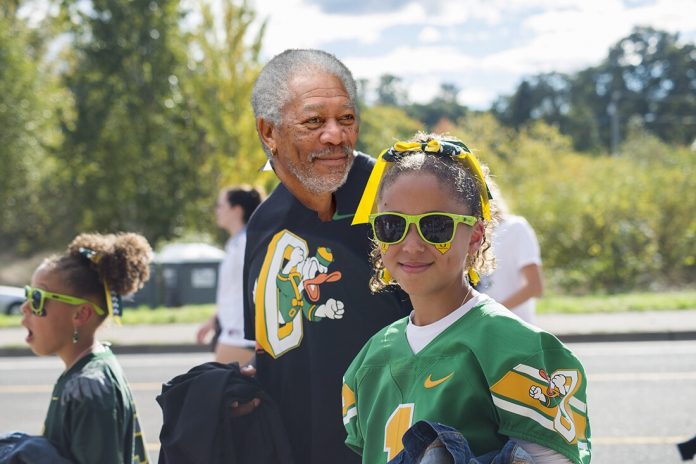 Autzen Stadium had a celebrity visitor Saturday night, as Morgan Freeman paid a visit to Eugene to watch the Ducks dismantle Pac-12 nemesis Stanford in front of a sold out crowd, 45-16.
Not only was Morgan Freeman in attendance, he really seemed to be making the most of his Autzen experience. Below, he is seen in the tailgating area before kickoff with an unidentified fan.
Speculation abounded as to what would bring Freeman to the Pacific Northwest, as he has never been known to be a Duck fan.
However, a researcher for That Oregon Life did some investigation, and learned Morgan Freeman is a great-uncle by marriage of Ducks true freshman running back Royce Freeman, according to genealogy records obtained from The Church of Jesus Christ of Latter Day Saints. Royce Freeman, it should be noted, rushed for 98 yards on 15 carries.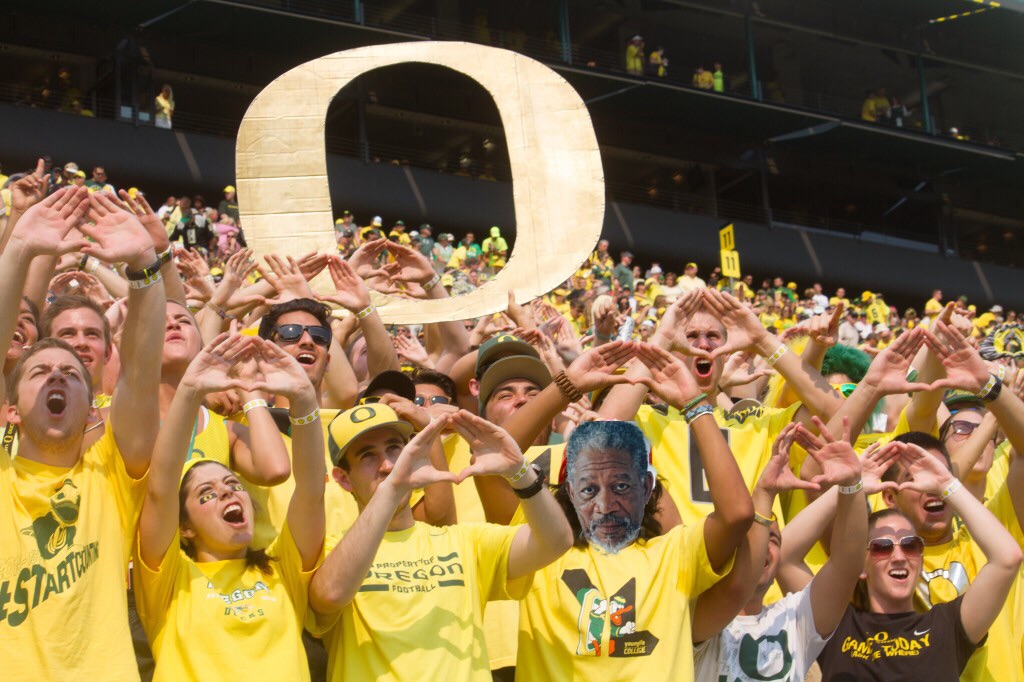 We caught up with Morgan Freeman at the Dutch Bros. stand in the stadium concourse during halftime, and he agreed to talk to us in exchange for a Double Torture. As it happened, this was because he only had his debit card on him and they only accept cash, but, hey, we'll take an interview any way we can get it.
Below, Morgan Freeman offers answers to a few of our questions:
Q: Royce seems to have a knack for breaking tackles and getting yards while dragging opposing defenders. What's his secret?
A: "I always tell my kids if you lay down, people will step over you. But if you keep scrambling, if you keep going, someone will always, always give you a hand. Always. But you gotta keep dancing, you gotta keep your feet moving."
Q: Do you look forward to the Autzen Stadium tradition of dancing and clapping to "Shout" by Otis Day and The Knights between the 3rd and 4th quarters?
A: "I don't know; every man has his breaking point."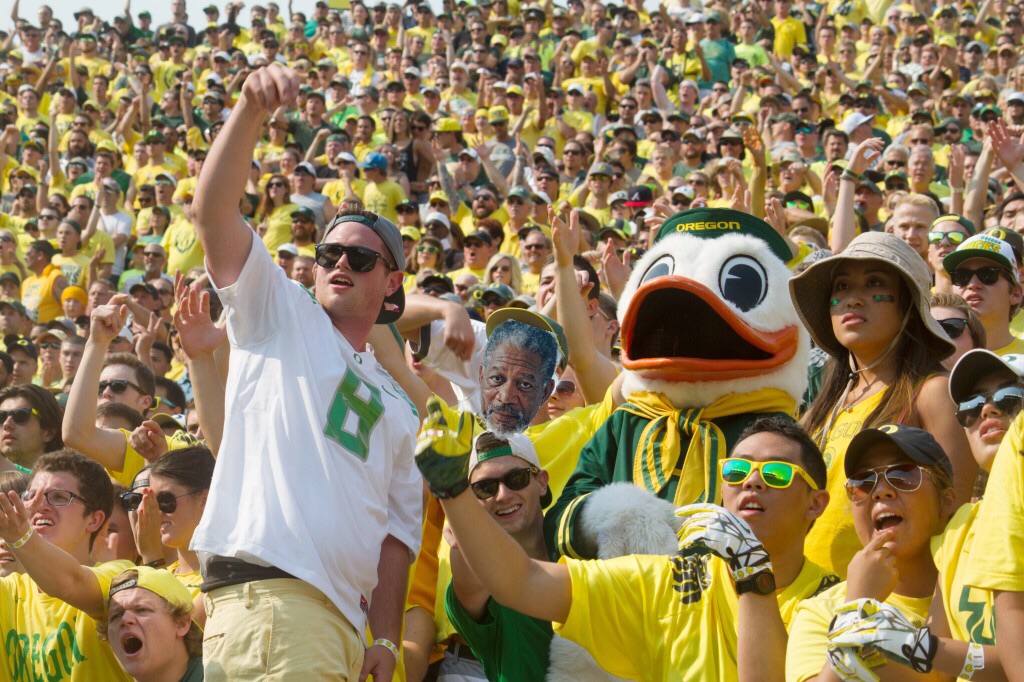 Q: Do you see Marcus Mariota winning the Heisman Trophy this season?
A: "You measure yourself by the people who measure themselves by you."
Q: Does Oregon State have a chance to stop the Ducks offense in the Civil War?
A: "You can't kneel down in the middle of a highway and live to talk about it, son."
Q: Will the Ducks won their first national championship this year?
A: "The best way to guarantee a loss is to quit."